Rain and wet coldness this late-afternoon Monday here in California's Central Valley — we're on the softer-end of an atmospheric river that's supposed to really bring the state some rain and snow this week.
Weather is as weather does.
And this evening, another fine example of fraudsters, scammers, and grifters making hay — except when trying to flimflam a mean, nasty narcissistic asshole:
1. The "Dinner With Trump" scam is back!

The @NRSC is running Facebook ads promoting a dinner with Trump.

But if you read the official rules, you actually get dinner with Lindsey Graham, Tim Scott, and Rick Scotthttps://t.co/3ULHzLcogB pic.twitter.com/TUAqkL1rua

— Judd Legum (@JuddLegum) December 13, 2021
Nutshell background via Snopes this morning:
Around Dec. 11, the National Republican Senatorial Committee (NRSC) began running Facebook and Instagram ads that promoted a contest, purportedly to win the opportunity to have dinner with former U.S. President Donald Trump and U.S. Rep. Elise Stefanik.
A four-term upstate New York congresswoman, Stefanik currently ranks as "the No. 3 position in the Republican caucus."

However, neither the abbreviated or complete rules for the promotion mentioned a dinner or chance to meet Trump or Stefanik.
In fact, their names weren't mentioned one time in either set of rules. Instead, the rules promised that winners would receive a "private dinner" with Republican U.S. Sens. Lindsey Graham, Tim Scott, and Rick Scott.

OpenSecrets.org described the NRSC as "the Republican Party's chief fundraising committee dedicated to electing Republican candidates to the U.S. Senate."
The website also said that in 2020 the committee had raised $338 million and spent more than $331 million.
The NRSC website lists Sen. Rick Scott as its current chairman.

According to reporting from Politico from March 2021, Trump had previously sent cease-and-desist letters to the NRSC and two other fundraising entities "for using his name and likeness on fundraising emails and merchandise."
He was purportedly "furious" that his name was being "bandied about by organizations that help Republicans who voted to impeach him — without his permission."

We reached out to the NRSC for comment but did not receive a response by our deadline.
The Facebook and Instagram ads for the "dinner with Trump" contest appeared to be pulled after we made our inquiry by email, according to the page's ad library.
Goober grifters trying to grift big orange-turd grifter, a sting galore, and losing. Closing down shop when the bad boy gets wind of the grift. Yet think of how those marks would feel when they realized dinner instead was with a Scott-double turd and a closet-fashion Lindy — people would have been really pissed.
Grifting should be fun, especially among good buddies:
And here we are, once again…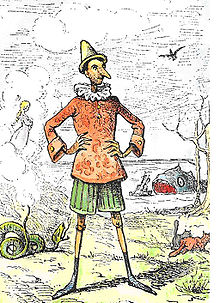 (Illustration out front: 'Pinocchio,' by Enrico Mazzanti (1852-1910), found here)