On top of all the other shit we got going, today/yesterday a big-ass volcano/earthquake:
(Illustration found here).
The event a peculiar one with a massive volcano eruption enabling a 5.8 earthquake, a double-bang situation that sent literal shock waves across the Pacific Ocean — via NPR late this afternoon:
A massive underwater volcano that erupted just before sundown Friday sent waves several feet high smashing into the shores of the island nation of Tonga and thousands of miles across the Pacific Ocean from Australia to Canada, including the U.S. West Coast.

Plumes from the explosion reached more than 12 miles above sea level, according to the Tonga Geological Services.
At its widest, the cloud caused by the ash and steam reached about 150 miles across, making it easily seen from satellites.
The eruption was so massive that its shockwaves were felt as far away as Mount Hood in Oregon.

In Tonga, home to 105,000 people, the extent of the injuries and damage caused were still largely unknown. The eruption, which filled the sky with so much ash that darkness seemed to fall on Tonga two hours before sunset, has knocked out communications, according to The Associated Press.

Waves flooded parts of the capital Nuku'alofa — just 40 miles from the site of the eruption — including parts of the grounds at the Royal Palace, according to Radio New Zealand.
…
The first U.S. state to feel the effects of the eruption was Hawaii, where waves over a foot were reported in Kauai and nearly three feet tall in Hanalei.
"We are relieved that there is no reported damage and only minor flooding through-out the islands," the Pacific Tsunami Warning Center said.

The waves reached the western shore of the continental U.S. on Saturday morning.
The National Weather Service issued a tsunami advisory for the entire West Coast and all of Alaska's southern coast, warning that strong currents and waves were expected — but not the "significant inundation" of a full-fledged tsunami warning.

According to an NWS update as of 3:15 p.m. ET, the highest surge was recorded in Port San Luis, Calif., where the water reached more than 4 feet over normal levels.
The waves topped 3 feet in King Cove in Alaska's Aleutian islands and Point Arena and Crescent City, Calif., two towns along the Northern California coast.

Authorities had prepared early Saturday for the possibility of a small yet potentially disruptive surge. Beaches were cleared from San Diego to San Francisco. More than 100 people were evacuated from the boats, docks and shoreline of the Berkeley Marina, according to news site Berkleyside.
All reports I've seen today indicate minor problems along our coast. I used to live near Port San Luis over on the Central Coast, then later on, moved to Humboldt County and resided on the North Coast (of course, now I'm in the Central Valley where I started my California life 40 years ago — seemingly a circle of life living in the "Hotel California"). News reports seem to indicate the flooding was remote and small.
The initial blast was way-heavy, though — I watched this clip a shitload of times, just horrifyingly amazing:
BREAKING: Satellite image captures Tonga's Hunga volcano erupting

(Source: @US_Stormwatch) pic.twitter.com/VolrJs7Gfi

— The Spectator Index (@spectatorindex) January 15, 2022
An explosion felt worldwide — some science/background per The New York Times earlier:
Named Hunga Tonga-Hunga Ha'apai, the volcano lies partly submerged about 40 miles north of Tongatapu, the main island in the nation of Tonga.
It began erupting intermittently in December, but by Jan. 3, the activity had decreased significantly, according to a report by the Smithsonian Institution's Global Volcanism Program.
The volcano had erupted in 2014, spawning a new island that eventually became home to blossoming vegetation and barn owls, according to the BBC.

Satellite imagery of the eruption on Saturday, shared on Twitter by New Zealand's National Institute of Water and Atmospheric Research, showed a "brief spike in air pressure as the atmospheric shock wave pulsed across New Zealand."
In a thread on Twitter, Dr. Janine Krippner, a volcanologist at the Smithsonian Institution, noted that "the majority of the volcano is submarine."

The strength and potential impact of an eruption is estimated using a volcanic explosivity index, or V.E.I., which takes into account the volume of material ejected during the eruption and how high the plume reaches.
The V.E.I. of the eruption Saturday has not been estimated yet, but before the eruption, the volcano was estimated to be able to produce an eruption with a maximum V.E.I. of 2.
Eruptions with a V.E.I. of 6 or higher send so much gas and particles so high into the atmosphere that they can have a cooling effect on the climate for several years, by reflecting more sunlight away from the Earth's surface. But eruptions of that magnitude occur very rarely. The latest was Mount Pinatubo in the Philippines in 1991.
Old Ha'apai did pop a snap:
The Hunga Tonga volcano eruption was so powerful that it has sent a shockwave/pressure wave thousands of miles across the globe. My weather station in San Carlos, California, over 5,000 miles away, recorded the wave around 4AM as it pushed east across the United States. pic.twitter.com/jggFxx9bbZ

— US StormWatch (@US_Stormwatch) January 15, 2022
See the big picture by late afternoon at the USGS Latest Earthquakes site — you can see info on the Tonga volcano/earthquake near-about center — and this my USGS-earthquake big board of California and the western US. Earthquakes are a big deal.
Born in southeast Alabama and spent the first 30 years of my life in the US south, tornadoes were the bitch. However, twisters are nowhere near the same fright zone as a freaking earthquake. In a situation with tornadoes you 'already' have warnings (if not specifically 'tornado warnings') because there's bad weather happening. You shit-well don't see a freaking tornado on a beautiful, warm spring day. There's rain and wind — already bad weather.
Not so with a f*cking earthquake. Anytime is a good time.
I felt my first major shake in 1983 and the biggest just a bit more than 12 years ago when a 6.5 hit near where I lived up north — I was watching "300" at the time, and the event so traumatizing it took years to finally finish that movie! And since it so freaked me out, I took way-rapid showers for a long while after that, so scared of being caught naked in such a frightful drama. Prepared a disaster kit, too, which included a short-wave radio.
Crazy.
Yet this dog knew that same earthquake was coming at our local newspaper office:
That Northern California quake in January 2010 did minor damage — comparatively speaking (LA Times):
A magnitude 6.5 earthquake rocked the Northern California city of Eureka on Saturday, snapping power lines, toppling chimneys, knocking down traffic signals, shattering windows and prompting the evacuation of at least one apartment building.

There were no reports of major injuries, but the temblor, which struck at 4:27 p.m. about 33 miles southwest of the coastal city of 26,000, was powerful enough to send people running into the streets, some fearing a tsunami.
I ran outside with the rest of the residents of my apartment house. We stood outside and chain-smoked cigarettes before figuring out when it was safe to go back inside. And like I said, no more movie on crazy sword fighting.
Three days later, a 7-sized earthquake cratered Haiti, and in less than a month, an 8.8 shook Chile, both of which did massive damage, though, the one in Haiti killed 200,000 people.
Earthquakes suck and are scary.
Anyway, once again, here we are…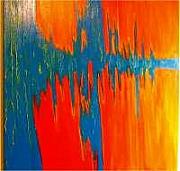 (Illustration out front: 'Earthquake,' painting by Jakara Art, and found here).