(Illustration via The Washington Post this afternoon).
Another day of war in Ukraine as Vlad Putin's half-baked, unhinged operation appears to be bogging down in its own shit, facing not only way-brave bravado from Ukrainians but way-disapproval from the world.
Natalia Balasynovych, mayor of Vasylkiv southwest of Kyiv, and the Russian cruel intent: '"You can see what is going on, you can see the fire — unfortunately, this is the petroleum storage depot in Kriachky village. The enemy wants to destroy everything around, but he will not be successful. You've seen that during the day there was heavy shelling from ballistic missiles. Our airfield was shelled as well, but we got it, it's under control of Ukraine … The night will be difficult here, as well as in Kyiv, but we will stand our ground and we will win, because God is with us."'
Ukrainians are displaying hardcore, in-your-face nerve, and courage — best example yet:
A priceless exchange of a brave Ukrainian citizen with Russian army stuck out of fuel. ENGLISH SUBTITLES.

[Thanks to my Ukrainian friend for transcription and translation] pic.twitter.com/Rar3WRXEwD

— Ali ??? (@aliostad) February 26, 2022
The bravery comes from the top — Volodymyr Zelensky, a comedian-turned-Ukrainian president, has become a real-life hero:
A few days after Putin's invasion, the Warsaw-based Jan Karski Society (named after the heroic Polish underground courier who informed the West of the atrocities being perpetrated against Jews in the Warsaw ghetto) honored Zelensky with the Jan Karski Eagle Award for his "heroic defense of Ukraine and the moral values of Western civilization."
As one member of the awards committee, Rabbi Abraham Skórka, said: "Let us take heed that the sin of omission toward Ukraine and the brave nation does not come to persecute us, like the sin of omission in the face of the Holocaust."
War is still war (h/t LGM):
Compared to Iraq/Syria/Afg, it's striking how little imagery out of Ukraine so far conveys the horror and gruesomeness of combat—the flesh and the screams, rather than the heroism and the ATGM hits on vehicles w/ invisible occupants.

This Tyler Hicks NYT photo is an exception. pic.twitter.com/f1ZvsaJZI3

— Wesley Morgan (@wesleysmorgan) February 26, 2022
And further:
Looks like a Mi-24 helicopter, probably Russian, being shot down over Kherson.https://t.co/cVh8mX5znc pic.twitter.com/nouUAdvY4X

— Rob Lee (@RALee85) February 26, 2022
Beyond the actual war horror, Vlad might be getting ready to choke on his own shit as Russia becomes a "global economic and financial pariah"— further per the Guardian this afternoon:
Vladimir Putin was facing growing international isolation and the prospect of pariah status on Saturday night as long-term allies dramatically turned against him following the invasion of Ukraine, and western nations planned further decisive military and financial action against Moscow.

As his hopes of a quick victory evaporated in the face of fierce resistance by Ukrainian soldiers and armies of citizen volunteers, Russia's president was deserted by his key ally, China, and had his ultimatum demanding Kyiv's surrender defiantly brushed aside by Ukraine's president, Volodymyr Zelenskiy.

In perhaps the most striking development, Germany announced on Saturday night that it would supply Ukrainian troops with 1,000 anti-tank weapons as well as 500 Stinger missiles from its own military reserves.
"The Russian assault on Ukraine marks a turning point," Germany's chancellor, Olaf Scholz, said, signalling a major shift in his country's postwar military stance.
"It threatens our entire postwar order. In this situation it is our duty to support Ukraine to the best of our ability in its defence against the invasive army of Vladimir Putin. Germany stands closely on the side of Ukraine."

Significantly, the German government was also said to be bowing to intense pressure from Britain, the US and Canada to ban Russia from the crucial Swift banking payments system after repeated appeals from Kyiv for the west to do so.
Sources in Berlin said German ministers' views were shifting on the issue and they were actively discussing measures that "would hit the right people," having previously resisted, partly because of fears that a ban would affect the flow of funds to aid agencies in Russia.

In further blows to Putin, Hungary's leader, Viktor Orbán, long seen as friendly towards Moscow, abandoned his support, saying he would back all EU sanctions against Russia, while Turkey was reported to be considering blocking the passage of Russian naval vessels into the Black Sea.

As a global diplomatic outcry intensified, Russia's defence ministry ominously announced it was ordering "all units to advance in all sectors" as it accused Ukraine of refusing to negotiate.
And in a desperate attempt to restore a positive narrative in the information war, the Kremlin banned street protests and restricted access to social media such as Facebook.
A growing list of Russian celebrities and influencers announced they backed global efforts to stop the war.

Having held off Russian forces for two nights, morale in Kyiv remained high among Ukrainians of all ages and from all walks of life, as many queued to take up arms. Many also gleefully shared videos of unarmed civilians rushing into the road to stop advancing convoys and fearlessly berating Russian soldiers about why they had come to Ukraine.
Around the country, Russian forces were not confirmed as having control of a single major city, while Zelenskiy remained in Kyiv and told Americans who offered to evacuate him: "The fight is here. I need ammunition, not a ride."
And so it goes.
Thus, once again here we are…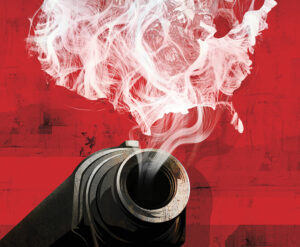 (Illustration out front by Taylor Callery, and found here).