Approaching the noon hour here this Monday in California's Central Valley — in the news cycle headlines, it's getting near 10 PM in Ukraine, as the invasion/war is bombing-out in more ways than one. Russia is apparently up to its ass in shit.
In their bravery and mettle, the Ukrainians have shown a terrible bright light on one of the shittiest military operations from a supposedly top-ranked country — from the Guardian's live blog about an hour ago:
'Almost all' of the Russian advances in Ukraine 'remain stalled', US defence official says.
Russian forces moving on Kyiv have not appreciably progressed over the weekend, a senior US defence official said during a background briefing with reporters, CNN reports.

The official noted that the US believed Russia was trying to "flow in forces behind the advance elements" moving to the north of the Ukrainian capital.
The assaults on the cities of Chernihiv and Kharkiv also remain stalled, the official said, but Russia has split off a force of 50 to 60 vehicles to move towards the town of Izium.
Ukraine continues to defend Mariupol, though the city remains isolated, they said. Russian forces have also not moved closer to the town of Mykolaiv.

An official told reporters: "We still maintain the airspace is contested, that the Russians have not achieved air superiority over all of Ukraine."
Vladimir Putin has "100-percent of his assembled forces inside Ukraine", the official said.
Putin looks scary in his humiliation — H.R. McMaster this morning: '"This is a real sign of weakness. I think Russia — and Putin, in particular — is in real trouble."'
Yet one needs to know the password first — slightly humorous in the face of turd-knocking evil:
I can only assume there is a long line of people waiting to cross the street until someone shows up with the password. https://t.co/9NOvfjHAx9

— Dan Lamothe (@DanLamothe) March 14, 2022
And street crossings in Kyiv have no password or PIN number — via The Washington Post this morning:
The sidewalks were covered in bits of glass and bloodstains. A green trolley car sat crumpled, a taxi smashed into its side.
Next to a crushed car lay what appeared to be a body, covered by a piece of tarp.

In a park across the way, Irina Kostiuk, 38, stood staring at the scene, clutching her bleeding hand. She had been inside one of the buildings damaged in the Monday morning attack in Kyiv's Podilskyi district, volunteering at a humanitarian aid center to help disabled civilians.
Around 11 a.m., she heard a loud boom and felt the windows shatter.
"The shock wave knocked me off my feet, and glass debris got me a bit," she said. "I was lying on the floor for a few minutes, waiting to see what happens next."

City officials later described the attack as a missile or rocket strike that hit near a checkpoint close to residential buildings.
It killed at least one person and wounded several others.
…
The strike came only a few hours after apparent Russian shells struck a nine-story residential building in Kyiv's Obolon district, at around 6 a.m. Residents fled the badly damaged building as firefighters tried to extinguish the flames and rescue those trapped inside. At least one person was killed in that incident as well, according to Red Cross volunteers at the scene.
The two attacks left residents in Kyiv on edge, with fears mounting that if Russian forces continue to close in on the capital, it could soon face immense damage and high civilian casualties, comparable to what has unfolded in the besieged cities of Kharkiv and Mariupol.

By midmorning, the second building was no longer on fire, but the damage had rendered much of it unlivable. One area was badly burned. Most of the windows were shattered, exposing the insides of apartments to winter weather.
The broken windows offered views into lives that until Monday morning had been peaceful. Through one, a tapestry hanging on a wall fluttered in the wind. Through another, shelves of cassette tapes appeared untouched.
On one damaged balcony with a small Ukrainian flag planted on the ledge, several residents stood solemnly looking down at the crowd of journalists gathered below.
…
Tamara Tilchik, 64, who lives just around the corner from the buildings in Kurenivka that were badly damaged, stood staring at the cordoned-off area in disbelief on Monday.
"It's a beautiful residential area," she said.
"I could never imagine in my worst nightmare that Russia would invade us."

Volodymyr Borysovich, 54, stood to the side, gazing up at the shattered balconies above.
His friends Serhiy and Natalia and their daughter, Alina, who is disabled, live on the building's third floor. "Now they are not picking up their phone," he said as he puffed anxiously on a cigarette.
Despite all the talk about Putin and Russia losing in the long run, doesn't remove the horror of the short-termers living in terror, which can't seem to stop.
On the north coast of the Sea of Azov in southeastern Ukraine, Mariupol has no street crossings due to the horror-alert there are no streets:
? I've geolocated this drone video which shows terrifying destruction this morning following a night of destructive shelling on the citizens of Mariupol, Ukraine.

?The video begins from 47°05'43"N 37°29'58"E

Reports of thousands of civilians killed. pic.twitter.com/RPUgi3ZuX7

— Moshe Schwartz (@YWNReporter) March 14, 2022
In the daily screed of war, here we are once again…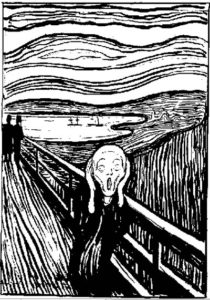 (Illustration out front: Edvard Munch's 'The Scream,' lithograph version, found here)