This dream-like, can't-believe-my-eyes presidency continues: "And I think it's fair to say that had I not been a Stevie Wonder fan, Michelle might not have dated me. We might not have married. The fact that we agreed on Stevie was part of the essence of our courtship."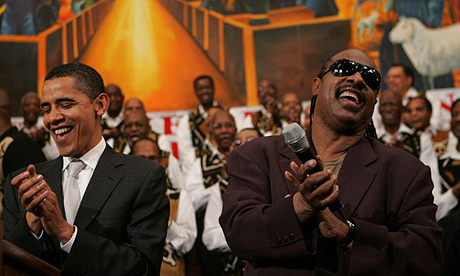 (Illustration found here).
And the bare-armed, kick-ass First Lady:
I'd go to my grandfather's, because he was a real music junkie.
He'd blast music throughout the house.
And that's where he and I would sit and listen to Stevie's music together.
Songs about life, love, romance, heartache, despair.
He would let me listen to these songs over and over and over and over again.
All of President and Michelle Obama's gushing was aimed at Stevie Wonder, who was presented the Library of Congress Gershwin Prize for Popular Song during ceremonies yesterday at the White House.
The Obamas are something else.
Maybe because George Jr. Bush was so horrifyingly horrible — an idiot surrounded by nasty-faced idiots — has made this president and first lady appear so captivating, even after just a month or so in office, and although true in some aspects, there's no denying these two guys are a cut above the fold.
Watching Obama nod his head in time with Wonder's music during inauguration festivities last month, carrying a confident, having-myself-a-real-good-time smile, evoked unreal-like emotions, creating a sense of seeing something so unusual, so outside the grain of normal for a US president, the brain just softly blubbered: Whoa!
The same sensation occurred last summer when Obama made that graceful, three-pointer jump shot during a visit with US troops in Kuwait. (See a quick-video here).
This guy is way too cool — he carries the appearance of unmitigated confidence.
And the real-nagging, dream-like problem here, for me, is both of the Obama's appear sincere.
And not in that political sincerity kind-of-way — George Jr. was as sincere as a fox-in-the-hen-house, the Clintons are so way-too-full-of-themselves it's hard to tell, Jimmy Carter appeared sincere (out of his element, but sincere about it) — but more personal, and more accessible.
Not to say Obama ain't political, he's some kind of unnatural natural to have come way out of left field and beat them all — 18 months ago wasn't given a dick's chance to become president — and he's still at the top of his game as witnessed by his speech Tuesday night.
And playing the Beltway/Village game like a seasoned pro.
And Michelle?
She's literally cut the cloth for first ladies:
Apparently, Obama's decision to go sleeveless again is stirring up a debate.
The tribute to Wonder was the second time in as many days that the first lady bared her arms: She wore a plum Narciso Rodriguez dress when her husband addressed Congress on Tuesday night.
She appears on the latest issue of People magazine in a sleeveless magenta Tracy Reese frock and also went sans sleeves on her recent Vogue cover.
But should people be up in arms about Obama baring hers?
In the USA Today poll — 40%: Yes, she's a modern first lady; 11%: No, it seems too informal; 49%: Who cares? It's her decision.
Michelle Obama is the hottest First Lady since I was in sixth grade.
Unlike Jackie, however, Michelle appears able/willing to kick your ass real quick if need be.
While nearly at the same time, incite a response like this today from an employee at the EPA:
It was Mrs. Obama's sixth visit to a federal agency and hundreds of employees lined up for two hours to snag a standing-room-only spot in the gilded, high-ceilinged auditorium.
"We are just thrilled to be working for an administration that respects the work we do, environmental work, but public service more specifically," said Beth Hall, who works in the ground water and drinking water office.
Ms. Hall, who is also a working mother, said that Mrs. Obama was something of a role model.
"For those of us who've been up the mommy track, she's been very inspiring," she said.
Both of them Obamas appear sincerely way-too-cool for school.