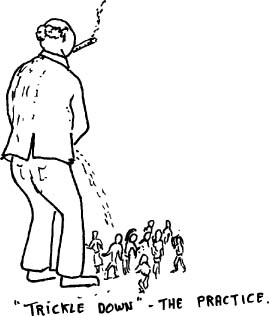 Even as the wide-spreading Occupy Wall Street movement enters its second month, a major protest point has been nearly forgotten, or at least hasn't been placed near/at the top of the list — climate change.
The shit on Wall Street is nestled right in with the globe's quickly-spinning out-of-control climate.
A major case in point is the horror still going in Michigan — in July of 2010, 819,000 gallons of pure toxic shit (thick, crude, Alberta tar sands oil) gushed into the Kalamazoo River, and due to heavy rains at the time, carried the stuff 30 miles downstream.
A year later, that section of the river is still closed and residents in the area are literally sick of the whole thing — no one seems to care.
(Illustration found here).
The shit came from a leak in Lakehead Pipeline 6B, belonging to Enbridge Energy Partners, a Canadian oil and gas transportation company, a pipe built in 1969 to carry regular oil, not the nasty, tar sands shit, which is thick as peanut butter and injected with chemicals in order to enable transportation.
A similar situation coming with the infamous Keystone XL pipeline, which has been in the news lately (although that pipe is reportedly to constructed to handle that tar sands oil).
In Michigan, however, the horror is already here.
From Aljazeera English:
Deb Miller lives less than 30 metres from the Kalamazoo River in central Michigan, site of one of the largest inland tar sands oil disasters in US history.
…
Meeting with other area residents at the office she owns with her husband on the banks of the Kalamazoo, Miller describes the adverse health effects she has suffered in the wake of the spill, including migraine headaches, burning eyes, a persistent sore throat, and a "cloudy brain" condition that she half-jokingly refers to as "Oil Alzheimer's."
…
Susan Connolly, a paralegal who resides in the nearby town of Marshall, said her children showed signs of exposure immediately after the spill occurred: "My son started vomiting and my daughter got a weird rash five days into it."
Factory worker Sherri Baldwin, whose house is approximately 100 metres from the Kalamazoo, is also concerned about her children.
"They've been sick off and on over the last year," she told Al Jazeera.
"My 12-year-old, David, has been really sick, with rashes all over his body, and his allergies have gotten far worse.
My 10-year-old has a rash all over his stomach and back."
…
Enbridge has a long history of spills throughout both the US and Canada.
According to Ottawa-based advocacy group the Polaris Institute, Enbridge is responsible for 610 spills – involving more than 22 million litres of oil — between 1999 and 2008.
This is approximately half the amount of oil spilled during the Exxon Valdez disaster in Alaska in 1989.
And justice is hard to come by:
Consider, for example, the Kalamazoo corn and soybean farmer who described the aftermath of the spill to Al Jazeera as follows: "I would be in my fields and could taste the chemicals, and I began to feel nauseous and shortness of breath."
The farmer, who wished to remain anonymous for personal reasons, explained while coughing:
"I gave Enbridge the paperwork they asked for about how I was being affected, both physically and with my crops, and they 'lost' my paperwork.
The Enbridge guy I was working with was transferred to Australia, and now I'm going to have least $300,000 of losses in crops from not being able to irrigate them."
…
Meanwhile, Robert Whitesides of the Watershed Council in Kalamazoo recently remarked to Al Jazeera: "TransCanada (owner/operator of the Keystone project) claims they can detect and shut down a leak in six minutes, but the Michigan pipeline rupture gushed tar sands oil for 12 hours before it was detected."
So, is there any protest there?
Just a bare, trickle of some light — the US Supreme Court will consider a lawsuit accusing Royal Dutch Shell of human rights abuses, a case that could make companies liable for torture or genocide committed overseas.
The 12 Nigerian plaintiffs charge Shell with "complicity in human rights violations committed against them in the Ogoni region of the Niger Delta in Nigeria between 1992 and 1995," according to their complaint put before the court.
"These violations included torture, extra-judicial executions and crimes against humanity."
Shell, of course, begs to differ:
Shell's lawyers argued that the case is "a poor vehicle" for address human rights issues.
Bullshit.
Occupy Everywhere is here to stay if nothing ain't done.
Richard Heinberg at Energy Bulletin: Politicians take note: Forces are being unleashed that cannot be tamed. So far, crisis has been dealt with by a combination of denial and delay. Those tactics no longer work. Extraordinary times call for extraordinary measures.
And I hope it's doesn't take much longer, as that "oil Alzheimer's" sounds scary.