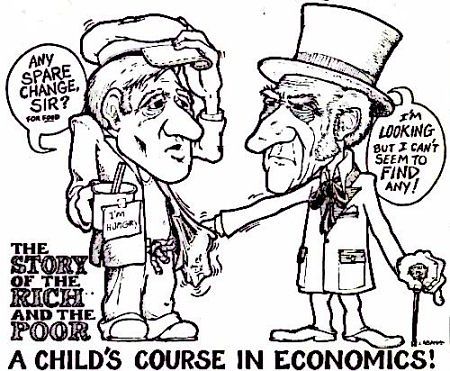 (Illustration found here).
In one of the most ironic and laughingly insulting remarks of the political year came yesterday from US Speaker of the House John 'The Boner' Boehner: "We're here. We're ready to work," Boehner told reporters on Capitol Hill. "We can resolve these differences … and give the American people a real Christmas present."
A Boner aide chirped that the GOPers were elected to change the way Washington does business, but instead should have said, 'giving the business.'
The GOP has been stalling a tax cut for 160 million Americans, as well as extended emergency federal unemployment benefits and the so-called "doc fix," a delay in significant scheduled pay cuts to Medicare physicians, both of which expire at the end of this month.
Republicans cower the rich, and lie about the poor.
And those rich have their panties in a bind.
In an eye-opening post at Bloomberg, some shit from the rich (h/t The Big Picture):
If successful businesspeople don't go public to share their stories and talk about their troubles, "they deserve what they're going to get," said Marcus, 82, a founding member of Job Creators Alliance, a Dallas-based nonprofit that develops talking points and op-ed pieces aimed at "shaping the national agenda," according to the group's website.
He said he isn't worried that speaking out might make him a target of protesters.
"Who gives a crap about some imbecile?" Marcus said. "Are you kidding me?"
…
The top 1 percent of taxpayers in the U.S. made at least $343,927 in 2009, the last year data is available, according to the Internal Revenue Service.
While average household income increased 62 percent from 1979 through 2007, the top 1 percent's more than tripled, an October Congressional Budget Office report showed.
As a result, the U.S. had greater income inequality in 2007 than China or Iran, according to the Central Intelligence Agency's World Factbook.
…
Two out of three Americans support raising taxes on households with incomes of at least $250,000, according to a Bloomberg-Washington Post national poll conducted in October.
…
Tom Golisano, billionaire founder of payroll processer Paychex Inc. (PAYX) and a former New York gubernatorial candidate, said in an interview this month that while there are examples of excess, it's "ridiculous" to blame everyone who is rich.
"If I hear a politician use the term 'paying your fair share' one more time, I'm going to vomit," said Golisano, who turned 70 last month, celebrating the birthday with girlfriend Monica Seles, the former tennis star who won nine Grand Slam singles titles.
Ken Langone, 76, another Home Depot co-founder and chairman of the NYU Langone Medical Center, said he isn't embarrassed by his success.
"I am a fat cat, I'm not ashamed," he said last week in a telephone interview from a dressing room in his Upper East Side home.
"If you mean by fat cat that I've succeeded, yeah, then I'm a fat cat.
I stand guilty of being a fat cat."
…
Cooperman, 68, said in an interview that he can't walk through the dining room of St. Andrews Country Club in Boca Raton, Florida, without being thanked for speaking up.
At least four people expressed their gratitude on Dec. 5 while he was eating an egg-white omelet, he said.
"You'll get more out of me," the billionaire said, "if you treat me with respect."
And one wonders why the US is in such shit-shape.