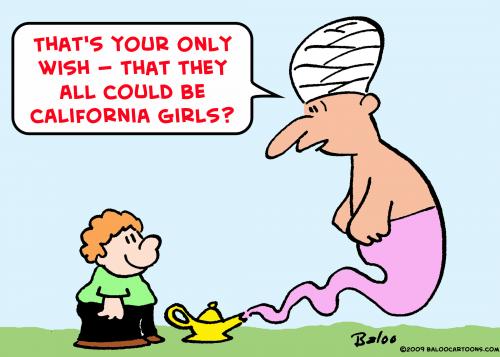 Out here on the so-called 'Left Coast,' life is about the same as anywhere else, but it's CALIFORNIA.
And according to a new poll, most of US peoples hate us:
Only five are in negative territory, led by California (27% favorable and 44% unfavorable), Illinois (19-29), New Jersey (25-32), Mississippi (22-28), and Utah (24-27). Only seven other states have net-positive ratings in the single digits, and another breaks even (Louisiana).
…
Black voters dislike 10 of the 14 Southern states.
(Illustration found here).
One could fairly-well understand why African-Americans dislike the south — Duh!
But hating us Cali-fornies?
From the San Francisco Chronicle:
"I'm actually quite surprised California fared so poorly," said Albert M. Camarillo, a professor of history at Stanford University.
"I think the national public knows of our difficult budget situation, our higher than average unemployment rate, the still very expensive housing market."
The "Left Coast" is distinct in another way — more people have an opinion about California than any other state — only 28 percent of respondents couldn't decide whether they liked the state or not.
"No one knows anything about Delaware.
No one has a clue about Wyoming — but everyone knows California," said Dowell Myers, a professor of policy planning and demography at the University of Southern California.
"Its visibility is really high."
There's some good news for California — at least if you're a female Democrat.
Women were less likely than men to rate California as unfavorable, and there was a massive partisan gap. Democrats love California; Republicans can't stand it.
The opposite is true of Texas.
"I'm sure that for a lot of purple America the extra red Texas and blue California may seem a little far out there," said Roger Salazar, a political consultant in California.
But whatever the reason, most Californians took the news that their state was the least popular in stride.
"They're just jealous," Salazar said.
Not so much jealousy, as 'the dream.'
Prior to moving out here in the early 1980s, California was the ultimate destination for all the pleasures of modern life — "Californy is the place you ought to be" So they loaded up the truck and moved to Beverly. Hills, that is. Swimmin pools, movie stars.
What a rack of shit that…
Life out here was just as bad as anywhere else, and there was way-way-more poor people than swimmin' pools.
The biggest asset for here was for the most part was the 'live-let-live' attitude of most people — a much-refreshing change from Alabama.
George Carlin's own personal view:
"California is a small woman saying, 'Fuck me.'
New York is a large man saying, 'Fuck you!"
Have a good weekend no matter where you be.