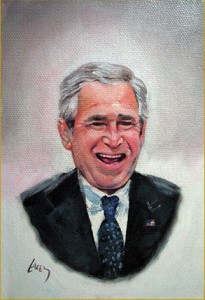 After years of the worse president in US history has mostly been under cover.
Few know the guy's even still alive, much less still walking around, acting like a dumb-ass — George Jr. maintains a low profile.
Even in throwing a quick, by-the-way-endorsement of the latest GOP noodle:
"I'm for Mitt Romney," Bush told ABC News this morning as the doors of an elevator closed on him, after he gave a speech on human rights a block from his old home — the White House.
The boy crept into DC, gave a speech that no one seems to find near-crazed ironic — human freedom — and then creeped out again with the tagline, "See ya later."
The current resident of the White House responded with welcome relief:
"President Bush has endorsed Governor Romney, and Governor Romney has endorsed a return to Bush-era economic policies: massive tax cuts for the wealthiest and no accountability for Wall Street, which led to huge deficits and tepid growth," said Ben LaBolt, a spokesman for the Obama campaign.
George Jr. is toxic as a Hospice happy hour — or maybe picking up stray cats.
And just as the war crimes trial of Ratko Mladic, accused of 11 counts of genocide, war crimes and crimes against humanity in the 1992-95 war in Yugoslavia, started today in The Hague, Netherlands.
From CNN:
Mladic's trial begins after a landmark war crimes ruling last month, when another international tribunal found former Liberian President Charles Taylor guilty of aiding and abetting war crimes in neighboring Sierra Leone's notoriously brutal civil war.
"Both trials are evidence of the growing international trend to hold perpetrators of atrocities to account, no matter how senior their position," Human Rights Watch said.
…
Bosnia peace negotiator Richard Holbrooke once described Mladic as "one of those lethal combinations that history thrusts up occasionally — a charismatic murderer."
Meanwhile, on the other side of the earth, a tribunal in Malaysia has found George Jr., The Dick and a load of their cronies guilty of war crimes — the boys were tried in their absence and convicted on Saturday.
Tribunal president judge Tan Sri Lamin Mohd Yunus said the eight accused were also individually and jointly liable for crimes of torture in accordance with Article 6 of the Nuremberg Charter.
"The U.S. is subject to customary international law and to the principles of the Nuremberg Charter and exceptional circumstances such as war, instability and public emergency cannot excuse torture."
Although transcripts of the five-day trial will be sent to the chief prosecutor at the International Criminal Court, the United Nations and the Security Council, one shouldn't hold one's breath awaiting trial for these war criminals to end up via Mladic in the block at The Hague.
The hypocrisy of the US is way-bigger than the imagination can imagine.