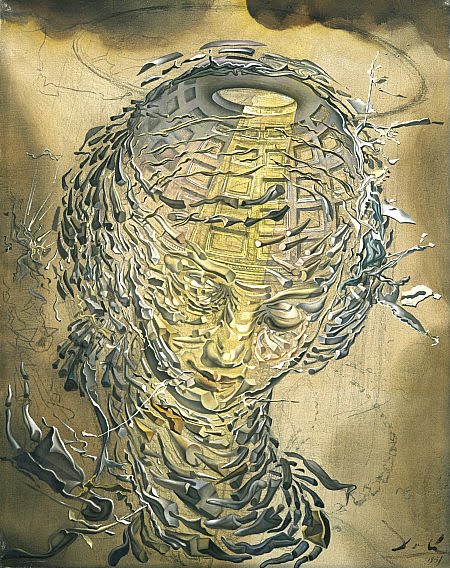 Sunday morning coming down, and all around as the news cycle closes the weekend off from reality.
Up here along California's northern coast, the weather is overcast, but still a bit warmer than last week and there's a forecast for some rain later — like a lot of other predictable shit, we'll just have to wait and see.
Although the Internet is supposed to be 24/7/365, on weekends everyone powers down, from HuffPost (same 'drone' headline since early last night) to blogs to all the news sites — the same headlines, the same bullshit carry-over stories.
Life does occur on weekends, don't you know?
Lately, the InterWebs has apparently becomes a nicer place: These days, life online has become friendly, well mannered, oversweet. Everyone is on his or her very best behavior—and if they're not, they tend to be quickly iced out of the conversation.
(Illustration: Salvador Dalí's, 'Exploding Raphaelesque Head', found here).
Writing about everything is a constant, believe me.
News is like water downhill — life moves on, or in appearances anyway, and quickly builds into history. Yesterday I visited the laundromat and did my clothes, and thusly in that act produced this morning that small bit of recent history, or my own personal "news" — a circle of current right-now, and then in-a-flash, life felt and described in past tense.
We all know 'pre-history,' that's shit that happened before writing about everything happened, but what's after, maybe, what could be termed as 'post-history,' or maybe, the 'end of history'?
As far as all the indications indicate, civilization as we know it, is headed for some sort of nervous break-down, and is coming much faster than anyone realizes, or even care to realize.
Something like this:
The Matrix is a system, Neo.
That system is our enemy.
But when you're inside, you look around.
What do you see?
Business people, teachers, lawyers, carpenters.
The very minds of the people we are trying to save.
But until we do, these people are still a part of that system, and that makes them our enemy.
You have to understand, most of these people are not ready to be unplugged.
And many of them are so inert, so hopelessly dependent on the system that they will fight to protect it.
Were you listening to me, Neo, or were you looking at the woman in the red dress?
Dude, all of us are looking!
In compliance, last week there were a couple of anniversaries I hadn't realized even happened until circling through the ether this morning.
First, from SV411:
Last Thursday was the 20th anniversary of a milestone in tech history, but few people noticed.
On November 23, 1992, IBM introduced a prototype of the Simon Personal Communicator — arguably the first 'smart phone' — at the COMDEX exhibition in Las Vegas.
…
The prototype device, which had the code name "Angler," allowed users to make and receive telephone calls, facsimiles, emails and cellular pages.
Other applications included an address book, calendar, appointment scheduler, calculator, world time clock, electronic note pad, handwritten annotations and standard and predictive stylus input screen keyboards.
Whoa, dude, awesome!
Technology just might remove history. Times change faster than one can say the word, 'time.'
And what's time anyway?
From the San Francisco Chronicle and former mayor Willie Brown's smartphone update:
Social media have given a whole new dimension to the social season.
At the parties I've been to, people never wait long before bringing out their cell phones to text their friends for the lowdown at other parties.
And everyone is posting everything instantly.
The other night, I had my photo taken with a lady at one party, and when I got to my next event, I was greeted by a woman who told me, "I just saw you on Facebook."
And all the time she was texting.
"Just letting my friends know where I am," she said.
And letting them know the scene as well.
"Don't bother to come: Nobody's here." Or, "Great time. Plenty of party."
I can live with it, but I do have one request. Before you ask for a picture, can you make sure the flash is working on your cell phone?
I can keep a smile for only so long.
Willie was at a party before he even got there.
And the second historical, and 'timely,' anniversary has blow-back to the recent presidential election.
Via Yahoo News:
President John F. Kennedy was supposed to just stop by and wave hello.
Instead a group of eager Latinos persuaded him to come inside and speak to a packed room of Mexican-American civil rights activists.
And then he persuaded his wife, first lady Jacqueline Kennedy, to address the crowd in Spanish.
It was Nov. 21, 1963.
Hours later, the president was dead, his assassination overshadowing the significance of a speech that can be seen as the birth of the Latino vote, so instrumental in 2012 in helping re-elect the first black president, Barack Obama.
…
On Election Day 2012, analysts routinely spoke of Latinos finally awakening as a "sleeping giant" by giving Obama around 70 percent of their vote.
But Ignacio Garcia said that assessment ignores how Latinos have influenced presidential elections for more than 50 years.
…
"The Latino vote did not come of age the night Obama was re-elected," said Garcia. "It came of age Nov. 21, 1963."
Last Thursday — Thanksgiving — I missed any stories on JFK's assassination anniversary, and even I don't pay much attention any more to it.
However, it's still the Biggest single event for Baby-Boomers.
Anyway, no one was paying attention to the Latinos — we were all looking at the blonde in the red dress.
Now, if she'd been more the likes of a Jennifer Lopez or a Sofía Vergara, maybe plugged-up assholes would have taken more notice.
Beyond the two anniversary stories, another history-related topic popped up from the Washington Post and an op/ed on time and sleep by Till Roenneberg, a professor of chronobiology and medical psychology at the Ludwig-Maximilians University in Munich, and author of "Internal Time: Chronotypes, Social Jet Lag, and Why You're So Tired."
Cutting through the myths of how much sleep do people need, Roenneberg sums it up in this planet's two only time zones — light and dark.
Money quote:
Exercising may contribute to falling asleep earlier, and it certainly helps us sleep soundly through the night.
But it's light, not physical activity, that proves the German proverb "Fresh air makes you tired."
Exercise often means being outside and getting more light — on average, 1,000 times more than indoor levels. Exposure to sunlight synchronizes our body clocks with daylight.
Sleep is not only regulated by the body clock, but also by how long we were awake (also known as the buildup of "sleep pressure").
But not all waking hours are equal.
We'll get more tired skiing, for example, than sitting at a desk sending e-mail.
This is one reason we sometimes lie awake at the end of a long day at the office despite utter exhaustion.
Most my adult working life has been what's called 'shift work,' where the place where your job be located has different hours than say, a bank, or Monday-thru-Friday office job. My first newspaper job was as police reporter, 4 p.m. to 1 a.m., with Sundays and Mondays off (and in Montgomery, Alabama in the mid-1970s, it was shitsville), and nearly all food service work.
Pre-sleep, always, post-sleep never.
And can't resist this little nut from the Santa Rosa, CA Press Democrat:
A woman was taken by ambulance to a hospital Saturday afternoon after being run over by her own vehicle, according to emergency crews.
The woman, who was not named late Saturday, was reportedly in a driveway in Monte Rio at about 1 p.m. when she realized the parking brake was not activated.
While trying to secure the brake, the woman was run over on her midsection, according to Monte Rio and Russian River fire crews.
She was taken by ambulance to an area near Summer Bridge in Monte Rio where a helicopter was able to land and pick her up.
The extent of her injuries was not known late Saturday.
Always allow time to get enough sleep, and to correctly set the parking brake — if you don't get enough of the former, the latter might make you post-history.