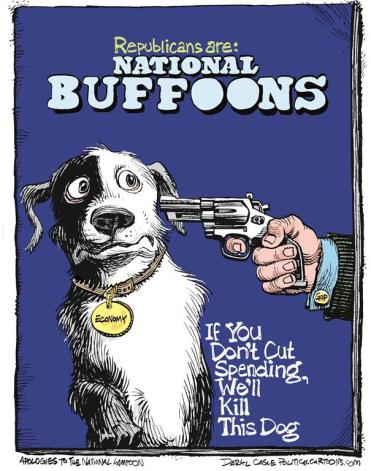 Crystal-clear and chilly again this early Friday here on California's north coast as we plunge into the weekend, following-through one of strangest, dumb-ass weeks in the history of the good-ole-US of A, which is losing its gloss.
In the midst of a nonsensical government shutdown, as you all have heard by now, a dental hygienist from Connecticut was killed yesterday in DC after trying to ram the White House gates with her luxury car.
No motive yet, though, her mother said she suffered from post-partum depression, her dentist boss claims she was "always happy…I would never in a million years believe that she would do something like this," he said.
We may never know the why, but tragedy will become a nuanced fashion way of life in America if somebody don't pull a drop rope.
(Illustration found here).
And there's more to this horror story than meets the narrow-minded eye. Shit that makes the news is only the tip of the iceberg.
Working on day four of this nonsense, this entire debacle is getting out of hand. Even the term for those laid off, "non-essential," is not only misleading but "…outdated, cruel and wrong."
From Government Executive:
It's commonly believed that federal officials changed the labels from the old essential/nonessential distinction so as not to upset the delicate feelings of those in the latter category.
But it's fairly obvious there's another reason: It's simply wrong to characterize those who have been sent home as not essential to the operations of government.
Their work is non-essential in only a very narrowly defined way — that is, it doesn't directly involve "the safety of human life or the protection of property."
On top of that, agencies have creatively come up with ways to keep operations running that aren't exactly essential to the protection of life and property — such as passport processing — but which would create major annoyances for the public and a drag on the economy.
That leaves everybody remaining in the non-excepted category as looking like their work doesn't matter.
In fact, there are plenty of HUD and Education employees sitting at home today whose work is essential to the mission of their agency — and thousands more at agencies like NASA and the Securities and Exchange Commission, who also have huge percentages of their workforces idled.
It's just that in a shutdown, our elected officials have decided they don't care whether that kind of essential work continues.
If the GOP nutjobs have their way, all government employees will go — the Capitol Hill cops who handled the dental worker were on the job without pay. Where is the crazy, now?.
And all kinds of other shit, too, are hanging.
Are these assholes playing chickenshit games with Americans?
From The Poultry Site:
President of the American Farm Bureau Federation, Bob Stallman, said that farmers and ranchers — along with 90 per cent of the country — are frustrated with Congress for their apparent unwillingness to reach agreement.
On 1 October, he commented:
"Aside from shutting down the government, the one-year farm bill extension Congress granted last session also expired at midnight, while the new farm bill has yet to formally reach the conference process."
National Farmers Union president, Roger Johnson wrote to the Speaker of the House of Representatives:
"The 2008 Farm Bill has now been allowed to expire twice, most recently on Sept. 30, 2013. The fate of the farm bill is now in your hands."
In a later press release, Mr Johnson said:
"The US Congress has put all Americans in a dire situation. The uncertainty created by the failure to come to an agreement on how to fund the government has overshadowed a situation that impacts the livelihood of so many family farmers, ranchers, fishermen and hungry people in this country."
Playing chicken with chickens.
This week, a couple of assholes used one of my most-favorite words in describing the shutdown — 'insidious' — and both are morons.
Further harpy bullshit in keeping the NSA going about its blindman's bluff of national security:
"I've never seen anything like this," Director of National Intelligence James Clapper told the Senate Judiciary Committee.
"The damage will be insidious as this goes on."
Clapper was bullshitting a Senate Judiciary Committee hearing on NSA when he blubbered out the above shit-spittle, even as he lied and danced around all sorts of questions.
Marcy Wheeler has a good insightful post about Clapper "incorrect" shit here.
And the other came from Rep. Todd Rokita, an asshole GOPer from Indiana.
Via Voice of America:
"I just want to help the American people get by and through what is one of the most insidious laws ever created by man. And that is Obamacare."
Rokita is even worse — he's a complete nit-twit.
From Slate:
Rep. Todd Rokita already had a hard enough job as it was going on CNN to try to blame the Democrats for a Republican-planned-and-instigated federal shutdown.
Things only took a turn downhill when the anchor, Carol Costello, started arguing with him.
The frustration caused Rokita to take a condescending tone, like he was talking to an errant teenager instead of a professional news anchor.
Then he cracked: "Carol, you're beautiful, but you need to be honest as well."
Costello immediately ended the interview.
In retrospect, she probably did Rokita a favor, saving him from saying things like, "Carol, you wear that sweater very well, but your grasp of the facts isn't quite as tight," or "Carol, your hair looks like it smells great, but your head is full of lies."
However, just as the blame for Republicans shutting down the government clearly lays with the Democrats, so should we understand that Rokita's misbehavior is actually the fault of CNN.
By egregiously choosing to put a female anchor on the air, they were setting him up to fail.
And just how insidious is that?