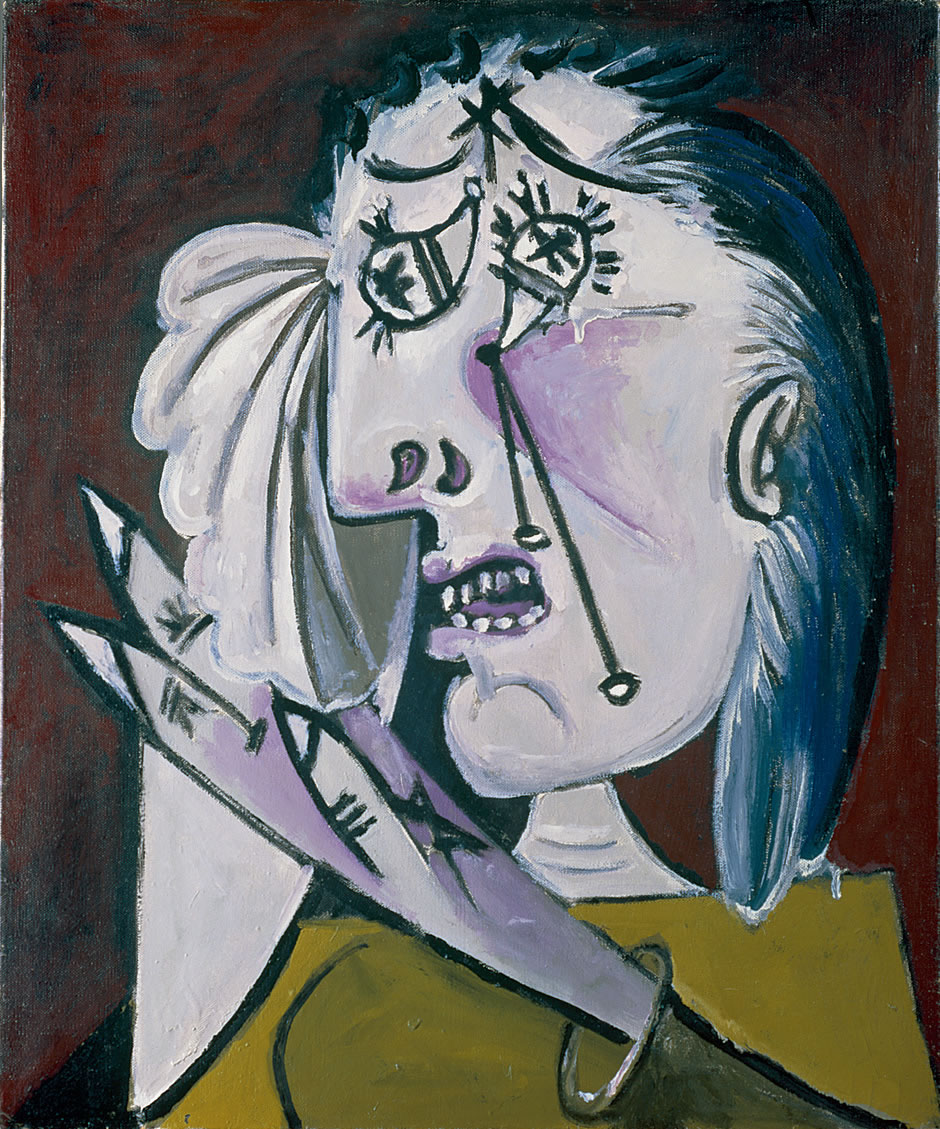 Dark and a sensation of cold this early Thursday on California's north coast — although the NWS claims it's warmer than yesterday morning, and the rest of today to be warmer still.
Yet a chill to any ass are the dip-shits infested within that august body of Senators out yonder in DC — they voted nearly unanimously last night climate change ain't no hoax (maybe 30 years late?), but then might have really fucked up.
From the Guardian this morning: 'But the Senate voted down two measures that attributed climate change to human activity – and that is far more important. Unless Senators are prepared to acknowledge the causes of climate change, it is likely they will remain unable and unwilling to do anything about it.'
(Illustration: Pablo Picasso's 'Weeping Woman' found here).
This scenario much-strengthened in the words from the new chair of the Senate Environment and Public Works Committee, Jim Inhofe of Oklahoma, and the terrible wrinkle in the knot:
"Climate is changing and climate has always changed and always will," Inhofe told the Senate.
"The hoax is that there are some people who are so arrogant to think they are so powerful they can change climate.
"Man can't change climate."
One pure asshole, Inhofe as head of the top Senate committee on anything environmental will definitely be a log-jam to surviving the next few years — or months. And Inhofe is not alone, so the blood will get thick, despite all kinds of weird weather shit happening, and it's actually getting hotter.
Heather Smith at Grist adds:
Actually, scientists have also known since the 1890s that humans are perfectly capable of changing the climate.
But on this matter the rest of the Senate sided with Inhofe.
It voted 50-49 on another amendment put forward by Sen. Brian Schatz (D-Hawaii).
Schatz's measure said that not only was global warming a real thing, but that "human activity significantly contributes to climate change."
This amendment went down, but not before picking up some Republican senators along the way — including energy wonk Lamar Alexander (R-Tenn.); Susan Collins (R-Maine); Lindsey Graham (R-S.C.), who caused controversy last year when he won support from the Environmental Defense Fund despite blocking climate regulations; and Mark Kirk (R-Ill.) and Kelly Ayotte (R-N.H.), who have gone back and forth in the past on whether or not climate change even exists.
In other words: The Senate overwhelmingly backs the reality of climate change, but more than half of it thinks it's not our fault.
…
Whitehouse actually got a little dreamy.
"The dark days of denying there actually is a problem," he said, "may have just seen breaking of dawn."
Have they?
It was only last night that several minutes of Obama making fun of climate change deniers were clumsily edited out of a "factchecked" Republican edit of the State of the Union address.
The vote also created a record at a time when not believing in climate change in the present day could create major political liabilities in the future.
"We may not agree on the solutions, on the paths forward,"  said Schatz, "or even on some of the details, but I do believe it's time for us to begin to agree on a basic set of facts."
Well, now they've agreed.
Can we move on to the part about the solutions now?
Hence, the ultimate problem. And as time continues unabated, those 'solutions' will become more drastic and dramatic.
And the effects of climate change obvious, even to hard-shell, hard-headed and ignorant assholes — but most-likely too late.