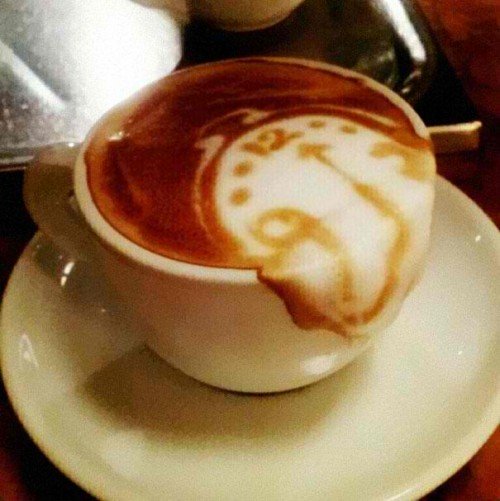 Sunshine and seemingly a bit warmer this near-noon Monday on California's north coast, as the latest storm appears gone for now — supposedly pretty-good weather this week, though, maybe some rain late-Tuesday/early Wednesday.
In the brightness of the morning, and the pep-upper of them all — coffee! (via today's Medical News Today):
Caffeine is probably the most used stimulant and psychoactive drug on the planet.
Each day, Americans consume an average of 27.3 oz of coffee; an estimated 10 percent of Americans consume more than 1,000 mg of caffeine on a daily basis.
(Illustration: 'Surrealist Cup,' by Japanese Latte Artist Kazuki Yamamoto, found here).
After nearly two cups of highly-potent coffee (Starbucks' 'Espresso'), I feel a readiness to myself, at least a sense of already having accomplished something. In reality, just java producing juice.
After decades of consuming 'whatever' coffee, or even way-worse, 'instant,' my sense/attitude/conception shifted as I was a participant in the coffee-consumer explosion in the early 1990s, which created the now-normal everywhere coffee shops. Then living in Pismo Beach, down on California's Central Coast, the late-great 'Black Pearl Coffee House' opened in early 1994 a couple of blocks from my house — first as wired-up customer there, later as a barista, and for a short while, weird-de facto manager. Sadly, 'The Pearl,' as affectionately shortened by locals/regulars, is now long gone.
Anyhow, coffee as more-than coffee has been part of me for 20 years — always figured the shit was good for you if consumed in a somewhat normal fashion, and studies lately have seemed to confirm that caffeinated reasoning.
The latest concerns coffee and performance during exercise, and was actually a review of previous research of coffee, caffeine and sports, and caffeine in both cup and tablet form.
Further on the study at Medical News Today:
Caffeine is absorbed relatively quickly once it reaches the stomach and hits peak levels in the blood 1-2 hours after ingestion.
The stimulant is absorbed into most types of body tissue and has an effect on a wide array of systems.
In the 1970s, scientists believed that caffeine influenced the way energy was made available to the body and thus enhanced performance.
In the 80s, opinion switched.
The scientific consensus was that caffeine did not, in fact, improve physical endurance.
Today, scientific opinion holds that caffeine can enhance certain types of physical performance, including endurance and time trials.
It is generally believed that caffeine in tablet form is more beneficial to performance than when consumed as coffee.
The exact reasons for the differences in effect between formats of caffeine are not known, but it is presumed that coffee's other ingredients might play a part.
Coffee consists of hundreds of chemicals, some of which might either block caffeine's positive effects or have a negative impact on performance.
So much an impact, it's banned by some sports groups:
However, if you are considering brewing another pot before your time trial, it is worth noting that the National Collegiate Athletic Association (NCAA) lists caffeine as a prohibited substance.
Urinary caffeine levels exceeding 15 ?g/ml could result in a ban; that equates to the consumption of around 17 caffeinated soft drinks.
However, people in the past have fallen foul of the regulation, so it is worth noting.
Interestingly, the World Anti-Doping Agency does not classify caffeine as a prohibited substance.
A coffee tablet would be worse than even 'instant,' with a total-lack of sensibility.
Although the most-wondrous, 'The Pearl,' is history, the business of coffee-making/consuming is still 'perking' up:
More than three-quarters of Americans drink coffee, according to the National Coffee Association.
Next to water, it is consumers' top daily beverage choice.
But they are becoming more particular about what kind of coffee they drink, and the coffee industry has changed in the past 10 years or so to accommodate changing tastes.
…
A typical roaster saw an annual sales growth of 8.3 percent between 2013 and 2014, reported the Specialty Coffee Association, which surveyed nearly 8,500 roasting companies in more than a dozen countries.
Most respondents were micro roasters in the States with a single roasting machine.
The largest reported sales growth — an increase of more than 11 percent year over year — came from roasters with sales of $100,000 or less annually.
…
Today, people are willing to pay more for a higher quality of coffee, according to a 2015 survey by Zagat, a restaurant guide.
The price people pay for a coffee drink has increased from an average of $2.98 in 2013 to $3.28 in 2015.
A pound of specialty roasted coffee can range anywhere from $8 to $50, compared to about $5 for a pound of Folgers.
Disclaimer: Along with my double-cup of coffee, I also included a bowl to the 'readiness' feeling described above…