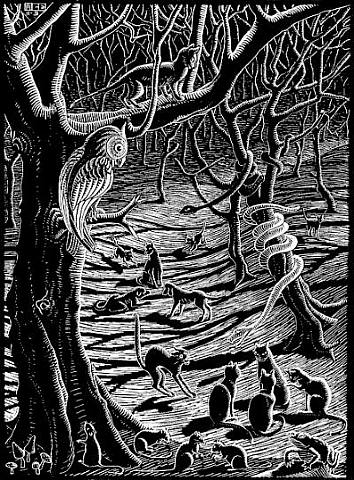 Fog and a chilled air this early Monday on California's north coast, and although the near-interior is under a NWS 'Fire Weather Warning,' we'll most-likely bask in another nice day, starting closer to the noon hour.
This morning in recognition of public-health issues, arising maybe off Hillary Clinton's supposed 'medical problems' yesterday, an item that could come from a "Ben-Hur" setting — last week, officials in Riverside Country reported an investigation into two suspected cases of leprosy at an elementary school in the area.
Jurupa Valley Unified Superintendent Elliott Duchon maintained cool: '"For parents, they need to make a decision for their children but we're not recommending any precaution. There is not a risk at this time."'
Or expressed some famous last words…
(Illustration: M.C Escher's 'Scholastica,' found here).
Nowadays leprosy is called Hansen's Disease, and in the US, is pretty rare with between 100-200 cases typically reported each year — in 2014, of the 175 new cases of Hansen's disease, nearly three-quarters of these cases were reported in seven states: Arkansas, California, Florida, Hawaii, Louisiana, New York and Texas.
The classrooms down in Riverside County were cleaned, and supposedly Hansen's disease is hard to spread in the modern era — people are still freaked-out by it.
From a story about the incident at the Daily Beast last Wednesday:
Adolph Flores, a grandparent of an Indian Hills student, told ABC News, "Normally this place would be packed with kids. We walk around and the sidewalk [is] full of kids, [but there are] hardly any [today]."
He said he was worried about the suspected leprosy cases but was willing to follow the school's recommendations.
"We're concerned, but what can we do? They say it's okay, so it's okay."
Other parents were not as pacified by the school's reassurances.
"I don't know exactly what [leprosy] is," Karen Sunderland, an Indian Hills parent told ABC News reporters.
"I just know it's scary."
…
Dr. David Scollard, Director of the National Hansen's Disease Program, told The Daily Beast that he agrees with the Riverside County Health Department's recommendations "one hundred percent."
"We see people react with hysterical, uninformed responses because they're shocked. They think that the disease doesn't exist, that it's only in the Bible," Dr. Scollard said.
"The uniformed responses [are] detrimental to everybody."
And this via Live Science last Friday:
"There's a lot of stigma and a lot of misunderstanding about leprosy," said Dr. Amesh Adalja, an infectious-disease specialist and a senior associate at the University of Pittsburgh Medical Center's Center for Health Security.
"In the United States, there are thousands of people" who have the disease, Adalja told Live Science. It's estimated that, overall, about 6,500 people in the United States have Hansen's disease, and about half of these require active medical
…
But the disease is easily treatable with antibiotics, according to the CDC.
And patients are unable to transmit the disease to other people after taking just a few doses of antibiotics.
Another dose of terror for the system…
And in the interest of disease and health, a couple recent science studies to prick the skin.
First, research into the choice between more time or more money — via the New York Times last Friday:
In a paper in the journal Social Psychological and Personality Science, which we wrote with our student Uri Barnea, we found that most people valued money more than time.
Sixty-four percent of the 4,415 people we asked in five surveys chose money.
Is money the right choice?
We had also asked our survey respondents to report their level of happiness and life satisfaction.
We found that the people who chose time were on average statistically happier and more satisfied with life than the people who chose money.
So money may turn out to be the wrong choice.
…
In our pursuit of happiness, we are constantly faced with decisions both big and small that force us to pit time against money.
Of course, sometimes it's not a choice at all: We must earn that extra pay to make ends meet.
But when it is a choice, the likelihood of choosing more time over more money — despite the widespread tendency to do the opposite — is a good sign you'll enjoy the happiness you seek.
And the infamous justification for way-quickly eating foodstuffs dropped on the floor before being infected with 'germs' — from the abstract at the American Society for Microbiology:
We explore this topic using four different surfaces (stainless steel, ceramic tile, wood and carpet), four different foods (watermelon, bread, bread with butter and gummy candy), four different contact times, and two bacterial preparation methods.
Although we show that longer contact times result in more transfer, we also show that other factors including the nature of the food and the surface are of equal or greater importance.
Some transfer takes place "instantaneously" at times, disproving the "five second rule".
Leave it on the floor, leprosy boy…