Today's one nasty-ass moment, and the irony — the T-Rump's infested shape, and image of the nowadays:
I'm pretty sure a bug is stuck in Trump's hair as he's speaking in Jamestown, VA to commemorate 400 years of America's democracy. pic.twitter.com/Q5vw1JN18l

— Beverly Hallberg (@bevhallberg) July 30, 2019
Also another moment at the same event — via The Hill:
A Muslim Virginia state legislator on Tuesday interrupted President Trump and shouted "you can't send us back" as the president delivered remarks at an event in Jamestown, Va., celebrating 400 years of representative democracy.
"You can't send us back, Virginia is our home," Ibraheem Samirah, a lawmaker who represents the 86th District in the Virginia House of Delegates, shouted near the beginning of Trump's speech.
Samirah proceeded to face the audience while brandishing a sign reading "go back to your corrupted home," "deport hate" and "reunite my family."
He was escorted away by security as people in the crowd repeatedly chanted "Trump."
Trump, who regularly denounces protesters at campaign rallies, did not address the latest demonstration.
Samirah said moments later on Twitter that he disrupted Trump's speech because "nobody's racism and bigotry should be excused for the sake of being polite."
"The man is unfit for office and unfit to partake in a celebration of democracy, representation, and our nation's history of immigrants," (he) wrote.
Here it be:
Of course, we're in the throes of one huge clusterfuck of clusterfucks. Tonight is another Democrat presidential debate and a move on down the road to what? If Democrats can't start acting like this is an unprecedented crisis, the T-Rump will roll over America, and then we be pure fucked.
Republicans lie, cheat and steal, have no morals/ethics and live off racist cruelty, so Democrats need to really start kicking ass, And polls show we're in the majority — most Americans can't stand the T-Rump (54-percent of registered voters would 'Definitely Not Vote; for the sonsofbitch).
Dems to get on it…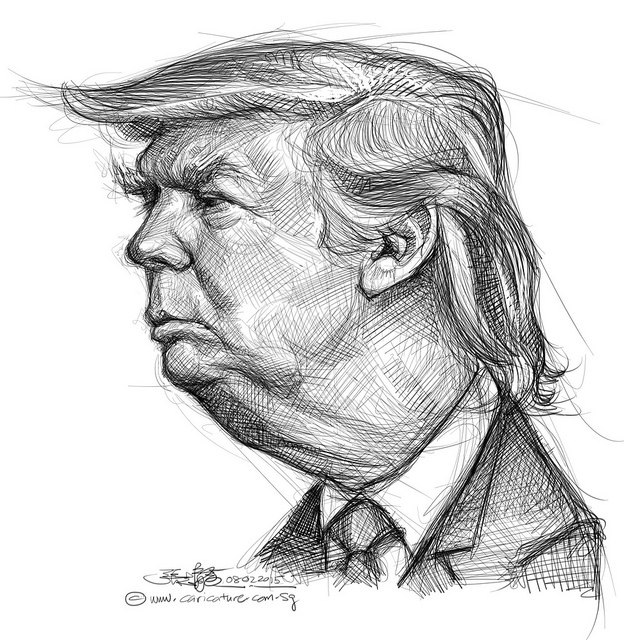 (Illustration: 'Basic Shapes,' by caricaturist/illustrator Chong Jit Leong found here).