Rainy and gray this early-evening Tuesday here on California's north coast — more like a drizzle, but will get you soaking wet in minutes.
Tomorrow rain forecast again with sunshine maybe on Thursday.
Also tomorrow, the T-Rump's EPA is expected to revoke California's ability to maintain lower vehicle emission standards — lower than the federal guidelines — just because of former President Obama: 'The Trump administration has also made unraveling Obama's environmental legacy a priority. Months after he arrived in office, President Donald Trump announced the US would leave the Paris Climate Agreement and in June he revoked the Clean Power Plan, the key regulation underpinning the US' pledge in the landmark 2015 international agreement. The administration also recently revoked Obama's Waters of the United States rule and has made number of other moves that would allow for increased oil and gas production on public lands.'
And the shitbird was in California today to fund-raise.
Meanwhile also today, Obama met with 16-year-old climate activist Greta Thunberg:
Just 16, @GretaThunberg is already one of our planet's greatest advocates. Recognizing that her generation will bear the brunt of climate change, she's unafraid to push for real action. She embodies our vision at the @ObamaFoundation: A future shaped by young leaders like her. pic.twitter.com/VgCPAaDp3C

— Barack Obama (@BarackObama) September 17, 2019
The difference between the T-Rump and Obama is stomach-churning bad.
Climate change is the major problem facing the entire, whole-freaking planet. And of the more-scarier aspects is how even scientists with all kinds of equipment really can't get a handle on how bad the situation.
Environmental studies and research published lately carry a motif, a kind of preamble to the data/information presented — shit is worse than we originally figured, or expected, like when this past June it was reported Canadian permafrost was melting 70 years early — the latest example today from Phys.org:
Greenhouse gases thrust into the atmosphere mainly by burning fossil fuels are warming Earth's surface more quickly than previously understood, according to new climate models set to replace those used in current UN projections, scientists said Tuesday.
By 2100, average temperatures could rise 7.0 degrees Celsius above pre-industrial levels if carbon emissions continue unabated, separate models from two leading research centres in France showed.
That is up to two degrees higher than the equivalent scenario in the Intergovernmental Panel for Climate Change's (IPCC) 2014 benchmark 5th Assessment Report.
The new calculations also suggest that the Paris Agreement goals of capping global warming at "well below" two degrees, and 1.5C if possible, will be challenging at best, the scientists said.
…
A core finding of the new models is that increased levels of CO2 in the atmosphere will warm Earth's surface more—and more easily—than earlier calculations had suggested.
If confirmed, this higher "equilibrium climate sensitivity", or ECS, means humanity's carbon budget — our total emissions allowance—is likely to shrink.
In context: 'With only one degree Celsius of warming so far, the world is coping with increasingly deadly heat waves, droughts, floods and tropical cyclones made more destructive by rising seas.'
T-Rump's real legacy: '"He is locking in permanent, irreversible damage to our environment through his irresponsible environmental policies, including his efforts to block progress on climate change," said Dr. Michael E. Mann, distinguished professor of atmospheric science at Penn State University and the director of the Penn State Earth System Science Center. "Once we go beyond key tipping points — the melting of the major ice sheets — there is no going back."'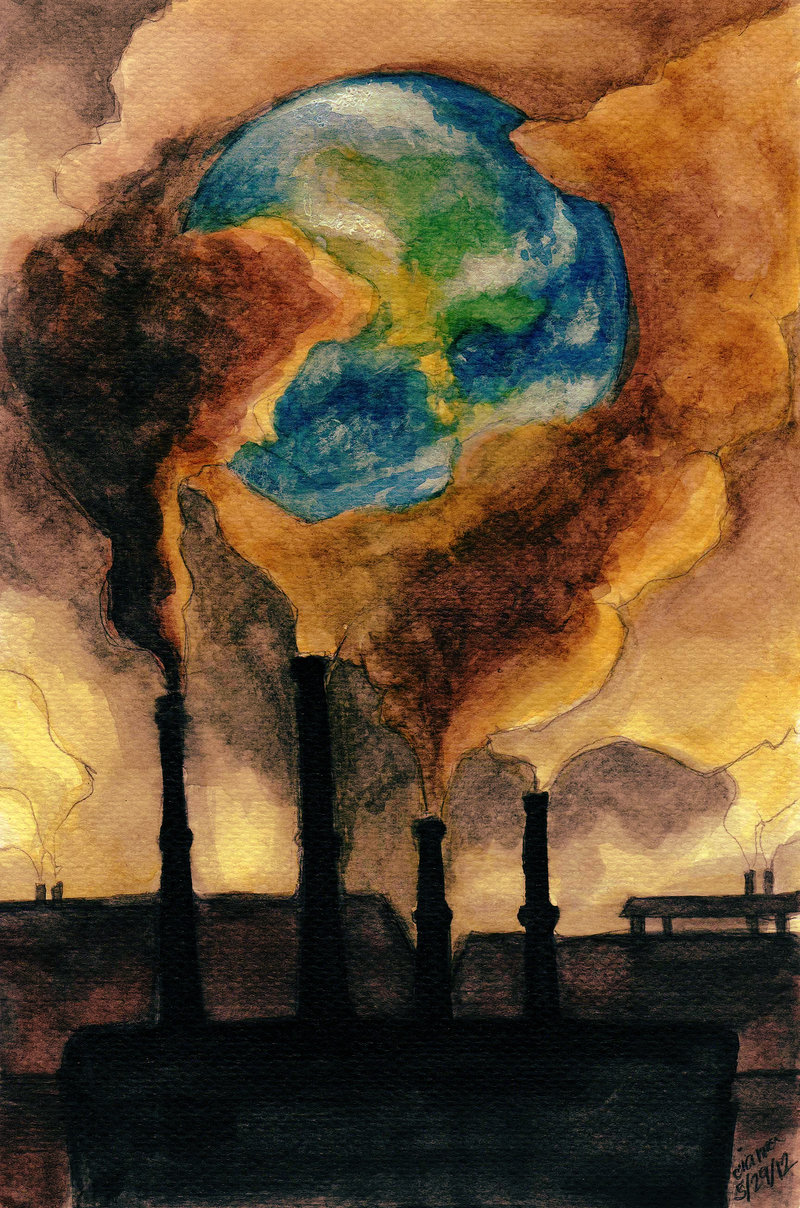 (Illustration found here).