Along with everything else, there's that Chinese coronavirus, and today an unexpected shock — latest California victim was reported in Humboldt County, where I used to live for more than 12 years until moving here to Merced two months ago.
Of all places, I wouldn't have never suspected the North Coast of landing the coronavirus. Already pretty isolated in itself, and not a whole-lot of people located there, living on a small usable/livable strip of land between the Pacific Ocean and the mountains, Humboldt seemingly a narrowly-small scene.
DHHS Public Health reports one confirmed case of COVID-19 in a Humboldt County resident. A close contact of the resident is also being tested. Both are self-isolating at home and being monitored by Public Health officials. Follow the link for more. https://t.co/PDKWRxAX0I pic.twitter.com/YoufPIqDP3

— Humboldt County DHHS (@HumCoDHHS) February 21, 2020
Yet all that doesn't appear to matter to a virus. The Humboldt case the seventh for the state, and 13th nationwide. However, included in an overall victim count is 21 repatriated off those cruise ships — 34 total for the US, so far.
Some sketchy details on the Humboldt case from the Times-Standard in Eureka, updated this morning:
The first case of COVID-19, the novel coronavirus, has been confirmed in a Humboldt County resident, and "a close contact" with symptoms is also being tested, local public health officials announced Thursday.
The Public Health branch of Humboldt County's Department of Health and Human Services said Thursday it had received confirmation of the news from the state Department of Public Health and the U.S. Centers for Disease Control and Prevention.
A separate statement Thursday from Roberta Luskin-Hawk, M.D., chief executive of St. Joseph Health, Humboldt County, said the two patients were evaluated at St. Joseph Hospital's Emergency Department in Eureka on Feb. 16.
"After a thorough investigation, at this time, we have no evidence that any patients were exposed during the visit," Luskin-Hawk said in the statement.
"There was no close or prolonged contact with anyone in the Emergency Department. We followed established protocols from the moment the patients arrived. They were admitted straight to a special isolation room that has negative pressure to minimize the risk of exposure."
Hopefully the situation is not too serious: '"Both patients were treated and released the same day…are doing well and self-isolating at home."'
The health department report also included this: '"It's important to remember that the risk to the general public remains low at this time," said Humboldt County Health Officer Dr. Teresa Frankovich. "Despite the fact that Humboldt County now has a confirmed case of COVID-19, there is no evidence to suggest that novel coronavirus is circulating in the community at large."'
This coronavirus could be something else — via the Washington Post this evening:
In South Korea, coronavirus cases quadrupled over two days, as 144 members of a religious sect tested positive.
In Singapore, clusters of infection have been traced to two churches, a hotel business meeting, a health products shop and a construction site.
In Iran, an outbreak has seeded new cases in Lebanon and Canada — a worrisome sign that the disease could be spreading more widely than was realized.
There are outbreaks.
There are epidemics.
And there are pandemics, where epidemics become rampant in multiple countries and continents simultaneously.
The novel coronavirus that causes the disease named covid-19 appears to be on the verge of that third, globe-shaking stage.
Amid an alarming surge in cases with no clear link to China, infectious disease experts think the flu-like illness may soon be impossible to contain.
The World Health Organization has not declared covid-19 a pandemic, and the most devastating effects, including more than 2,200 deaths, are still in China.
But the language coming from the organization's Geneva headquarters has turned more ominous in recent days as the challenge of containment grows more daunting.
"The window of opportunity is still there, but the window of opportunity is narrowing," WHO Director General Tedros Adhanom Ghebreyesus said Friday.
"We need to act quickly before it closes completely."
If the coronavirus becomes a true pandemic, a large portion of the human population — a third, a half, two-thirds even — could become infected, although that doesn't necessarily mean they will get sick.
The word "pandemic" invokes fear, but it describes how widespread an outbreak may be, not its deadliness.
Yeah right.
And keep in mind with this maybe-emergency's 'window of opportunity' and our own T-Rump — from Foreign Policy a month ago:
In 2018, the Trump administration fired the government's entire pandemic response chain of command, including the White House management infrastructure.
In numerous phone calls and emails with key agencies across the U.S. government, the only consistent response I encountered was distressed confusion.
If the United States still has a clear chain of command for pandemic response, the White House urgently needs to clarify what it isIf the United States still has a clear chain of command for pandemic response, the White House urgently needs to clarify what it is—not just for the public but for the government itself, which largely finds itself in the dark.
In that regard, Johns Hopkins University hi-tech guys devised a live map and dashboard thingie to keep us abreast of the rolling-thunder outbreak as it spreads closer….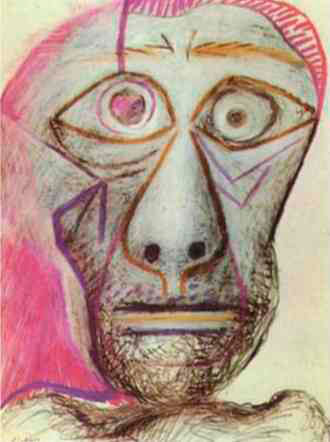 (Illustration: Pablo Picasso's 'Self Portrait Facing Death' (June 30, 1972), was originally found here).