Dense, chilly fog here mid-day Sunday in California's Central Valley, a full-scale return to our 'tule fog' bullshit once again after some rain last week, with the version this morning a thick, near-opaque gray in absolutely-zero wind — zilch in any kind of movement.
A simile in the ugly Joe 'MonsterMash' Manchin — :
In this current age of a way-incredible abundance of deeply-despicable human beings, MonsterMash Manchin may be in the top two or three — he is such a horrid asshole, I really shouldn't be able to write this sentence without wanting to stop one freaking second and scream so loud it would scare the living-shit out of everyone right now in the whole-ass Central Valley.
The damage one piece of shit can do is remarkable — just look at the T-Rump — and MonsterMash is tule fog, but cast out into the sunshine as everyone can see what a shit-turd he is in the open. A lot of people love him, of course, but they're either the elite, or they're more stupid than way-ignorant.
After being a stop-gap, lying shit, playing with the Democrats agenda for months, MonsterMash let it fall out of the cycle this morning (CBS News):
Democratic Senator Joe Manchin of West Virginia said Sunday he can no longer support President Biden's Build Back Better Act, dealing a potentially fatal blow to the $1.75 trillion tax and spending plan that includes Democrats' key domestic policy initiatives.

"I cannot vote to continue with this piece of legislation. I just can't. I've tried everything humanly possible. I can't get there," Manchin told "Fox News Sunday."
"This is a no on this piece of legislation. I have tried everything I know to do," he added, citing concerns over inflation, the national debt and the COVID-19 pandemic for his decision.

In a lengthy statement reiterating those concerns, Manchin said Democrats in Washington "are determined to dramatically reshape our society in a way that leaves our country even more vulnerable to the threats we face."
He's so full of shit, you know he's got brown eyes. In the pocket, as the saying goes — CNN at the end of October:
Manchin, whose vote is crucial to passage of President Joe Biden's domestic policy priorities in an evenly divided 50-50 Senate, has holdings valued at between $1 million and $5 million in Enersystems, Inc., the coal brokerage business he founded, according to his most recent financial disclosure form that covers 2020 activity.
And last year, he made more than $491,000 from his Enersystems holdings, the filings show. That's more than twice his $174,000 annual Senate salary.

"Manchin is a walking conflict of interest," said Craig Holman, a lobbyist for the liberal watchdog group Public Citizen.
"And what makes it all the more troubling is that he's the 50th Democratic senator, which gives him enormous sway over climate change policy."
Joe Biden's people were quick on the rebuttal against the asshole:
From the White House pic.twitter.com/7NLEU3i5yx

— Josh Marshall (@joshtpm) December 19, 2021
Statement from Jen Psaki earlier this morning:
Senator Manchin's comments this morning on FOX are at odds with his discussions this week with the President, with White House staff, and with his own public utterances. Weeks ago, Senator Manchin committed to the President, at his home in Wilmington, to support the Build Back Better framework that the President then subsequently announced. Senator Manchin pledged repeatedly to negotiate on finalizing that framework "in good faith."
…
Senator Manchin claims that this change of position is related to inflation, but the think tank he often cites on Build Back Better—the Penn Wharton Budget Institute—issued a report less than 48 hours ago that noted the Build Back Better Act will have virtually no impact on inflation in the short term, and, in the long run, the policies it includes will ease inflationary pressures.
Many leading economists with whom Senator Manchin frequently consults also support Build Back Better.
Psaki, however, does write they'll keep the door to MonsterMash open, '"we will continue to press him to see if he will reverse his position yet again, to honor his prior commitments and be true to his word."'
No hold your breath, Jen.
True horror — Steve M nails it:
Presumably he's been planning to do this for months if he couldn't get the White House and the rest of the Democratic Party to give up. I assume he thought he could kill the bill merely by forcing endless negotiations right up until the Democrats' self-imposed deadline, but when they made it clear that they were willing to keep negotiating into 2022, he decided it was time to shiv them.
I'm sure his poll numbers will go up in his extremely red home state, particularly among people who would have benefited from this bill the most, because that's the way this country works.
Shitty, depressing state of affairs — and don't forget the fog!
And once again, here we are…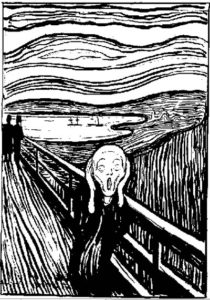 (Illustration out front: Edvard Munch's 'The Scream,' lithograph version, found here).