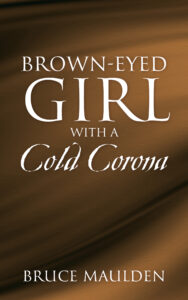 A quick update on my novel, "Brown-Eyed Girl With A Cold Corona," published back in March — I should have done this sooner, but here it is.
Initial post on the publication here, and my Amazon/Kindle site here (you can also sample the e-book's first couple of chapters as a tease, if you'd like).
Apparently, after weeks of internal debate I guess I'm ready for the project to go public and allow the oncoming critiques to wash over me like a gentle spring shower, instead of the imagined reality of the boiling lava flow of evaluations that would be on par with our hot-fueled summer environment here in California's Central Valley — forecast for a high of 96-degrees today, 104 tomorrow — that would make me hide in a discarded laptop lost in a closet somewhere dumb.
Seemingly, doubt persists after the manuscript was hidden away in a cardboard box for so long, and a first draft written nearly 30 years ago, the work is actually a decent piece of literature.
The terror-fright is that it's a piece of shit.
Anyway, take a read and buy the book to witness something special. I'm going to put together a 'Corona' page here on the blog, but I'm slow on the roll with this long-time-ago project.
In a giggle, 'stuff' can mean anything:
Author baby-whining or not, here we are once again…