Topping off the news cycle this Wednesday seems to be the Joe Manchin/Chuck Schumer agreement in the Senate for a big, breakthrough bill for climate and health care — and if it does make it past Republicans and signed into law, it would indeed be a BFD.
The Manchin reversal shocker knocked T-Rump's ramped-up DOJ investigation off top of today's news chart.
Asshole Joe is already backslapping himself (Axios): "I now propose and will vote for the Inflation Reduction Act of 2022."
Twist-oh-flex at it:
Holy shit. Stunned, but in a good way. $370B for climate and energy and 40% emissions reduction by 2030.

— Senator Tina Smith (@SenTinaSmith) July 27, 2022
Deal details (as they are) via CNN late this afternoon:
Senate Majority Leader Chuck Schumer and Sen. Joe Manchin on Wednesday announced a deal on an energy and health care bill, representing a breakthrough after more than a year of negotiations that have collapsed time and again.

But it will face furious GOP opposition.

With a deal in hand, the health and climate bill stands a serious chance of becoming law as soon as August — assuming Democrats can pass the bill in the House and that it passes muster with the Senate parliamentarian to allow it to be approved along straight party lines in the budget process.
While Manchin scuttled President Joe Biden's Build Back Better bill, the final deal includes a number of provisions the moderate from West Virginia had privately scoffed at. That includes provisions addressing the climate crisis.

The agreement contains a number of Democrats' goals. While many details have not been disclosed, the measure would invest $369 billion into energy and climate change programs, with the goal of reducing carbon emissions by 40 percent by 2030, according to a one-page fact sheet.
For the first time, Medicare would be empowered to negotiate the prices of certain medications, something Democrats say would raise $288 billion, and it would cap out-of-pocket costs at $2,000 for those enrolled in Medicare drug plans. It would extend expiring subsidies under the Affordable Care Act for three years.

The announcement comes at a crucial time for Congress, as the Senate is a little over a week away from starting a monthlong recess, when many Democrats will campaign for reelection.
The news also came several hours after the Senate passed a separate bill to invest $52 billion in US manufacturing of semiconductors, sending it to the House to consider as soon as this week.
Manchin is still an asshole, and reportedly gave the bill its new title, pinging Biden's attempt (NY Times): "Build Back Better is dead, and instead we have the opportunity to make our country stronger by bringing Americans together," Mr. Manchin said. "I will do everything I can to usher in a new era of compromise and common sense that will make America more energy secure, financially sound and a more united country for this generation and the next."
Apparently, Manchin is such a known asshole, the episode seemed to have come out of the blue (Deadline): The agreement surprised reporters, as Manchin several weeks ago indicated that he would not support key aspects of Joe Biden's agenda, including climate programs, because of concerns of inflation.
Considering the source of this shit, Manchin has an alternative reason for the shift in approval, which will probably surface sometime down the line. Seemingly, all shit eventually comes to light.
Money shit, most likely:
Wild stuff https://t.co/8DFKwiaNmr pic.twitter.com/86LZsmsI3A

— Molly Jong-Fast (@MollyJongFast) July 27, 2022
Although it's supposedly 'not clear' what turned Joe's head, Jim Newell at Slate, also late this afternoon, noted on the prick talk:
In exchange, Manchin appears to get two substantial victories.

First, he gets to continue claiming that he killed "Build Back Better," because this sucker is called the Inflation Reduction Act of 2022. You can hear the kids chanting it in the streets!

Second, as Manchin and Schumer announced in a joint statement, "we have reached agreement with President Biden and Speaker Pelosi to pass comprehensive permitting reform legislation before the end of this fiscal year." (Manchin wants a shale gas pipeline.)

Unlike the Inflation Reduction Act of 2022, this sort of legislation can't be done under reconciliation rules, so Manchin's beautiful fossil fuel bill will have to wait until the fall. (Longer refresher here, but: Bills passed under reconciliation, which allows Democrats to bypass the 60-vote filibuster, must consist only of tax and spending fixes.)

The timing of the announcement, and the secrecy with which the talks were being kept, is raising some eyebrows about whether Senate Minority Leader Mitch McConnell, well, got played.

…

If Manchin and Schumer played an elaborate, multiweek joke on McConnell by pretending climate and taxes were off the table until CHIPS went through: Truly, hats off. But maybe Manchin just changed his minds a couple of days ago for his usual mysterious reasons no one understands.

Now, you might be thinking this is just Manchin doing his same back-and-forth that never goes anywhere. The bill text hasn't even been released. What is different, though, is that this is the first time Manchin has committed in writing, released to the public, that he will vote for this reconciliation bill. That's not nothing.
One does have to keep this crucial point in mind — Manchin is an immoral, coal-loving asshole.
Absolutely no 'forgiving what I've done' from jumpy Joe:
Change — not! Once again here we are…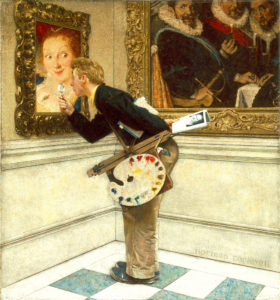 (Illustration out front: 'Art Critic' by Norman Rockwell, found here.)