In keeping with his 'Big Fucking Deal' of a presidency, Joe Biden today made a deep dive into the future — he finally announced nipping student loan debt, and although the action benefits all Americans in the long run, Republicans whined like little shit-babies without the irony of shamelessness.
Biden's been on the cusp of this shit for a while, so this afternoon's official announcement was a BFD — via The New York Times:
President Biden announced a plan on Wednesday to wipe out significant amounts of student loan debt for tens of millions of Americans, saying he would cancel $10,000 in debt for those earning less than $125,000 per year and $20,000 for those who had received Pell grants for low-income families.

The debt forgiveness, although less than what some Democrats had been pushing for, comes after months of deliberations in the White House over fairness and fears that it could exacerbate inflation before the midterm elections.

"All of this means people can start finally to climb out from under that mountain of debt," Mr. Biden said in remarks from the White House.
"To finally think about buying a home or starting a family or starting a business. And by the way, when this happens, the whole economy is better off."
Indeed, the plan will aid more than 40 million Americans who have their student debt reduced, and in some cases, even eliminated altogether. Biden also extended a pause on federal student loan payments. (My daughter will be eligible for a reduction, but her debt is enormous.)
Yet even as there are cries of financial joy across a wide chunk of America, Republicans can't stand it, and must once again pull out all the stops in the whine of wanton hypocrisy:
Seriously, the PPP loans were such a scam. People with podcasts getting tens or hundreds of thousands of dollars despite the fact that their businesses weren't in any way affected by COVID. But yeah, they're all going to cry about people getting $10k in student loan relief. https://t.co/vT0epx84Xp

— Parker Molloy (@ParkerMolloy) August 24, 2022
Historical hypocrisy out loud via Raw Story this afternoon:
The Republican House Judiciary committee posted a comment, "If you take out a loan, you pay it back. Period." They later ranted in all-caps, "NOTHING IS FREE."

In 2020 when the Paycheck Protection Program was created, at least 13 Republican lawmakers took advantage of the free money and never paid it back. The CARES Act handed over $27 million in loans to lawmakers and their families.

"Caregivers Inc., a Pensacola-based company in which Rep. Matt Gaetz (R-FL) has reported holding between $100,001 and $250,000 in corporate stock, received a PPP loan valued between $350,000 and $1 million," reported Citizens for Responsibility and Ethics in Washington (CREW).

…

"Who will ultimately pay the price of Joe Biden's student loan handout?" asked Rep. Jim Jordan (R-OH). "The 87 percent of Americans who don't have student loans!"

Rep. Dan Bishop (R-NC) called the loan forgiveness a gift to "coastal elites," even though it will help families in his east coast state as well as those in the rest of the U.S.

"Today is further proof that the Biden admin cares about foreign borders and coastal elites – not the Americans being crushed by inflation, crime, and a border crisis," he said.

Rep. Steve Scalise (R-LA), who serves in the Republican House leadership also opposed the help for American families.

"Let's be clear: This isn't imaginary money," he tweeted. "Biden just shifted all that student loan debt onto other taxpayers who are already dealing with high inflation. Debt 'forgiveness' is just another liberal scam for the elites paid for by working class Americans.

…

Former President Donald Trump filed for bankruptcy six times under five different companies. The New Yorker detailed the extensive amount of business failures over the course of the past decades for Trump.
And Bess Levin adds a punch at Vanity Fair, also this afternoon:
Obviously, all of these takes are hypocritical, misleading nonsense, starting with the idea that the forgiveness plan is an affront to hardworking/middle-class/"real" Americans. For one thing, as previously stated, the program is expected to overwhelmingly benefit the middle class. For another, while Republicans like to pretend that only members of the 1 percent attend college and grad school, that is clearly not the case. Then there's the uncomfortable fact that the GOP absolutely loves "handouts" when they're being handed out to the ultra wealthy and corporate America; as a reminder, Republicans couldn't get enough of Donald Trump's 2017 Tax Cuts and Jobs Act, which, per the Economic Policy Institute, "overwhelmingly benefited the rich and corporations" and "failed to boost US workers' wages or deliver broad prosperity for low-income communities or communities of color." (Our personal favorite stat: The average US worker's bonus fell 22 cents between December 2017 and December 2018, while the average bonus for 2018 was just one cent higher than in 2017." As in, it grew by a cent.)
Quick clip of Joe making the announcement today:
Debt forgiveness always, though, here we are once again…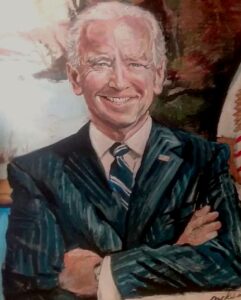 (Illustration out front: 'Joe Biden,' acrylic by Billy Jackson, and found here.)