Sunshine and warmth in the sun, but chilled by a sharp breeze in the shade this late-afternoon Tuesday here in California's Central Valley — a beautiful day as summer draws closer, like tomorrow.
Although T-Rump is one horrible human being, new polling still finds his base of the baseless MAGA nutters are still hanging, even with criminal charges, and terrible TV confessions — what shape are those people who follow him no matter what he does?
Jail time or not:
This is after two indictments pic.twitter.com/GOlOnbBFQS

— Molly Jong-fast (@MollyJongFast) June 20, 2023
Deep dive into the data via FiveThirtyEight this morning:
After eight years, Americans have made up their minds about former President Donald Trump. And it appears that not even a federal indictment is swaying them. According to polls conducted before and after Trump's indictment on June 8, Trump's support levels in both the primary and general election don't appear to have budged, even though a large majority of Americans view the charges as serious. In the Republican primary, he is currently at 53.5 percent support,1 according to FiveThirtyEight's national polling average. That's little changed from June 7, the day before the indictment, when he was sitting at 53.8 percent. (The other candidates have all held roughly steady too.)

It's not that Americans have somehow missed the news. Trump's indictment has gotten mountains of media coverage. According to a recent YouGov/CBS News poll, 75 percent of American adults had heard or read at least some about the latest indictment. And overall, they don't see the content of the charges as frivolous: Sixty-nine percent agreed that, yes, it would be a security risk if Trump had nuclear or military documents in his home after leaving office. Another poll, from Ipsos/ABC News, found that 61 percent of American adults — including 38 percent of Republicans — thought the charges were very or somewhat serious. (Compare that to the 52 percent of adults who thought that about Trump's first indictment, over hush-money payments to a porn star with whom he allegedly had an affair.)

[…]

Of course, this doesn't mean that Trump's legal troubles won't hurt him come fall 2024; just that they haven't hurt him so far. And one thing the polls do suggest is that a hypothetical Trump conviction would be a dealbreaker for a majority of voters (or at least, that's what they say right now). According to YouGov/CBS News, 57 percent of Americans believed that Trump should not be able to serve again as president if he's convicted in the classified-documents case. And we've already seen some Republican politicians draw the same line in the sand: Reps. Ken Buck and Tim Burchett (not exactly moderate congressmen!) have both said recently that they could not support Trump anymore if he is convicted.
In contrast, further from Forbes this afternoon:
Republican support for Trump has declined since the indictment, the CNN poll found, with 47 percent of Republican and Republican-leaning registered voters saying Trump was their first choice for the Republican nomination, down from 53 percent in a May CNN poll.

The CNN poll, completed entirely after Trump's arraignment last week, found that most Americans approve of Trump's indictment but 71 percent of those polled also said politics played a role in the decision to charge the former president.
Yet it's a long, rough road to November 2024.
Polls favorable, or not, here we are once again…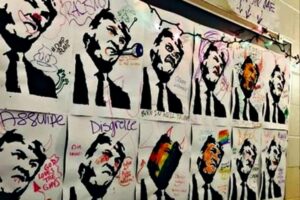 (Illustration out front is of a New York state high-school student exhibit: 'The piece was displayed during student-driven art show at Shenendehowa High School. It consisted of at least 12 identical black-and-white pictures of Donald Trump. There was also a sign above the pictures that read, "Draw on Me." Using markers from the art classroom, Isome students opted to scribble critical messages and profanities on the pictures' — and found here.)