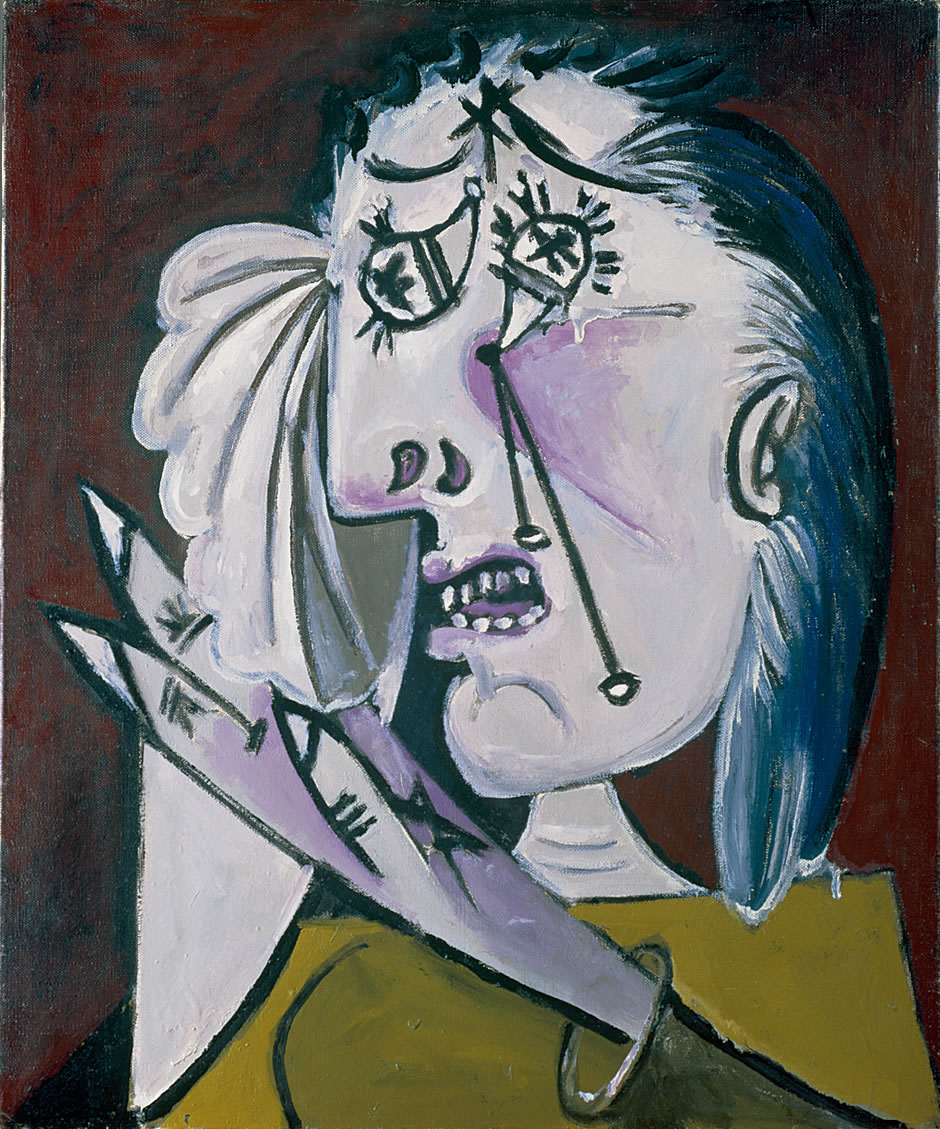 Clear and way-chilly this way-early Thursday morning on California's north coast, a quiet repose for one our more-dumb holidays — Halloween.
Even with the good weather, business for the liquor store I manage has tanked and shit-economics is to blame. Our worse business spot for the year is the deep crevasse between Labor Day and Halloween, but this year's been worse than normal. There's a small downward spike during the winter, yet nothing like the fall version — and nothing like the current slow waltz toward a back-lighted jack-o-lantern.
People just don't have the money. And if they do, it's in change — quarters, dimes, nickels, and them asshole' pennies.
(Illustration: Pablo Picasso's 'La Femme Qui Pleure' ("Weeping Woman") found here).
The store in times past, usually had about $100 in quarters, $20 in dimes, and $10 in nickels for change. Usually about $5 in pennies. Long ago, far, far away — although quarters on-hand remains about the same, now there's $200 in dimes, nearly $50 in nickels, and a $30-shitload of pennies. Just last week, I carted $20 of pennies off to the bank to exchange for a couple of $10 bills.
The biggest money our customers have is change — a 24-ounce Steel Reserve, $1.64 out the door, and will most-of the time consist of four quarters, four dimes, four nickels and four pennies, more or less in that fashion.
And seemingly, the US public feels the same way — the delayed national retail sales report for September was released Tuesday — delayed by the infamous shutdown — and although sales were up slightly, the confidence of consumers this month has dropped nine points, biggest dump since August 2011, just after the debt-ceiling-stand-off fiasco. (And that episode has seemingly been sequestered forever).
Russell Price, a senior economist at Ameriprise Financial: "The consumer has lost a bit of enthusiasm."
Unless there's a pocketful of change.
(Illustration found here).
September seems/feels way-further back than just  a month ago. A lot of useless, activity in a short space. The US economy lost $24 billion during a big chunk of that time — a lump of money gone-johnson. And it was sucked out of somewhere.
And the future ain't too bright. The National Retail Federation reported earlier this month things looked good for the upcoming holidays, but now…not so much.
Via the Washington Post this week:
In the immediate aftermath of the 17-day shutdown, just 13 percent of small-business owners polled on Oct. 18 said they were more optimistic about sales this season, while 43 percent said they expected sales to drop during the holidays.
Meanwhile, half specifically said they expect the fallout from the government shutdown will prompt shoppers to spend less than they would have to close out the year.
…
"Though the government has reopened, it's created economic uncertainty across the nation and has affected consumer confidence impacting retailers of all sizes," Kristy Campbell, Manta's director of marketing and communications, wrote in an email.
Any pullback on consumer spending could be particularly problematic this year, as the calendar already is not working in retailers' favor.
This year offers the the shortest holiday season since 2002 (only 26 days this year between Thanksgiving and Christmas), including only four weekends, compared to five each of the last several years.
Buried in holiday bullshit is the reality of money — there's not much at the lower rung of the American Dream: The report said 14.5 percent of households, or about 49 million people in 17.6 million households, were food insecure during 2012.
And hence the rub.
Our store, though, and way-most-likely a shitload of others, have a huge customer base that carries around in his/her wallet, an EBT card.
The Electronic Benefit Transfer card is the current version in the evolution of US social-services operational systems — no longer actual 'food stamps,' but now an amount on the card, and no checks in the mail, either. All done via electronics, just like a bank. If qualified under income levels, there's the Supplemental Nutrition Assistance Program (SNAP), just for food purchases (the food stamp part), and Temporary Assistance for Needy Families (TANF), the check part.
I've been on both programs a couple of times. My children do on and off — depending on work.
And there seems to be a couple types of people who carry these EBT cards — the first, and the way-smallest portion of the two, is those "on the dole," in the old saying, and present no actual employment activity (time-of-day in the store usually confirms it), but even with them, you never know.
And that second group would surprise — these are people who I would never suspect needing any kind of assistance. A goodly number of our customers work two jobs, and still have families and everything. People who on occasion buy high-end booze still pack the card.
However, we don't take the card at all. A lot of businesses like ours don't take it. We see those stand-out cards in the wallets of customers fishing out the Visa, or digging for that elusive $5 bill.
And even with an old asshole like myself, and who has seen a lot of surprising shit, it's still kind of a social shock to see the obvious card nestled amongst others in a seemingly and otherwise all-around attractive customer. Underneath the glorious sheen is nervous sweat.
Although supposedly liquor sales are up nationwide, the poors are poorer still. And tomorrow, life for a shitload of people, including a lot of our customers, will get worse.
The Republican war on the poor will get dirty — $5 billion in cuts will slash the food stamp program.
Via CNN:
The cuts, totaling $5 billion, will mean less money for groceries for millions of people who rely on food stamps.
It's a tough time to have less food on the table, just a few weeks before the start of the holiday season.
Congress has the power to halt the cutback.
However, experts say it's highly unlikely at a time when Republicans are calling for even more drastic cuts to food stamps.
Food stamp benefits were bumped up in the midst of the recession.
The temporary provision expires Nov. 1.
…
Some 47.6 million people, or nearly 15 percent of the population, get food stamps, according to September federal data.
That compares to 26.3 million, or 8.7 percent of the population, in 2007.
The average benefit per person is $133.19 a month.
Families nationwide have already received emails and letters warning that their benefits will be reduced.
For a family of four getting the maximum benefit of $668 a month in food stamps, the cuts would trim $36 a month, according to the U.S. Department of Agriculture Food and Nutrition Service.
And nobody seems to give a shit — via Media Matters: Over the past month, cable and broadcast nightly news programs failed to mention the automatic cuts to SNAP set to roll out on November 1. While many programs did provide coverage of SNAP, these mentions focused instead on the number of people enrolled in the program or congressional attempts to further cut spending through provisions in the Farm Bill.
Not only do we face tough economic times, but we also have to weather the most hard-hearted and cruel political operation in most-likely all of US history. Especially if this horror is made public, but Republicans instead seem to revel in the obvious cruelty.
They are the assholes of America. They isolated SNAP from the Farm Bill last summer, and want to cut the food-aid program by $39 billion over 10 years, which cuts a deep nerve: This has supermarkets and grocery chains on pins and needles because their SNAP revenues are not minuscule. In a sense, SNAP has become as much of a crutch for food retailers during this period of sluggish growth as it is for the poor.
A lot of nit-twits think the cuts aren't that devastating to the average guy, but shit…
Thirty-six dollars a month, the cuts actually mean on average, or about $1.40 a meal, which in itself doesn't seem like much, but if you've ever had to watch the pennies (there they are again!), that's a lot. And on top of that, according to surveys — nearly 90 percent of SNAP benefits are redeemed by the third week of the month, then what? Fifty-eight percent of people who frequent food banks and are on SNAP use these public pantries more than half the year.
Trick with no treat, and hello holidays.
Michael Tomasky at The Daily Beast this week nailed the GOP-sponsored shit-storm.
Asshole faces:
The proposed GOP cut is such a piddling amount of money, in terms of the whole federal budget and especially when spread out over 10 years.
But nearly half of it is quite literally taking food out of the mouths of children.
What's the point?
The point really is that Tea Party Republicans think these people don't deserve the help.
That's some fascinating logic.
The economy melts down because of something a bunch of crooked bankers do.
The people at the bottom quarter of the economy, who've been getting jobbed for 30 years anyway and who always suffer the most in a downturn, start getting laid off in huge numbers.
They have children to feed.
Probably with no small amount of shame, they go in and sign up for food stamps.
And what do they get?
Lectures about being lazy.
You may have seen the now-infamous video of Tennessee Congressman Steve Fincher, who told a crowd over the summer that "the Bible says 'If you don't work, you don't eat.'"
This while Fincher, a cotton farmer, has enjoyed $3.5 million in federal farm subsidies.
This year's House bill ends "direct payments" to farmers whether they grow any crops or not—except for one kind: cotton farmers.
Religious bloggers have noted that Fincher got his theology wrong and that the relevant passage, from Paul's Second Epistle to the Thessalonians, wasn't remotely about punishing people too lazy to work.
It was about punishing people who'd stopped working because they thought Jesus was returning any day now.
So: mean bastard, hypocrite, and Scripture-mangling idiot to boot.
Nice trifecta.
…
This cut is the fraud, because it's not really about fraud or austerity.
It's entirely about punishing the alleged 47 percent.
The bottom half or third of the alleged 47 percent.
It's absolutely appalling.
These folks have done a lot of miserable things in the past four years.
But this—the morality of this is so repulsively backward, the indecency so operatically and ostentatiously broadcast, I think it takes the gold going away.
And the worse part of the whole deal? Republicans really don't give a shit.
Urban Dictionary  on Republican:
A white-collar crime organization; a pack of criminally insane political prostitutes without consciences, who have buried their faces in the public pie as though it were a feeding trough, and done nothing but loot the treasury for six long years.
Only a fool or a whore would consider the current Republican Party a conservative party.
Insofar as fiscal restraint and limited government are the defining features of the conservative position, the Republicriminal Party couldn't be any fucking farther from Conservative.
Cut and paste, then in a fastidious fashion, use the paste as potato gravy.