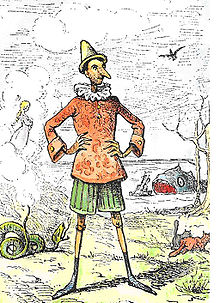 Low overcast and ground fog this early Tuesday on California's north coast, and a bit on the warm side, too.
Another typical Humboldt County weather situation — fog with splashes of sunshine.
Beyond the continuing news cycle of about the same thing — still searching the pings in the Indian Ocean; Russia warns of more shit in the Ukraine, a religious, 'happily-married,' GOP Congressman is caught on a video giving a female staff member some kissing lessons, passionate, Hollywood-style, and so forth and so — and the world keeps on churning toward shitsville.
Yesterday, the continuing saga of the CIA-torture bullshit opened up a bit in the Senate, and in the media — after a known serial liar pulled a nasty, females are too "emotional" card out of his ass.
(Illustration found here).
Ex-CIA honcho Michael Hayden opened the hole in his face Sunday during an interview on Fox News (of course), and proclaimed than Sen Dianne Feinstein was too 'feminine' to render a factual report on the CIA torturing about everybody. Hayden said the 'Senate intelligence committee's landmark report on torture and coercive interrogations was not objective because Feinstein, a California Democrat, was too "emotional."'
The shit then hit the old fan.
Sen. Ron Wyden, on Monday, released this statement from his office:
"General Hayden's suggestion that Chairman Feinstein was motivated by 'emotion' rather than a focus on the facts is simply outrageous.
Over the past five years I watched Chairman Feinstein manage this investigation in an extremely thorough and professional manner, and the result is an extraordinarily detailed report based on millions of pages of internal CIA records, including operational cables, internal memos, and interview transcripts.
General Hayden unfortunately has a long history of misleading the American public – he did it on domestic surveillance when he was the head of the NSA, and he did it on torture when he was the CIA Director.
The best way to correct this culture of misinformation is to give the American people a chance to review the facts for themselves, and I'll be working with my colleagues and the administration to ensure that happens quickly."
And the most-wonderful Marcy Wheeler nails the asshole. After detailing examples, with details, she doesn't mince words:
I had forgotten how blatantly Hayden lied, in what would have been one of the earliest briefings for the full Committee after they first got read into the program.
But it's clear he did lie. And he lied about information he had just been informed was a lie.
No wonder Hayden seems so desperate to defend his own manhood at this time.
He's about to be exposed.
Amy Davidson at the New Yorker adds:
There is another powerful emotion that may be at work here: shame.
One source of C.I.A.'s anxiety about the Senate report is that it apparently casts a cold eye on the effectiveness of torture.
It didn't do us much good, apparently.
Perhaps it is painful to have compromised one's principles and not brought back anything good.
But that psychological exploration should not take place entirely in classified quarters.
This is the beginning of something good for this country. The vote last week sends the whole shebang to President Obama — hope there's still hope there, and not the crap of no looking back…
Yet, all might be tortured hope…