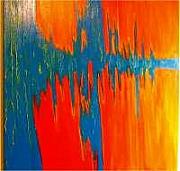 A way-ordinary, routine-acting morning-fog environment for here on California's north coast, but just three/four hours south, Sunday came early with a bang for the graveyard shift:
Erica Gregory, who was brewing coffee while working by herself at the 24-hour Shell gas station on Highway 29 in Vallejo, said items started to fly off the shelves when the 6.0-magnitude quake hit just northwest of nearby American Canyon at 3:20 a.m.
"It was nerve-wracking," Gregory said. "You just have to stand there and take it."
(Illustration: 'Earthquake,' by Jakara Art, found here).
One thing I absolutely can't do in an earthquake is "stand there" — run like a mother-freakin' scalded-dog in any-which direction, can't help it. Pure-fear does that to some of us simple folks. Back east, I weathered tornadoes and hurricanes, but mother-ass earthquakes scare the living shit (and all mental faculties) out of me. Read here if you like about my own experience in a 6.5 in 2010.
This morning's quake centered in Napa, just slightly northeast of San Francisco, included in the overall Bay Area, and was the biggest one since the 1989 Loma Prieta shaker, which really did some damage. This one also recorded chaos (via the San Francisco Chronicle), injured about 90 people, a few critically, but no deaths reported as of yet. Four mobile homes caught fire in a park, and there was '…widespread damage in downtown Napa, with bricks, concrete chunks and broken glass littering the street and building debris on parked cars.
Residents and city officials said the toll would have been far greater had the quake struck on Saturday, when thousands of people were downtown enjoying Napa Blues, Brews and BBQ event in downtown Napa.'
Dodged the real-bad-bullet this round.
My insomniac-ass was up at the time, most-likely engrossed in my current read, the most-excellent "Set in Darkness," another in the Detective Inspector John Rebus series, and didn't feel a thing, not a stir. And so far no reports from local media of anyone up here feeling it.
Reports indicate it was felt as far south as Fresno, down in the Central Valley.
Interesting (and frightening) details of seismic stuff off this particular earthquake can be found at decodedScience, which included this at the end: Yeats quotes figures of 21 percent probability of an earthquake of at least M6.7 occurring along the San Andreas Fault itself between 2000 and 2030; the overall probability for the Bay area as a whole is 70 percent.
The San Andreas runs just about the entire length of the California coastline.
Meanwhile, way-way far away, the Bardarbunga volcano in Iceland is creating a bit of fear, too. A shitload of earthquakes in the area in past weeks, and a big one yesterday, have officials worried of another ash flow into European skies — via the UK's Globe and Mail:
Iceland's Met Office said on Sunday two earthquakes had shaken the Bardarbunga volcano overnight, hours after an eruption under a nearby glacier made authorities raise its warning code for the aviation industry to red, signaling possible major disruptions.
An Icelandic Met Office official said later on Sunday it was lowering the risk level for the Bardarbunga volcano in central Iceland to orange from red, the highest level.
The decision came after the office said on its website earlier on Sunday that there were no signs of ongoing volcanic activity at Bardarbunga.
The office had raised the risk level after detecting a small eruption under a nearby glacier.
…
Saturday's small subglacial eruption, which closed part of Iceland's airspace though its airports remain open, was also in the Bardarbunga range, but at a distance of 25 km (15.5 miles) from the earthquakes' epicenters, the Met Office said.
There have been thousands of small earthquakes over the past week at Bardarbunga, which is Iceland's largest volcanic system and located under the ice cap of a glacier.
It is in a different range to Eyjafjallajokull, which erupted in 2010.
The Met Office said in a statement a magnitude 5.3 earthquake at 5 kilometers (3 miles) depth had struck after midnight while another, with a magnitude of about 5, had occurred some five hours later.
"These are the strongest events measured since the onset of the seismic crisis at Bardarbunga and the strongest since 1996," the office said on its website.
There was no sign of any eruption at Bardarbunga, it said.
And it's wait and see time. Yet one must remember, a quickly-changing environment — climate change — will only increase all this seismic activity as warmth melts ice, which in turn creates weird shit with the ground (Professor of Geophysical and Climate Hazards at University College London, Bill McGuire, via the Guardian:
The bottom line is that through our climate-changing activities we are loading the dice in favour of escalating geological havoc at a time when we can most do without it.
Unless there is a dramatic and completely unexpected turnaround in the way in which the human race manages itself and the planet, then long-term prospects for our civilisation look increasingly grim.
At a time when an additional 220,000 people are lining up at the global soup kitchen each and every night; when energy, water and food resources are coming under ever-growing pressure, and when the debilitating effects of anthropogenic climate change are insinuating themselves increasingly into every nook and cranny of our world and our lives, the last thing we need is for the dozing subterranean giant to awaken.
And that from two years ago — ground rumbles like a way-empty stomach.