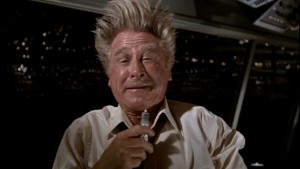 Of course, one can forgive Steve McCroskey for nearly-screaming demands at his wife.
The airport manager was having a real-real neurotic day, was under intense, coronary-inducing pressure, and what the heck, an airliner was in great jeopardy, hundreds of lives were at stake, and Johnny wasn't helping at all, clowning around, being a total douche-bag.
And on top of all that shit-hitting-the-fan, McCroskey also knew he'd picked by-far the worst-possible day to quit amphetamines and his beloved glue.
Sniffing the glowworm: Saturday afternoon, us up here along the northern California coast felt a 6.5 earthquake, and although I've felt quakes before — some long, some short, some weird, some not-so weird — this particular one was among those few shakers that really unsettled me.
So panic-like frightful, the mind rocks-n-rolls like the ground, which quickly creates a most-unnatural state of incomprehension, as though suffering from some form of dementia — walls jiggle and floors move, doors are pitched at an angle, all behaving extreme-paranormal, and all so fast, in seconds, micro-seconds, tenths of seconds.
In a complete-cranked brain rush, I tried to rapidly figure out first, what the shit? and then what to do about it, though both questions burned themselves rapidly together — it's been said to get under a table or a door jam, but my immediate and most-greatest desire was to get outside, away from this freakin'-ass-haunted apartment house.
Staggering around, bubbling manic thoughts, I managed to get onto the front porch and into the parking lot, though, the quake continued, seemingly forever, and the sight of my pick-up truck rocking back-and-forth is one of them indelible brain-pix that will be there a long time.
Minutes later, standing in the parking lot, smoking a cigarette with neighbors, looking at my still-slightly trembling hands, I felt shaken but happy, feeling most-fortunate, having escape something big and awesome and scary.
Located 27 miles west of Ferndale, out in the Pacific Ocean, 33 miles west-southwest from Eureka, and less than 45 miles slightly northeast of where I sat on my ass, the 6.5 quake was figured to be about 13.5 miles deep and included some 23 aftershocks, including a small one (2.6) this afternoon, all coming from the same area — three of those were rated 4.0 or better (I did feel a 4.4 about two hours after the main event).
(Illustration found here).
During this episode, I did discover a most-useful site from the US Geological Survey, with even an animated, continually-updated animated map of earthquakes in California and Nevada, found here, which appears like lights flashing around the state.
A natural WTF!
A few seconds so overwhelming it's nuts.
In a flash, one understands how much of our physical life, and especially this crazy-assed modern version, is outside of our control with a lot shit depending on a lot of factors, some close to home and others from far, far away.
My apartment house survived without an apparent scratch (except for some fingernail-claw marks on the front door) and Northern California got off fairly easy on this particular seismic series of events — one major injury (a broken hip) along with 119 reports of damage estimated at $12.5 million to the city of Eureka.
According to the Sunday Times-Standard:
"On the whole, I think we dodged a bullet," said State Assemblyman Wesley Chesbro, D-Arcata. "It could have been far, far worse."
Yes, well.
During the last few weeks I haven't blogged much, too tired due to a new set of work hours — not too creative in the afternoons or evenings, and after surfing the Net with a thoughtful perusal of the daily new events, I'm way-too mentally skewered to intelligently address anything but a Louis L'Amour novel and sleep.
And there's so much shit currently occurring it boggles the senses, and despite getting pissed about so much arrogant incompetence controlling the planet, the creative ability to write about it escapes like the scent off an empty cup of yerba mate.
Lack of sleep coupled with continuous bad news on all fronts makes one want to take a nap on the floor.
Or maybe mimic poor Mr. McCroskey barking orders: "I want the kids in bed by nine, the dog fed, the yard watered and the gate locked."
And everything will be good and happy again.