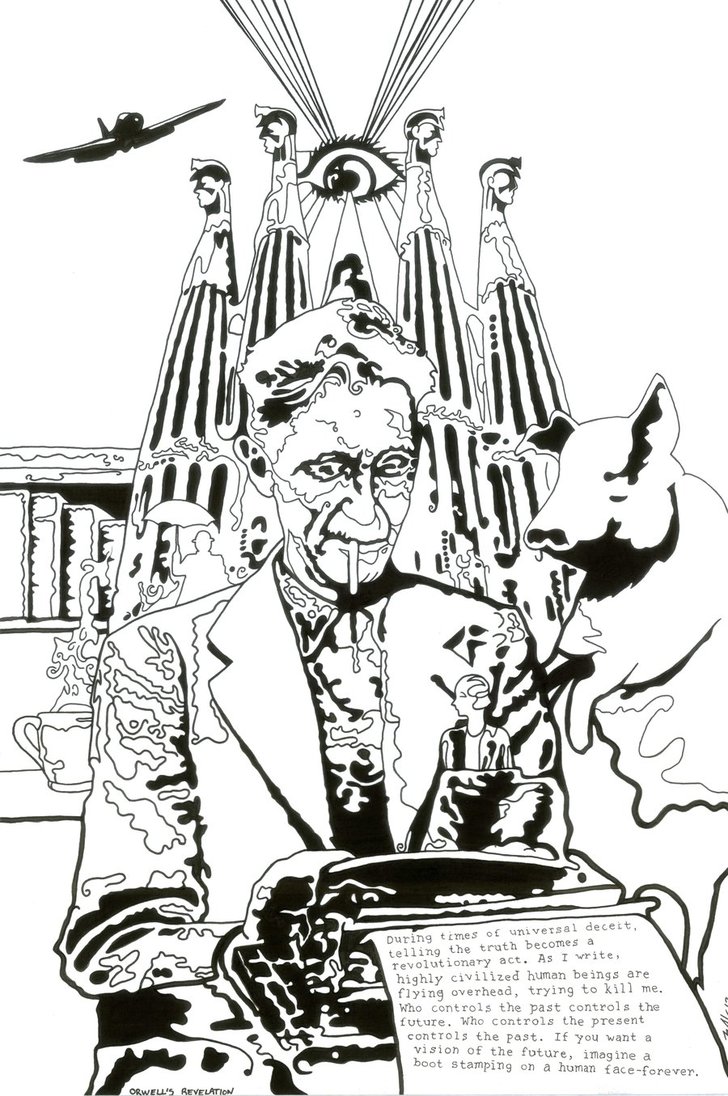 Last paragraph yesterday from a story by Spencer Ackerman at the Guardian about how NSA people do as they please with government technology:
Compounding the potential financial conflicts at the NSA, Buzzfeed News reported that the home of chief of its Signals Intelligence Directorate, Teresa Shea, has a signals-intelligence consulting firm operating out of it.
The firm is run by her husband James, who also works for a signals-intelligence firm that Buzzfeed News said appears to do business with the NSA; and Teresa Shea runs an "office and electronics" business that lists a Beechcraft plane among its assets.
Ackerman's main story point is retired/former NSA honcho Keith Alexander hiring an old buddy still at the agency to part-time/moonlight at his humongous, new security agency.
(Illustration found here).
And that last graph reveals how so ingrained, and conventional the arrangement at the NSA.
This Alexander asshole left the NSA earlier this year, and way-quickly formed Orwellian-Terminator sounding, IronNet Cybersecurity (charges banks $1 million a month for security), and Keith's shit doesn't stink — from a pretty-detailed profile at Wired last year, just a small sketch: 'A four-star Army general, his authority extends across three domains: He is director of the world's largest intelligence service, the National Security Agency; chief of the Central Security Service; and commander of the US Cyber Command. As such, he has his own secret military, presiding over the Navy's 10th Fleet, the 24th Air Force, and the Second Army.'
Yes, WTF!
And Alexander then dragged all that sense of understanding into the private sector, then keeps his finger in the official pie in the use of NSA's chief technical officer, Patrick Dowd, who according to the rules, can also work for the good general's IronNet boys 20-hours a week.
Alexander has the knot by the neck — from Foreign Policy this past July:
The fact that Alexander is building what he believes is a new kind of technology for countering hackers hasn't been previously reported.
And it helps to explain why he feels confident in charging banks, trade associations, and large corporations millions of dollars a year to keep their networks safe.
Alexander said he'll file at least nine patents, and possibly more, for a system to detect so-called advanced persistent threats, or hackers who clandestinely burrow into a computer network in order to steal secrets or damage the network itself.
It was those kinds of hackers who Alexander, when he was running the NSA, said were responsible for "the greatest transfer of wealth in American history" because they were routinely stealing trade secrets and competitive information from U.S. companies and giving it to their competitors, often in China.
Alexander is believed to be the first ex-director of the NSA to file patents on technology that's directly related to the job he had in government.
Just a bowl of crackers. Security/intelligence is apparently a massive web of the same-tired set of assholes — a collection of like characters. This from Salon last month and Alexander's background/foreground via a group, tabbed INSCOM:
INSCOM "is where Alexander grew up," Tom Drake, who worked as a senior executive at NSA for seven years before becoming a whistle-blower, told Salon.
"That's where he got his contractor ties."
In fact, INSCOM happens to be one of the most contracted units of the NSA's SIGINT empire, and has long been a business driver of the intelligence industrial complex.
…
"Hayden started the privatization, but it was really Alexander who built it," said Drake.
Alexander's ties with INSCOM are extensive.
One of the winning bidders on the new INSCOM contract is Sotera Defense Solutions.
Russell Richardson, its former CEO and a former INSCOM commander, is now one of Alexander's partners at IronNet and, under Alexander's command of INSCOM, was its "chief architect."
Before that, Richardson was a vice president of NSA contractor SAIC, where he ran INSCOM's so-called Information Dominance Center.
INSCOM's ties with Booz Allen, the company that employed Edward Snowden at its top secret site in Hawaii, are equally close.
Robert Noonan, who directs the company's "military intelligence account," served for 35 years in the military, including a stint as INSCOM's commanding general and the US Army's deputy chief of staff for intelligence.
Roberto Andujar, the INSCOM contract leader at Invertix Corp., another contract winner, once served as the command's chief information officer (CIO).
The revolving door between INSCOM and its contractors bothers Shaffer.
"It's a cash-and-carry program," he said.
"You go in there and get the knowledge, then you carry it out and get cash."
Or maybe have a conscience. This INSCOM — U.S. Army Intelligence & Security Command — is one huge-assed entity — last month, it awarded 21 companies a total of $7.2 billion in two global intelligence support contracts, aimed at "the Army's need for fully integrated intelligence, security, information operations and related support."
Or just about every-fucking-thing.
Of course, almost all of this shit would go unnoticed, or barely noticed of it wasn't for the above mentioned young guy, Edward Snowden, who at this point needs no background/introduction. Ironically odd, most of the civilized world considers Snowden a hero, but if he returned to the US, at least right now, he'd be locked away. Horrible state of affairs.
Alexander was the top dipwad during what's now could be called, 'the Snowden disclousures,' in the spring/summer 2013, calling Eddie, "the media leaker."
And this past week, the release of the Snowden documentary, "CITIZENFOUR," made by Laura Poitras, the initial recipient of the leaked documents from Snowden. Reviews have been really, really good, like this from the New York Times yesterday, or this good review-punch at HuffPost:
If the script for 'CitizenFour' were pushed under the door, any self-respecting film studio executive would surely reject it as ridiculously far-fetched.
Journalist receives secret, anonymous tip from high-placed source about the mind-boggling amount, means and extent of state surveillance, and promises that there's lots, lots more to come.
And that person wants nothing other than for the information to come out, and he doesn't mind what happens to him, as long as this happens.
So far, so Le Carre, but where's the catch? What does that person really want?
Or, more cautiously, who might he be working for?
It all sounds a bit extraordinary.
…
The result is this, an extraordinarily intimate account of what exactly happens in this day and age when a young man decides to leave behind his life as he knows it, and follow his conscience.
We see Snowden watching footage of himself on CNN, sending emails of reassurance to his girlfriend of 10 years, who it turns out he left, along with the rest of his existence, while she was on holiday (they are now reunited in Moscow).
He muses on what might happen next with little sign of fear although, as he says, "that might change when they kick in the door".
And he explains, so thoroughly and calmly that there can be little doubt, what moved him to throw his rich life in the air and risk martyring himself to expose a system that could easily swallow him whole.
And cool as it sounds. The entire Snowden adventure is one of the nowadays most-awesome, ongoing events. So far, all the indications he's the real deal, and a nerd doing good.
Alexander rag-time illusion.