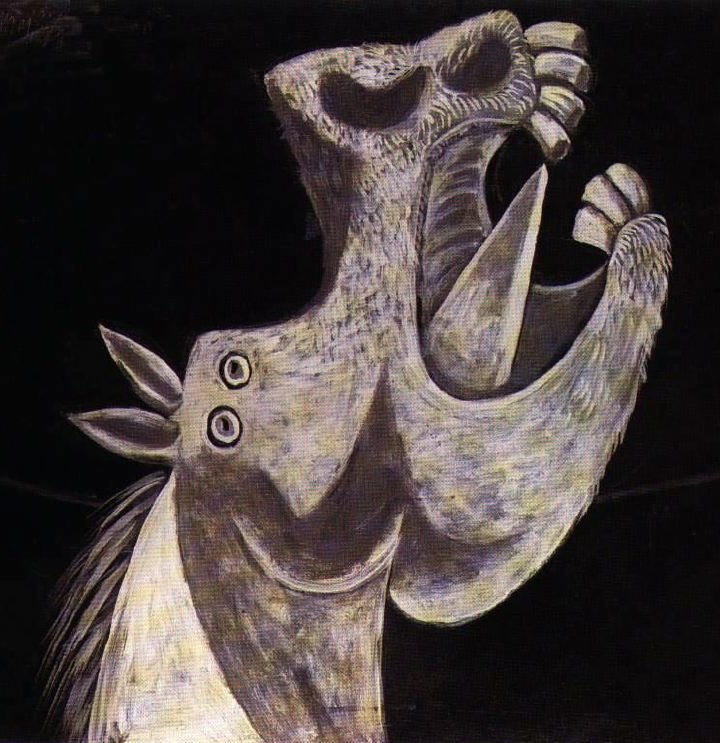 Goodly-bit of rain this early Tuesday on California's north coast, a hefty downpour in the morning darkness. This system has been a wet one.
The NWS has forecast 'mostly sunny' for tomorrow, though, and Thursday, then 'partly sunny' on Friday, with more rain slated for the weekend.
Surfing the news reveals nothing really new, other than an airliner crash in Germany, most-likely killing everybody aboard, Yemen continues toward heavy bloodletting, and here in the US, Utah can now execute people by firing squad — our world indeed appears to have become a more-violent place.
Now no longer just an appearance of an uptick.
(Illustration: Pablo Picasso's 'The Head of the Horse,' found here).
Last year was nearly 30 percent more violent worldwide than the year before, continuing a weird-ass eight-year trend of shit getting much-more bloddier, year-by-year.
From Reuters on Friday (h/t LG&M):
According to the Australia-based Institute for Economics and Peace (IEP), global violence — as defined by a range of measures from conflict deaths, to displaced persons, to homicide rates — has been rising since 2007.
This news is in many ways surprising because up to 2007, the data suggested the world was becoming a much safer place.
According to the IEP, global violence had been broadly subsiding since the end of World War Two.
Harvard psychologist Steven Pinker traces it back even further.
Since the dawn of prehistory, Pinker's research suggests, mankind has been becoming less violent.
Until nowadays — who'd have believed a short while ago the 21st Century would find beheadings as part-n-parcel in a violent routine.
Odd, too, the violent spike in 2007. In September 2006 (via ABC News):
According to an estimate from the National Intelligence Council, the war in Iraq is making the threat of terrorism worse.
America is less safe today than it was after Sept. 11, 2001, because the conflict is creating more extremists.
"The war in Iraq has exasperated the global war on terror," said Robert Hutchings, the council's former chairman.
Further from the BBC, same time period: '"The Iraq Jihad is shaping a new generation of terrorist leaders and operatives,"  the document says.'
Hence and meanwhile, back to real time, and the US contribution to the global fright factor.