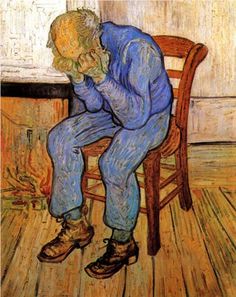 Ominous clouds approaching-thickly from the east this early Tuesday on California's north coast, but around my apartment right now the sky is near-clear with just a wisp of white vapor way up — supposedly another nice day ahead. First, though, we're most-likely going to get heavy-hammered with ground fog, which should burn off before noon, if we're still in our spring routine.
Yesterday afternoon was a warm delight, even with a fairly-stout wind.
This morning not much pleasure in the news cycle at all. Except maybe this I spied earlier at Reddit-jokes: "I got jumped by five black guys in Baltimore" — punchline: "The car started right up, but they said I needed a new battery."
(Illustration: Vincent van Gogh's 'Old Man in Sorrow (On the Threshold of Eternity)' found here).
And in fashion, a perfect reply from a commenter: "That made grin"
Grim, though, circumstances in Baltimore. According to reports, more than 200 people were arrested and nearly 150 vehicles set on fire overnight: 'Mayor Stephanie Rawlings-Blake decried the violence as "one of our darkest days," but on Tuesday morning, vowed to survey the city and thanked first responders "who continue to bravely respond to the situation."'
Media flashback to days of black and white TV, but now in chaotic, full-blown color.
And the not-delightful news cycle ain't just from Maryland, but across this half-crazed planet, and there doesn't look to be a break ahead, either. Mankind seems to have been caught in a weird, coincidental meat-grinder which appears to only have the capacity of getting worse.
Supposedly, one dateline for reflective gloom is 2008 and the financial meltdown — shit got worse, and then got shittier. People got knocked psychotic.
Last Friday, a new study released by Loyola Medicine supposedly shows we're in a heavily-depressed state, and it's continuing.
Key points:
The recent Great Recession was accompanied by a significant and sustained increase in major depression in U.S. adults, according to a Loyola study published in the Journal of Clinical Psychiatry.
Prevalence of major depression increased from 2.33 percent during the years 2005-2006 to 3.49 percent in 2009-2010 to 3.79 percent in 2011-2012, according to the study by Loyola University Chicago Stritch School of Medicine researchers.
…
It's plausible, researchers concluded, that the Great Recession's negative effects on employment, housing security and stock investments contributed to the sustained increase in major depression.
However, they noted it is possible other factors could have played a role.
My underline for emphasis at the end there. And from Gallup a couple of weeks ago: 'Overall, in data collected throughout 2014, 17.5 percent of Americans report having been diagnosed with depression at some point in their lifetime, and 10.4 percent currently have depression or are being treated for it. Previous Gallup research has found that unemployed Americans are more likely to suffer from depression than employed Americans, which helps explain higher depression rates among the general U.S. population than was found within these professions.'
Meanwhile, it's only just a great dose of sadness, followed by a slug of glum…