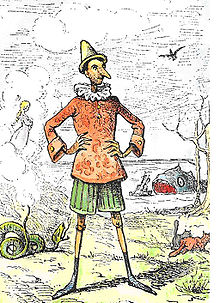 Thick-clouds with on-and-off drizzle this early Wednesday on California's north coast, though, the wet is supposed to drip off to nothing by this afternoon.
Reportedly, not much chance of rain until early next week — nowadays weather is a wait-n-see thingy.
Afterthought on the VP debate last night — another clown show, however the same. And backwards: 'Pence beat Kaine at debating, no doubt. But Kaine's constant prodding and Pence's consistent denials will come back to haunt the Trump campaign. Pence won the battle Tuesday night. Kaine set his campaign up to win the war.'
Clinton/Kaine fueled by insult, even as T-Rump tweeted: '"… Kaine looks like an evil crook out of the Batman movies."'
Now, I'm not lying — wish this shit was over…
(Illustration: 'Pinocchio' by Enrico Mazzanti, found here).
The debate was another embarrassment in this way-shameful election cycle — Kaine needs to cut back on the caffeine, but Pence is an asshole. River of bullshit is denial.
And idiotic incompetency — late yesterday afternoon, about half-an-hour before the VP debate — via the Guardian's live blog: 'While you're shooting pool, the national Republican party is playing three-dimensional chess. For example, tonight they have already released statements declaring Mike Pence the winner of the debate and Hillary Clinton the loser.
(The debate hasn't happened yet.)'
Beyond understanding is why Clinton isn't way-way ahead in the polls. Something is shitty somewhere, T-Rump is such an obvious asshole no one should want to be anywhere near him — yet there's a flicker of a chance The Donald could get the White House.
Feeling great remorse, writer Tony Schwartz, co-author of T-Rump's best-selling, "Trump: The Art of the Deal," said yesterday he would give away the $55,000 in royalties he's made off the book over the past six months — because sad.
Further via the Washington Post: 'In recent weeks, Schwartz has said that he regrets his role in building Trump's persona as a wise and clever business executive. A recent story in the New Yorker quoted Schwartz as saying, "I feel a deep sense of remorse that I contributed to presenting Trump in a way that brought him wider attention and made him more appealing than he is."'
Reportedly, the royalties would go to the National Immigration Law Center, which helps low-income immigrants and advocates for policies that would allow more undocumented immigrants to remain in the United States legally.
The only real-good sense out of the last few days is maybe the media has made a turn to reality.
From Washington Monthly yesterday:
What we're witnessing right now is that publications like the NYT went on record to say that they would call out Trump's lies.
As a result, we saw an explosion of stories that chronicled them.
And reporters are tripping over themselves trying to uncover the next bomb-shell about his business and charitable practices.
We've seen stories about his business losses and failure to pay any taxes, his violation of U.S. laws related to the Cuba embargo, that his foundation never obtained a state license for soliciting charitable donations, that he did business with an Iranian bank U.S. officials have charged with having ties to terrorism and several stories about his sexism towards employees.
The latest revelation comes from Rebecca Berg, who documents that Trump used foundation funds for his 2016 presidential run.
And background to that last one — via Real Clear Politics, also yesterday:
That check is one of at least several donations to suggest Trump used his private foundation, funded by outside donors, to launch and fuel his political ambitions.
Such contributions, if they were made solely for Trump's benefit, could violate federal self-dealing laws for private foundations.
Insult to injury…