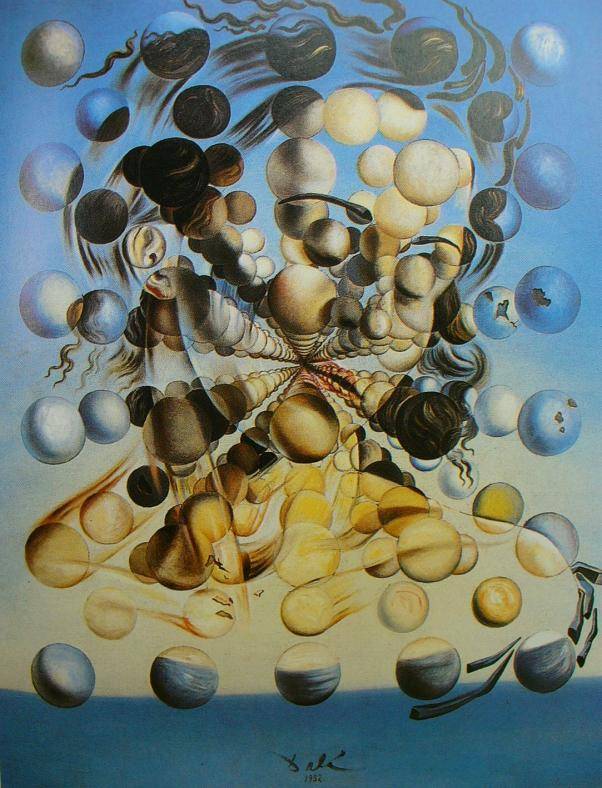 Gorgeous Tuesday afternoon here on California's north coast — bright sunshine and a mild breeze, though, on the slightly-chilled side.
Supposedly, clear until tomorrow night when maybe some rain, but no strong, wet-weather system forecast until the weekend.
Enjoy…
One week from today however, just-about any enjoyment will vanish — a presidential election of historic horror, no matter the outcome.
Stanley Feldman, political scientist at Stony Brook University (LiveScience this morning): '"When you have a situation like this where the candidates are cast as being completely unacceptable, when there are aspersions made about how the system is unfair, it's really hard to see how people are going to walk away from this feeling like, 'OK, we lost, but we can wait four years."'
(Illustration: Salvador Dali's 'Galatea of the Spheres,' found here).
And from all indications, both personal and political, the 2016 cycle is a watershed period, an era end. Compounding the understanding is the question: Why the fuck are the polls even close?
Hillary Clinton is a politician via the traditional route — her real, and way-largest problem are Republicans, who have hated her since forever, and without real merit, either. A good review yesterday at Rolling Stone on the phenomenon. The lede: 'You start with the assumption that Hillary Clinton is corrupt.'
And the close: 'This is how the Clinton Outrage Cycle works: assumption follows intimation follows accusation, and then it starts all over again. If only the facts — the sometimes boring but very real facts — of these scandals got half as much attention.'
I've never really cared for Hillary that much, she seemed a little bit hardcase. I enjoyed Bubba, however.
T-Rump on the other hand is one vile, despicable person in so many ways, on so many different levels. And an enormous, mean-spirited asshole, and a pure perv — he's scheduled to appear in federal court in three weeks in a civil case, which claims the shithead raped a 13-year-old girl. From court documents (Raw Story): '"I personally witnessed Defendant Trump telling the Plaintiff that she shouldn't ever say anything if she didn't want to disappear like the 12-year-old female Maria, and that he was capable of having her whole family killed," Tiffany Doe alleged.'
Horrid stuff…
So, due to T-Rump, even if Hillary wins, everybody else loses.
Greg Sargent at the Washington Post, also this morning, on an outline of a near future:
The new Washington Post/ABC News national tracking poll finds Donald Trump leading Clinton by one point in the four-way match-up, 46-45, while Clinton leads in the head-to-head by 48-47. You shouldn't overreact to individual polls — instead, keep focused on the national and state polling averages.
But plainly, the race is tightening, and it's increasingly possible we'll see a very close finish.
Which means that it's time to start pondering an Election Day nightmare scenario that is made up of two parts.
First, the tight finish produces an outcome that is contested well beyond Election Day, with Trump (should he lose) claiming the results are rigged.
Second, Trump supplements his claim about the rigged outcome by continuing to point to the FBI's latest discovery of emails as proof of an ongoing cover-up of Hillary Clinton's criminality.
…
All of that is worrying enough, because as you'll recall, Trump has refused to say that he'll accept the outcome if he loses.
Even when he clarified this, he explicitly left open the possibility that he would legally contest the outcome if the result is "questionable," reserving, of course, the right to define what counts as "questionable" for himself.
It's Trump's right to contest a close, legally murky loss.
But, given his continuing insistence that the election is "rigged," it's plausible he may go a lot further, and launch a sustained campaign well outside of conventional channels to cast Clinton as an illegitimate president, no matter what our political norms and the electoral and legal realities actually dictate.
…
Add to all of this the fact that Trump and his campaign CEO Stephen Bannon are reportedly looking to convert the campaign into a vehicle for sustaining a post-election following.
All of these narratives could then converge and become the fuel to drive that vehicle forward.
And so, it's not hard to see a close finish producing an aftermath that gets very ugly and destructive.
Which is exactly what Trump would relish.
Interesting piece — all this shit off Hillary winning!
Main takeaway, even if T-Rump loses, he still wins. We the people lose big time…