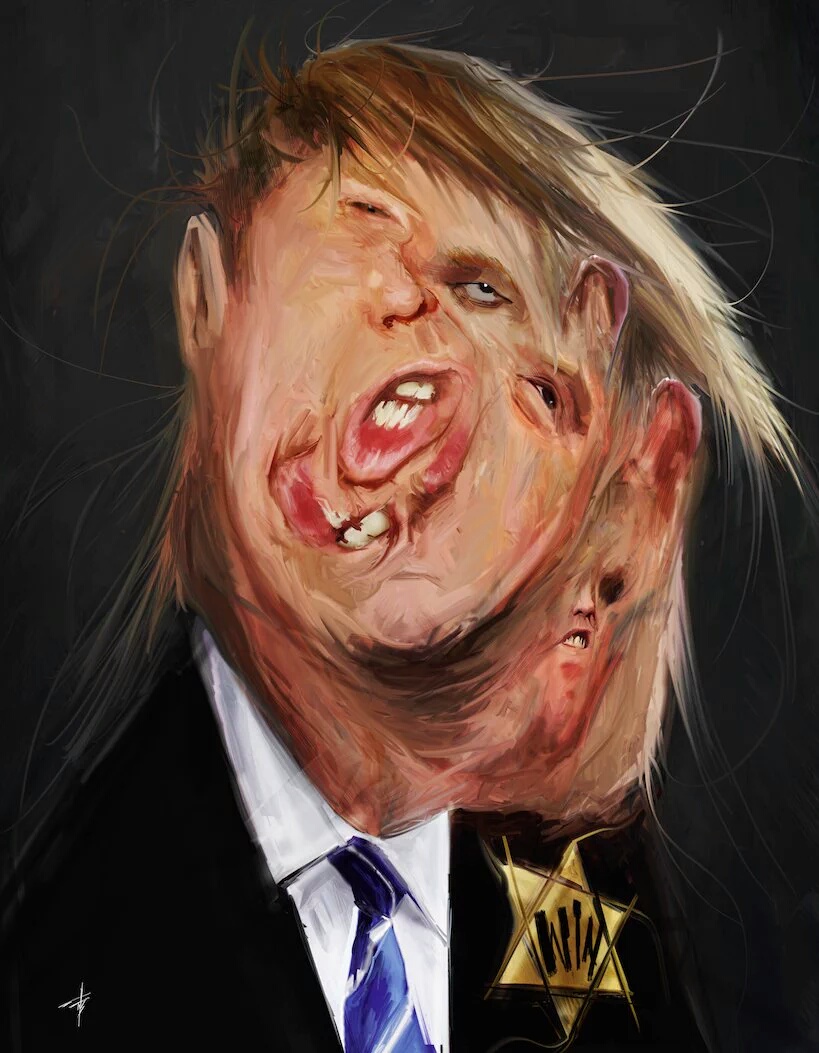 Bright sunshine and chilly this Wednesday morning here on California's north coast, a way-delightful break from rainy weather — supposedly, the next couple of days should be the same.
Meanwhile, last night was a sad and depressing cloud of dark ugly — the T-Rump presented a speech to Congress, and because he didn't act like an insane asshole, he's been given high-fives on it. However, just about every claim he made was false, and the blather mostly devoid of substance.
And as John Cassidy explains at The New Yorker this morning: 'Eying these Christians offering praise to the lion that is out to devour them… If there was anything fresh about what Trump said to Congress, it was largely stylistic. He didn't pivot; he merely pirouetted, and then he dug into the same political ground he has already claimed.'
(Illustration: 'President Trump,' by Jonathan Bass, found here).
Even worse was the way those clowns at CBS, ABC and most-likely all the other news outlets I didn't see, gushing over the T-Rump's shit. Sad and depressing (again) and went to bed with a seemingly hole in my emotional heart.
T-Rump is a liar of the purest form, and no matter what the prick prattles-on about, he's always blowing shit smoke.
The whole performance was just that — a performance. All crap, from opening bullshit in the speech: '"I'm here tonight to deliver a message of unity and strength and it's a message deeply delivered from my heart."'
Full of pure shit…
A reminder of the real shit to the T-Rump, and a view into the next four years, comes via a piece from yesterday at AV Club on a T-Rump experience:
Donald Trump isn't just a disaster as a president—he's also a disaster as a state park.
Donald J. Trump State Park sits in Westchester County, New York, and encompasses 436 acres of land originally purchased by Trump in the '90s.
He intended to develop it into a golf course, but couldn't get permits from the towns in which the property sits, and thus turned around to donate the land to the state of New York in 2006, subsequently claiming a $100 million tax write-off.
The park closed due to budget cuts in 2010, though it only had a $2,500 annual budget prior to that, and now sits mostly abandoned and entirely uncared for.
In 2010, there was an attempt to convert at least part of the property into a dog park, but the New York State Office Of Parks, Recreation, and Historic Preservation ran into trouble when it both had issues raising funds and discovered asbestos in at least one building on the property.
Check out the photos, Frightening.
(h/t Erik Loomis at LawyersGuns&Money).
Out into the sunshine of the mind…