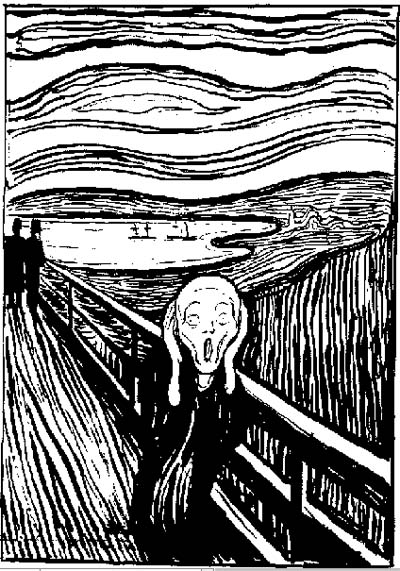 Thickly-overcast this mid-morning Thursday on California's north coast — we awaiting the end of this gloom with sunshine expected anytime now.
Reportedly, good weather for maybe until the middle of next week, hope springs eternal…
Yet perpetual horror-irony rings our era — GW Bush ain't no heavy-intellect, but he summed up reality after listening to the T-Rump's frightful inauguration speech.
According to New York Magazine last night:
But, according to three people who were present, Bush gave a brief assessment of Trump's inaugural after leaving the dais: "That was some weird shit."
All three heard him say it.
GW is a war criminal trying to rehabilitate himself, but in essence did have some-type moral center — T-Rump has no such thing.
(Illustration: Edvard Munch's 'The Scream,' lithograph version, found here).
Temper of the T-Rump has become obvious to everybody. The dude is indeed carrying-on some 'weird shit,' and none of it good at all. He's living in a bubble, and in the past all his self-centered, terror-of-a-personality harmed only a much smaller circle of people — now it's not only the US, but the whole world.
In this regard, a good, focused bottom-line view in the magnitude of  the T-Rump disorder came last week by Graydon Carter at Vanity Fair, description of a mess of a cluster-fuck.
Key points:
Trump may be a joke, but the chaos and destructive forces around him are not.
If he can cause this much havoc during his first few months in office, imagine what the country and the world will look like at the end of four years.
Watch him when he walks into a crowd of people.
There is a slight grimace, a tightening of the mouth that to me indicates a hesitation, perhaps based on fear.
The thing is, if Trump has made any sort of arrangement with the Russians—Kremlin, oligarchs, F.S.B., Mob, or any combination of the four—to drop the Obama-era sanctions in return for past favors, the hoo-ha surrounding his Russian connections now makes that almost impossible to deliver.
Whatever support he has received from the Russians over the years presumably came with promises of a payback.
If Trump can't follow through on this, he might be in serious trouble.
…
But, in the end, proper historians and serious journalists will descend in droves to mop up the lies, the half-truths, and the criminality.
Trump's legacy and that of his family could end up in tatters.
The self-lauded Trump brand may well wind up as toxic as the once self-lauded brand of another New York-Palm Beach family: the Madoffs.
Shit can get weird.
And in the T-Rump affair, we could have a cornered, rabid animal, willing to do any kind of 'weird shit' to stay alive…