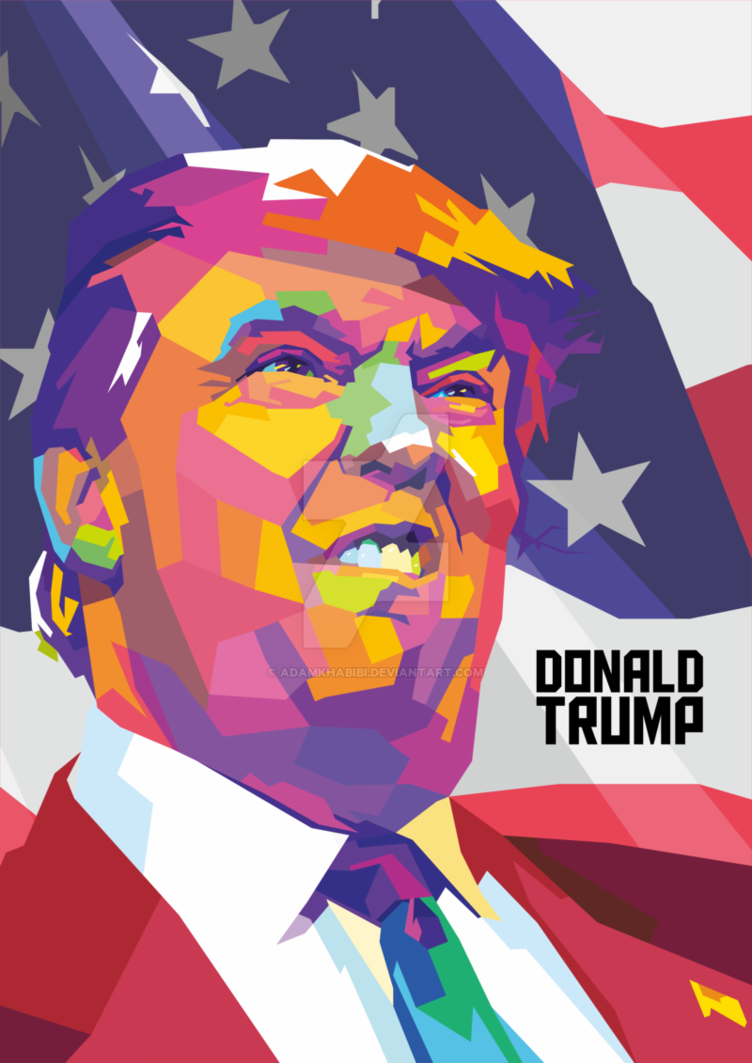 Drizzling chilly rain this early evening Wednesday on California's north coast, gray and foggy, too. Supposedly, a batch of good weather starting tomorrow and lasting maybe a week or so — a lot of sunny days in there, I hope.
Also in a drizzle, is T-Rump's standing with Americans — they're starting to get acquainted wth the lying asshole, as a new Gallup poll attests (TPM):
According to the polling company, 35 percent of respondents approved of Trump's performance in office, down from the 36 percent approval published on Monday and Tuesday.
Fifty-nine percent of respondents disapproved of his performance, beating the previous high of 57 percent on March 18.
Trump's net approval is now at negative 24 percent, down from record of negative 21 percent set on March 18.
Worse presidential start in Gallup history…
(Illustration: 'Donald Trump,' by Adam Khabibi, found here).
And is way-quickly turning-out to be most-likely the worst presidency ever — even worse than GW Bush, which is really, really saying a lot.
Via Gallup:
Both Nixon and George W. Bush hit their low points — significantly lower than Trump's current level — well into their second term after enjoying broad popularity in their first.
Bush limped out of the White House with a 34=percent job rating, while Nixon never finished his second term, choosing to resign rather than face likely impeachment and removal over the Watergate scandal.
And the scandal of the T-Rump is expanding — the multifaceted 'Russian connection' is a wall-banger.
From Paul Wood at the BBC this evening:
The BBC has learned that US officials "verified" a key claim in a report about Kremlin involvement in Donald Trump's election — that a Russian diplomat in Washington was in fact a spy.
So far, no single piece of evidence has been made public proving that the Trump campaign joined with Russia to steal the US presidency — nothing.
But the FBI Director, James Comey, told a hushed committee room in Congress last week that this is precisely what his agents are investigating.
…
The roadmap for the investigation, publicly acknowledged now for the first time, comes from Christopher Steele, once of Britain's secret intelligence service MI6.
He wrote a series of reports for political opponents of Donald Trump about Trump and Russia.
Steele's "dossier", as the material came to be known, contains a number of highly contested claims.
At one point he wrote: "A leading Russian diplomat, Mikhail KULAGIN, had been withdrawn from Washington at short notice because Moscow feared his heavy involvement in the US presidential election operation… would be exposed in the media there."
There was no diplomat called Kulagin in the Russian embassy; there was a Kalugin.
Read the whole piece, it gets into the background/details of that 'dossier' mentioned above, and the story is becoming even-more most-interesting.
Especially as the Senate Intelligence Committee announced today they're geared to investigate the T-Rump/Russkie connection, and distancing themselves from an attempt in the House — the 'Inspector Clouseau investigation' — not '"asking the House to play any role in our investigation."'
Reportedly, the committee will conduct a public hearing tomorrow.
Hopefully, the worm twists…