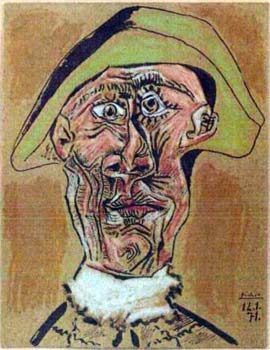 Overcast this Wednesday evening on California's north coast — rain this morning and on into the early afternoon, dry now.
A weird holiday display and the obviously sad difference between Obama and the T-Rump
Former President Barack Obama made a surprise visit to a Chicago food bank on Tuesday, lending a helping hand to volunteers tasked with preparing Thanksgiving food for people in need.
…
At the same time, President Donald Trump was aboard Air Force with his wife, Melania, and youngest son, Barron, en route for West Palm Beach, Florida.
Trump will spend his Thanksgiving holiday at his exclusive Mar-a-Lago estate club, dubbed the "Winter White House," like he has each year since he was elected in November 2016.
(Illustration: Pablo Picasso's 'Harlequin Head,'  found here).
In our current way-bad political predicament, Obama does loom large in gnawing nostalgia. He's acting cool, and Michelle is just coasting — her book-signing visit to Cosco with Ellen DeGeneres is hilarious, and nice.
The T-Rump is so awful, even George W has been glossed over — least we forget, GW is a war criminal at the way-minimum, along with his entire crowd, and was a shitty president, considered at the time worse in US history. Until just eight years later, the real-life piece-of-nasty-work, the T-Rump.
In between, Obama. Maybe some historical-irony Barack and Michelle, our one-and-only African-American First Family, sandwiched between two terrible, white assholes, first-worse, and second-worse US presidents ever, that's in 230-plus years.
As life continues, there's been a load of interchange on historical similarities — from Mother Jones this afternoon:
Gallons of ink have already been spilled about the parallels between Presidents Trump and Nixon, and Russiagate and Watergate.
Trump's firing of FBI Director James Comey recalls Nixon axing of Archibald Cox, the special Watergate prosecutor who got too close to the truth.
Trump's press-bashing and conspiracy-mongering were innovated by Nixon.
Conservatives protect Trump now, conservatives protected Nixon then.
The comparisons keep adding up: demonizing law enforcement, keeping a list of enemies, an all-out war on leaks… it goes on and on.
There is, however, one key difference: Nixon never had Fox.
"It is hard to overstate how unusual what is happening on Fox is," argues Vox media critic Carlos Maza on this week's episode of the Mother Jones Podcast.
"It is not just a right-wing network. It is an incredibly well-financed and a massive 'get out the vote' operation," instructing viewers on how to vote, district by district, along strictly Trumpian lines.
…
He warns Fox News has now become "a different kind of beast than just a propaganda network."
Fox's coverage of the migrant caravan in the run-up to the election, for example, was so relentless and extreme that it became a de facto "mobilization network," argues Maza— adopting and amplifying the president's false claims that the group's inexorable northward march was nothing less than an "invasion," had as its objective acting as a catalyst to get his base out to vote.
"It was pretty much constant 'caravan', 'invasion', 'disease' 'vermin,'" says Margaret Sullivan, Washington Post media columnist who joined Maza in the studio for the taping of the podcast.
Fox News is "so far off the charts that they basically function as state media for Trump."
Even Trick-Dick counsel oldster John Dean lowered the bar (Newsweek): '"If I had to channel a little of Richard Nixon, I think he'd tell this president he's going too far. This is the sort of stuff of a banana republic. This is what an autocrat does."'
And another Trick-Dick elder, Carl Bernstein, also popped some words yesterday on the T-Rump's call for the Justice Department to prosecute Hillary and James Comey — White House lawyers supposedly talked the T-Rump back off the political-lethal ledge (The Hill):
Bernstein, a frequent critic of the president, said during an interview on CNN's "Anderson Cooper 360" that the incident was an example of Trump's "unfitness" to be president.
"This is a defining moment in the Trump presidency," Bernstein said.
"This is a demonstration of his unfitness to be president of the United States, of his abuse of presidential power, of his embrace of authoritarian power."
"We are now watching a president of the United States undermine the very principles of our democracy," Bernstein continued.
"The president takes an oath to defend the constitution of the United States, to uphold it and to protect it. This president daily abuses it, but never have we seen such flouting, such willingness to abuse the Constitution."
In soothingly-good news in Trick-Dick-related history (NBC):
With votes continuing to be tallied more than two weeks after Election Day, Democrats hold a lead over Republicans in the House popular vote by more than 8.6 million votes.
That's the largest total victory in a midterm House election since Democrats defeated Republicans by more than 8.7 million votes in 1974, just months after President Richard Nixon resigned from office in disgrace.
Add to the mix, some hope. Then thrash it — from New York Magazine last month on a new climate report:
The alarming new report you may have read about this week from the UN's Intergovernmental Panel on Climate Change — which examines just how much better 1.5 degrees of warming would be than 2 — echoes the charge.
"Amplifies" may be the better term. Hundreds of millions of lives are at stake, the report declares, should the world warm more than 1.5 degrees Celsius, which it will do as soon as 2040, if current trends continue.
Nearly all coral reefs would die out, wildfires and heat waves would sweep across the planet annually, and the interplay between drought and flooding and temperature would mean that the world's food supply would become dramatically less secure.
Avoiding that scale of suffering, the report says, requires such a thorough transformation of the world's economy, agriculture, and culture that "there is no documented historical precedent."
The New York Times declared that the report showed a "strong risk" of climate crisis in the coming decades; in Grist, Eric Holthaus wrote that "civilization is at stake."
Nuggets of thought to cross thanks-a-giving day…