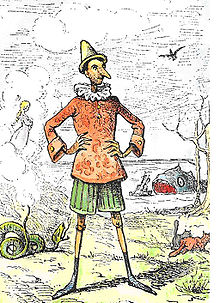 Breezy, clear this early-evening Friday on California's north coast — once again, low clouds/fog hugged the shoreline until about mid day, and conditions were gray at Little River Beach in the morning.
Nice, and warm if you get out of the wind, in the afternoon…
Hard to gauge in this era of lies and lying. Two years ago, the T-Rump claimed President Obama had been "wire tapping" Trump Tower during the 2016 campaign
As close to a confessional he lied:
On Thursday night, Trump finally admitted during a 45-minute interview with Fox News host Sean Hannity that he made the allegation based on "a little bit of a hunch."
Trump also expressed surprise at how his baseless accusation had blown up "like you've never seen."
Proud of the lie.
(Illustration: 'Pinocchio,' by Enrico Mazzanti (1852-1910), found here).
Further:
"I don't know if you remember, a long time ago, very early on I used the word wiretap, and I put in quotes, meaning surveillance, spying you can sort of say whatever you want," Trump told Hannity.
"Now I understand why, because they thought two years ago when I said that just on a little bit of a hunch and a little bit of wisdom maybe, it blew up because they thought maybe I was wise to them," he continued.
"Or they were caught. And that's why. 'Cuz if they weren't doing anything wrong it would've just gotten by, nobody would've cared about it."
He added: "It was pretty insignificant, I thought when I said it, and it's pretty amazing."
Seems gloating on the weight of lying-words with 'quotes' getting way-attention — an attitude that's bad-shitty. And a bat-shit crazy display of T-Rump's low-class, low-level approach was in the Fox News call-in appearance. Digby has a must-read great post on the episode, with videos — this per Rolling Stone:
Goaded by Hannity, Trump railed against Special Counsel Mueller's investigation, which he described as a "coup" to "overthrow the United States government."
He also claimed the "top people" at the FBI were corrupt, and that Hillary Clinton "destroyed the lives" of people working on Trump's campaign.
(Several Trump campaign staffers were indicted as a result of Mueller's investigation, mostly for lying to the government. There's no evidence suggesting Clinton somehow forced them to do this.)
…
The more obvious it has become that the president is guilty of a multitude of crimes, the deeper he has retreated the deranged conspiracy theories he's concocted in tandem with Fox News.
His rhetoric may have reached a new high water mark Thursday night when he alleged with frightening bluntness that the Justice Department was working with his political enemies to bring down the government.
"This is the greatest political scandal in the history of our country," he said.
"Again, bigger than Watergate, because it means so much. This wasn't stealing information from an office in the Watergate apartments. This was an attempted coup. It's inconceivable. Like a third-world country. Inconceivable."
A way-pure form of bullshit.
Meanwhile in fairy land while the country burns, total-toady 'interim' chief of staff Mick Mulvaney, a true asshole — via Newsweek this afternoon:
The Trump administration, he said, is "spending a bunch of money on stuff we're not supposed to," and the former Tea Party congressman's colleagues "accused me of 'losing'" because of the excessive spending.
But, he said, "at least I'm losing at the very highest levels."
Mulvaney made his comments in response to Freedom Caucus Chairman Mark Meadows recent accusations that the former Office of Management and Budget director was "losing" after his administration helped contribute to a record-high national debt of $22 trillion.
"It sounds like my friend Mick Mulvaney is not winning on some of the fiscal issues down at the White House," said Meadows.
…
In The Atlantic interview, Mulvaney also described his plans to revive morale for White House staffers.
He chronicled his installation of a popcorn machine in his office and his institution of office-wide happy hours.
"When I got here, morale wasn't what it needed to be," he said.
He commented that he was having such a good time in his role that he had gained 10 pounds.
"I eat more with the president now," he said.
"He eats hamburgers all the time."
Surreal grifting for the mob…