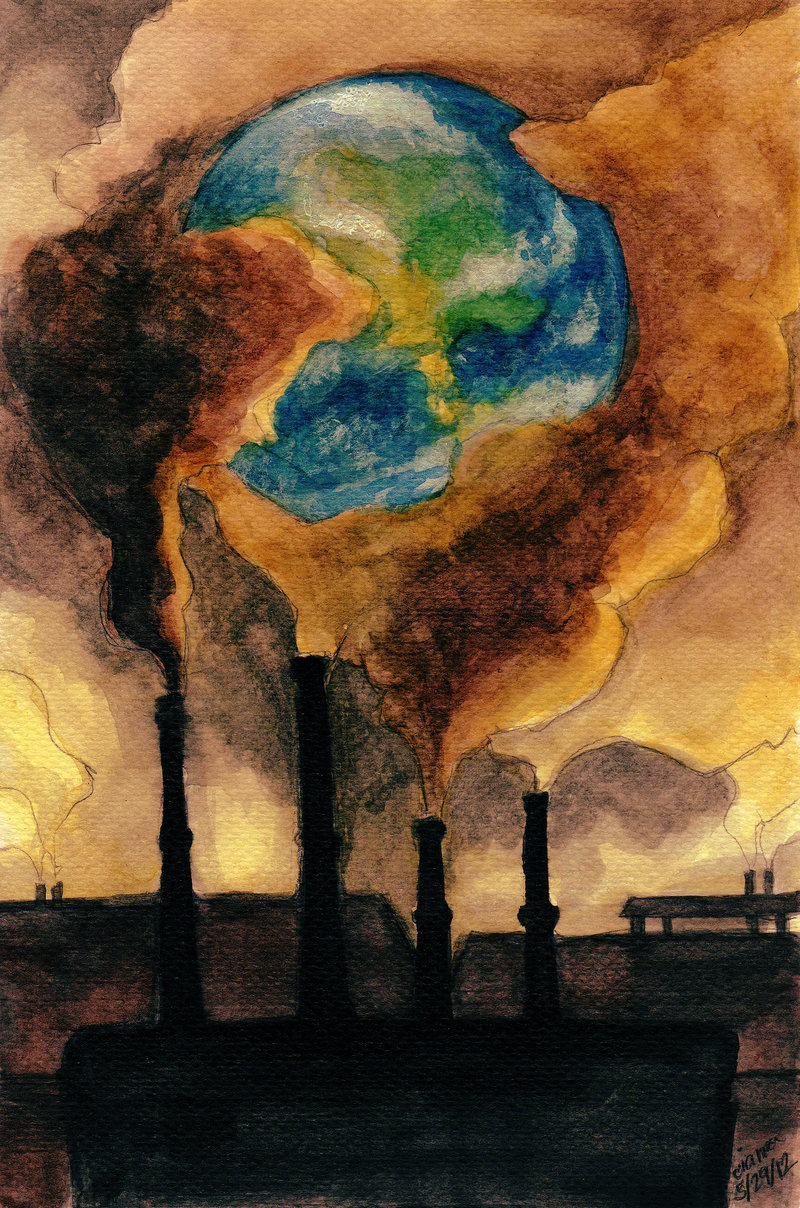 Sunshine and hot this early-evening Tuesday here on California's north coast, balmy it be — the NWS reports 82-degrees right now in Arcata, and will supposedly stay way-warm until dark.
Although not really what you'd call 'hot,' but for us coast people, it's 'sweltering.'
Yesterday from the Northern California Weather Blog:
A high pressure ridge is over the west coast and will be there for the at least the next 10 days.
Northern California will be mostly sunny with some afternoon cumulus clouds over the mountains during the afternoons
Hottest days look like today through Wednesday when high temperatures will be 15 to 18 degrees above normal.
Temperatures will cool somewhat later in the week but still will be above normal.
Summer in late spring all over the world. Temperatures are going up, fueled in a sort of suicidal feedback loop.
Horrifyingly ironic, mankind is apparently keen on destroying itself, and has been in on the kill for centuries, especially in the last 200 years or so. Just as there's floods and rain and record tornadoes across the US heartland, humanity needs to driver faster.
Last year, CO2 emissions from the worldwide energy industry were the highest in a decade. Oddly, extreme weather seems to increase the demand for fossil fuels — despite action on the climate 'crisis' (the Guardian this morning):
Carbon emissions climbed by 2-percent in 2018, faster than any year since 2011, because the demand for energy easily outstripped the rapid rollout of renewable energy.
That level of growth in emissions represents the carbon equivalent of driving an extra 400m combustion engine cars onto the world's roads, said Spencer Dale, BP's chief economist.
Dale said the increase in the number of extreme weather events and increasing demand for energy could be a vicious cycle.
"If there is a link between the growing levels of carbon in the atmosphere and the types of weather patterns observed in 2018 this would raise the possibility of a worrying vicious cycle: increasing levels of carbon leading to more extreme weather patterns, which in turn trigger stronger growth in energy (and carbon emissions) as households and businesses seek to offset their effects"
…
"At a time when society is increasingly concerned about climate change and the need for action, energy demand and emissions are growing at their fastest rate for years," Dale said.
Two-thirds of the world's energy demand increase was due to higher demand in China, India and the US which was in part due to industrial demand, as well as the "weather effect".
This was spurred by an "outsized" energy appetite in the US which recorded the highest number of days with hotter or colder than average days since the 1950s.
Further shit from SFGate this afternoon:
A study published this week in the journal Earth's Future concludes that this heat wave epidemic "would not have occurred without human-induced climate change."
The alarming part?
There are signs record-setting heat waves are beginning anew this summer — signaling, perhaps, that these exceptional and widespread heat spells are now the norm.
…
New Delhi, India's capital, soared to 118.4 degrees (48 Celsius) Monday, its highest temperature ever recorded in June.
Some parts of India have seen the mercury eclipse 122 degrees (50 Celsius) in recent days, not far off the country's all-time high.
On the other side of the hemisphere, the temperature in San Francisco shot up to 100 degrees (37.8 Celsius) Monday, its highest temperatures ever recorded in the months of June, July or August, or this early in the calendar year.
Heat spread unusually far north, even up into the northern reaches of Scandinavia.
Mika Rantanen, a meteorologist at the University of Helsinki, tweeted last Friday that "[t]here are no known cases in Finland's climate history when it has been hotter than now so early in the summer." Temperatures above 86 degrees (30 Celsius) penetrated inside the Arctic Circle, he noted.
…
"A strong reduction in fossil fuel emissions is paramount to reduce the risks of unprecedented global-scale heat-wave impacts," the Earth's Future study concluded.
Duh!
And with our orange-turd of a president, another Duh!
Writing of such, just last week, a retired chemist's analysis on the urgency of climate change was deleted from Congressional reports by the T-Rump White House because it didn't fit to the T-Rump's view of the issue. Rod Schoonover, a longtime professor in Cal Poly's Chemistry and Biochemistry Department until retirement in 2013, testified before the House Intelligence Committee on the perils of ignoring our heating environment.
Cal Poly is in San Luis Obispo and slightly inland on California's Central Coast, a place I lived for more than 17 years before moving up here in 2007.
Anyway, the T-Rump's minions didn't cotton to Schoonover.
Per yesterday's The Tribune in SLO:
"Climate change effects could undermine important international systems on which the U.S. is critically dependent, such as trade routes, food and energy supplies and the global economy and domestic stability abroad," Schoonover said in his testimony.
"Most countries if not all are already unable to fully respond to the risks of climate-linked hazards under present conditions," he said, adding that how people and societies act to decrease their vulnerability to anticipating climate-linked hazards is a critical factor to determining the degree of harm.
He also warned of an increase in humanitarian crises around the globe as a result of extreme events that may occur with greater frequency or severity due to climate change.
Officials in President Donald Trump's administration who spoke with reporters said the White House's Office of Legislative Affairs decided that Schoonover's written testimony would not be submitted into the record because it did not "jibe" with the administration's stance on climate change, according to the Washington Post.
That tension is apparent in a leaked document that shows edits and comments allegedly written by officials from the White House's Office of Legislative Affairs, Office of Management and Budget and the National Security.
One comment says that the document "includes lots of climate-alarm propaganda that is not science at all."
Large chunks of the document are crossed out in red, especially a section titled "Scientific Baseline," which one commenter described as "heavily biased toward alarm."
Another comment reads, "a consensus of peer reviewed literature has nothing to do with the truth."
Hence we be fucked…
(Illustration above found here)