Sunshine this Tuesday evening on California's north coast, a fine turn-around from most of a cloudy-foggy day. Rain expected tomorrow.
Despite the gray-ash chill, the Ma-le'l Dunes this morning was still a gorgeous dog run.
This, too, rings true nowadays:
I go to bed feeling that same way. The crazy continues unabated.
Drama so freaked and weird no one could dream this shit up, no matter the drugs. Even way-close to home with the insane PG&E fiasco last week — a truly-huge man-made disaster in the offering. We dodged a bullet no doubt, only a 36-hour or so of outage, just tipping short of the panic line.
Last Thursday, I visited the Arcata Safeway and it was a scene out of a bad science-fiction, disaster movie, Dark and crowded, one register, voices all scrambled in nervous tension, empty shelves, no ice at all. A day later not much better. If the outage had gone the 3-to-5 days as originally speculated, we'd found ourselves in some seriously-bad shit.
And we were in a much-better environment than say Santa Rosa.
Meanwhile, the circus in DC is off the charts. The terrifying saga of the T-Rump is unfolding like a TV serial, and in a really, really dramatic gangster fashion. And the tide appears to be turning.
Yesterday, the T-Rump's former top Russia adviser, Fiona Hill, 'detailed for lawmakers a trail of alleged corruption that extends from Kiev to the West Wing,' and naming the assholes running the show.
She also reportedly testified then-national security adviser John Bolton, already a rabid nutcase, went ballistic: 'According to a source in the room Monday, Hill said Bolton compared Giuliani to "a hand grenade who's going to blow everybody up."'
Hill's witness episode recounting, and testimony today on the whole ugly affair from George Kent, a senior State Department official, hopefully is a beginning to the end of the T-Rump's bullshit.
Maybe a movement — Paul Waldman at the Washington Post this morning
Nevertheless, for all the grifters and ideological extremists Trump has installed in his administration, there was also a kind of personnel time bomb waiting to go off.
It's made up of both civil servants and political appointees, people throughout his administration who were not quite the kind of rabid true believers we see defending Trump on TV.
For nearly three years, they've done their jobs and hoped everything would turn out for the best.
But in the right circumstances, they'll either decide to jump ship or simply have no choice but to tell what they know. It's already happening, and there's nothing Trump can do to stop it.
In the light at-the-end-of-the-tunnel scenario, there's this — at TPM this afternoon:
In a blow to President Trump, the full 4th Circuit Court of Appeals will rehear an emoluments case that he won over the summer.
A three-judge panel dismissed the case the case in July, ruling that attorneys general for Maryland and D.C. lacked the right to sue to enforce the Emoluments Clause.
…
The appeals court accused the district-level judge of acting on a "whim," and argued that "even if government officials were patronizing the Hotel to curry the President's favor, there is no reason to conclude that they would cease doing so were the President enjoined from receiving income from the Hotel."
Oral arguments are set for Dec. 12.
And not to be denied, and no less from the T-Rump's former favorite pollster:
Weekly Update: 50% Favor #Impeachment And Removal of @realDonaldTrump… 38% Oppose… Support Up 2 pts from a week ago, up 4 from two weeks ago, up 6 from three weeks ago… Very Partisan… 84% of Democrats Favor, 75% of Republicans oppose https://t.co/GAycJwjPME pic.twitter.com/AWuj1sTUmX

— Scott Rasmussen (@ScottWRasmussen) October 15, 2019
I was burned out from exhaustion
Buried in the hail
Poisoned in the bushes
And blown out on the trail
Hunted like a crocodile
Ravaged in the corn
"Come in," she said, "I'll give ya
Shelter from the storm"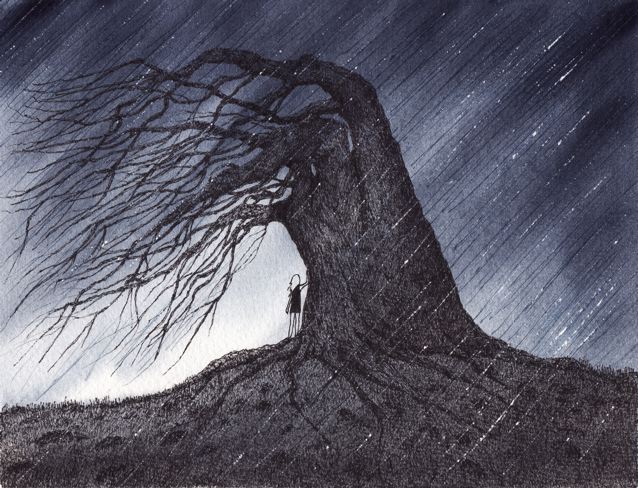 (Illustration: 'A Shelter from the Storm,' found here).