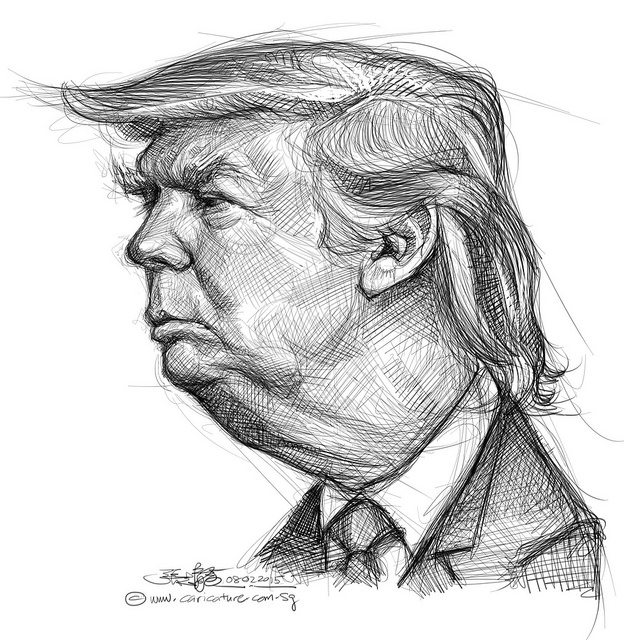 One of the more-excellent reasons why the T-Rump should be booed at every opportunity — Adam Jentleson today at GQ
Trump may be the president, but he is a deeply immoral man in ways that transcend partisan divisions.
If you shoehorn all the despicable things Trump has said and done into the aphorism of "agree to disagree" and demand he be treated with respect, you can't expect kids to understand right from wrong because you're telling them that power gives you permission to be immoral — no matter what you do, we'd be telling them, if you get enough power, you're entitled to respect.
Turn-about is fair play.
(Illustration: 'Basic Shapes,' by caricaturist/illustrator Chong Jit Leong found here).
Just as immoral and hard-headed:
Watch Republican Congressman @repdonyoung (R-AK) headbutt the camera when we asked him if it's okay to ask foreign governments to interfere in our elections.

And no, he never answered the question. pic.twitter.com/FWgmkdzycG

— MoveOn (@MoveOn) October 31, 2019
And a blazing asshole:
Young, the longest-serving member in Congress, on Thursday voted against a House resolution establishing rules for open hearings and the questioning of witnesses in the Democratic-led impeachment inquiry.
The congressman said in a statement that the process was a "political stunt by House Democrats."
Young has had a history of being cantankerous during his long tenure in Congress.
The interaction between him and members of MoveOn comes just months after the GOP congressman apologized to a reporter for physically shoving her.
Politico's Melanie Zanona tweeted in April that Young had shoved her and told her to "get out of his way 'damnit' " as she tried to interview another lawmaker.
She said two hours later that Young had called her to personally apologize, and that she "very much" appreciated it.
Young also apologized to Rep. Pramila Jayapal (D-Wash.) in April 2017 after swearing at her and telling her she didn't "know a damn thing what she's talking about," The Washington Post noted.
We're in a weird Twilight Zone episode…