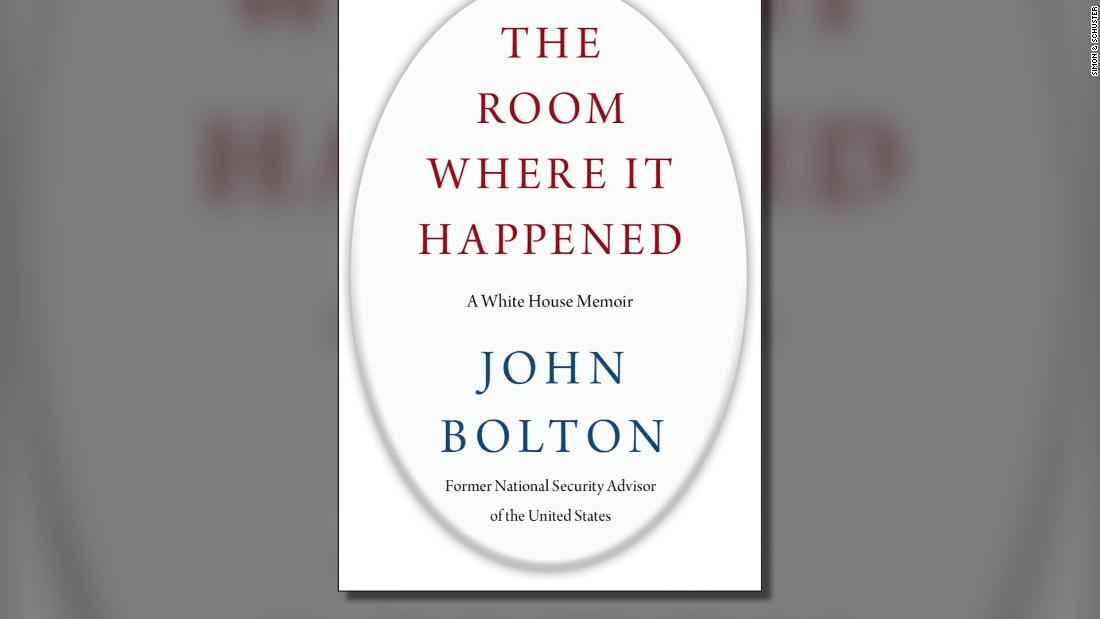 Here it is the third day in the defense of the T-Rump in his Senate impeachment trial and the proceedings are batshit-crazy, mainly because it's obvious the orange turd is guilty, but now there's John Bolton's book manuscript — "The Room Where It Happened: A White House Memoir," a copy of which was leaked over the weekend to the New York Times, upending any type apple-cart bullshit from T-Rump's lawyers.
(Illustration found here).
Although Bolton's narrative isn't scheduled to be published until March, the ingredients are already shitting on the fan — the moustached nutjob wrote that the T-Rump told him that $391 million in military aid to Ukraine can't be released until that country started investigations into Joe Bidden, and/or his son, Hunter. The scenario shot a gaping hole in the T-Rump's so-called defense.
And on top of that shit, the White House has had the manuscript since Dec. 30, but failed to even mention it to anyone prior to the Times getting a copy. And the Times story was what's called a 'bombshell' in the journalism business — the info knocked everybody for a loop, was high on the news cycle and scrambled Republicans and Democrats alike, though, for way-different reasons. The GOP was suckered punched, the Dems cried for Bolton to testify in the Senate trial.
And top of the Ukraine business, Bolton also wrote about another matter, at one point telling AG Bill Barr '…he had concerns about Trump giving favors to the leaders of Turkey and China.'
Bolton also disclosed the AG had some misgiving of his own 'that Barr specifically brought up Trump's discussion with Xi about Chinese telecommunications firm ZTE,' and, Barr '…also referred to comments Trump made to Erdogan in 2018 regarding a DOJ probe into Halkbank, one of Turkey's largest state-owned banks, which was being investigated for allegedly helping Iran avoid U.S. sanctions.'
In the quest to make shit worse for Republicans, there's a voice of encouragement (CNN):
Former White House chief of staff John Kelly says he believes John Bolton's allegation that President Donald Trump told the former national security adviser that US security aid to Ukraine was conditioned on an investigation of the President's political rivals, adding that Bolton should be heard from.
"If John Bolton says that in the book I believe John Bolton," Kelly said Monday night when asked about the leaked draft manuscript during remarks at the Ringling College Library Association Town Hall lecture series, according to the Herald Tribune of Sarasota, Florida.
Kelly said Bolton "always gave the president the unvarnished truth" and is a "man of integrity and great character."
Of course, that's one asshole talking good about another asshole, and Bolton is a hard-right war-monger from way back, and never met a war he didn't enjoy. This headline at Balloon Juice Sunday night nailed my feelings for Bolton's action: 'Ambassador John Bolton is a Coward, Has No Professional Ethics, Could Care Less about the Security of the United States, and Cares Only for His Personal Profit.'
So there!
However, at least the T-Rump is pushed toward the epicenter of all the backlash shit coming off the situation.
I don't know how this will play out over the course of the Senate trial, calling witness and whatnot, though, it's going to be hard to not have witnesses with something like this (h/t Daily Kos):
[NEW POLL] 82% of Americans think that Ambassador John Bolton must testify in the Senate #ImpeachmentTrials.

Senate Republicans: #BoltonMustTestify pic.twitter.com/1gtu6q5cKi

— Law Works (@LawWorksAction) January 28, 2020
In the course of the T-Rump era it seems Bolton's manuscript-soon-to-be published book is just the latest fling into a weird-ass genre of political 'literature' (loosely) — ex-T-Rump workers talking shit in print. A ton of books have appeared in the past three years mostly depicting a White House as one fucked-up place to be employed.
A few by insiders/former aides, a few by established writers/journalists who tapped the shit from outside, but still painted the same word-picture — T-Rump is an ignorant, asshole prick.
Or 'The Chosen One,' if you're living inside the bubble.
Just a small, cursery list of some tell-all recaps:
Unhinged: An Insider's Account of the Trump White House, by by Omarosa Manigault Newman.
Published in August 2018, the book is mostly trash talk from a former toady (via the Hollywood Reporter): "Candidate Gene Simmons of KISS, a close friend of Donald's, was the most disgusting misogynist I had ever met. … During one long break, Donald asked Gene, 'What do you think of Ivanka? How's she doing?' What followed was a vile exchange, right in front of Ivanka, with Gene Simmons talking about her in a room full of people. While leering openly at her breasts, he said, 'She's a very, very sexy, desirable young woman who I'm looking forward to getting to know much better if you know what I mean, with all due respect.' Her father egged him on."
'Unhinged' was officially a hit, debuting at No. 2 on The Washington Post bestseller list. The book sold more than 33,000 hardback copies during its first week.
Most of these guys were T-Rump believers at first, then when seen up close what a sack-of-shit the assholes becomes, and for the assholes around him. The object isn't so shiney any more.
Team of Vipers: My 500 Extraordinary Days in the Trump White House, by Cliff Sims. Published in January 2019.
A former low-level aide to the T-Rump, Sims is critical of T-Rump land's visceral brutality and shovels shit on all the characters dwelling within the adminstration — Kellyanne Conway, Sarah Sanders, that bunch. A nasty retort to being denied promotion.
The book isn't worth it (the Guardian): 'What is most memorable about Team of Vipers is the joylessness of working for this president and the acrid aftertaste it leaves. While factionalism is to be expected, a stint at the White House usually brings with it a passel of friends and memories. Just look at the recent funeral of George HW Bush.
Not here. Rather, discord and a book are Trump's emerging legacy and Sims' parting gifts.'
Sims reveals a load of unsavory characters, "…a portrait of venality, stubbornness, and selfishness," including himself.
These tell-alls are in the same vein, and in the same time-and-rhythm of how the T-Rump operates, shitty, and then becomes more shitty.

Trump, the Blue-Collar President, by Anthony Scaramucci.
Published October 2018, Scaramucci was fired just 10 days on the job. 'Blue-Collar' is a tribute to the T-Rump depite the ouster, with not much enlaboration — per the Guardian in October 2018; '…an assistant to the president for less than two weeks, "the Mooch" has a lot to say.' Except all is dumb-ass shit.
And he changed his mind about the T-Rump since then, too. Writing in the Washington Post nearly a year later: 'I broke from Trump because not only has his behavior become more erratic and his rhetoric more inflammatory, but also because, like all demagogues, he is incapable of handling constructive criticism. As we lie on the bed of nails Trump has made, it's often difficult to see how much the paradigm of acceptable conduct has shifted. For the Republican Party, it's now a question of whether we want to start cleaning up the mess or continue papering over the cracks.'
The 'Mooch' abides…
There are several of these publications floating around, but that's what I consider top flight of below-average biographies. You also might want to check-out a similar, but more detailed list published in March 2019 at BusinessInsider, with an update on Bolton's inbound manuscript.
And there's an off-shoot of this particular genre of the T-Rump in the form of op/eds, essays and articles in magazines/newspapers on the great/horrible things about the T-Rump, depending if you live in reality or not — one such was an editorial which ran in the New York Times in September 2018, by-lined only by a man/woman still working in the White House and described only as 'Anonymous.'
A sample from that labeled opinion piece:
The root of the problem is the president's amorality. Anyone who works with him knows he is not moored to any discernible first principles that guide his decision making.
Although he was elected as a Republican, the president shows little affinity for ideals long espoused by conservatives: free minds, free markets and free people. At best, he has invoked these ideals in scripted settings. At worst, he has attacked them outright.
Interesting info-bit via Wikipedia: 'The essay was published on September 5, 2018. During the week that the article was published, the book Fear: Trump in the White House by political author Bob Woodward was being promoted in the media ahead of its September 11, 2018, release date. Woodward's book depicts the Trump administration as being engulfed in chaos and internal opposition to Trump's impulses.The day before the essay's publication, the US Senate Judiciary Committee began public hearings on controversial US Supreme Court candidate Brett Kavanaugh. This timing was also two months prior to the 2018 US elections. The timing has been questioned as a possible calculated diversion, although The New York Times editorial board denied this.The essay praised Senator John McCain, whose death occurred 11 days prior to the essay's publication.'
And that same 'Anonymous' writer later penned a full-blown book:

A Warning, by Anonymous.
Published in November 2019, the writer stays unknown because of various reasons, including use of Alexander Hamilton's scribblings, and whatever — The New Yorker on the book itself:
This is a particular pity because there is much in the book that is alarming, if not entirely new.
"I am not qualified to diagnose the president's mental acuity," Anonymous writes.
"All I can tell you is that normal people who spend any time with Donald Trump are uncomfortable by [sic] what they witness. He stumbles, slurs, gets confused, is easily irritated, and has trouble synthesizing information, not occasionally but with regularity.
Those who would claim otherwise are lying to themselves or to the country."
And included in this tell-all books are those from outsiders, which also have made a major impact, and has raised the ire of the T-Rump himself (as he does with everybody not his lackey) and continues the stream of ugly.
Near-about first and producing a big wham for the buck:
Fire and Fury: Inside the Trump White House, by Michael Wolff. Published in January 2018.
A bit of from the review per New York Magazine:
Few people who knew Trump had illusions about him.
That was his appeal: He was what he was. Twinkle in his eye, larceny in his soul.
Everybody in his rich-guy social circle knew about his wide-ranging ignorance.
Early in the campaign, Sam Nunberg was sent to explain the Constitution to the candidate.
"I got as far as the Fourth Amendment," Nunberg recalled, "before his finger is pulling down on his lip and his eyes are rolling back in his head."
The book was such a smash, Wolff brought out a sequel: Siege: Trump Under Fire, published last June.
The missive just continues the stream, "Dysfunctional and inept'" he "can't walk down steps'" and "doesn't know how to use a phone."
And from long-time noted journalist, Bob Woodward who also chipped in with his own version of the mad king and his play house;
Fear: Trump In The White House, published in September 2018.
An idea of what is conveyed (again, The New Yorker): 'No one has any respect for Trump. In the course of the book, his chief of staff calls him "an idiot"; his Secretary of State ups it to "a fucking moron"; his Secretary of Defense compares him to an eleven-year-old; his top economic adviser and his personal lawyer consider him, respectively, "a professional liar" and "a fucking liar." (Various denials have been issued.) Gary Cohn, the economic adviser, tells the President to his face that he's "a fucking asshole," while Trump calls Cohn "a fucking globalist." … A coarse and feckless viciousness is the operating procedure of his White House, and the poison spreads to everyone. Only snakes and sycophants survive.
Central theme: The book's title is derived from a remark that then-candidate Trump made in an interview with Woodward and Post political reporter Robert Costa in 2016. Trump said, "Real power is, I don't even want to use the word, 'Fear.'?"
As I said earlier, there's a shitload of 'literature' out there on the T-Rump, most of it real-bad shitty, with a few toadies and nutjobs trying the wring sanity or goodness out of a mean, terrible asshole. Unbelievable the T-Rump was elected, and now there's a goodly chance he could possibly win again in November
The T-Rump just last July (Rawstory):
"The House of Representatives rejecting a bid to launch impeachment proceedings against President Trump, and President Trump declaring victory," reported CNN's Erin Burnett.
"Telling reporters seconds ago 'We've just received an overwhelming vote against impeachment, and that's the end of it.'
He went on to call it the 'most ridiculous project.' Riding high now over how the whole saga over his racist tweets is playing out."
"Do you think you're winning this political fight?" a reporter asked Trump in video footage.
"I do think I'm winning the political fight," said Trump.
"I think I'm winning it by a lot."
The T-Rump hasn't a clue, a nasty, carnivorous asshole going through one fuck-up after another…with somebody taking notes…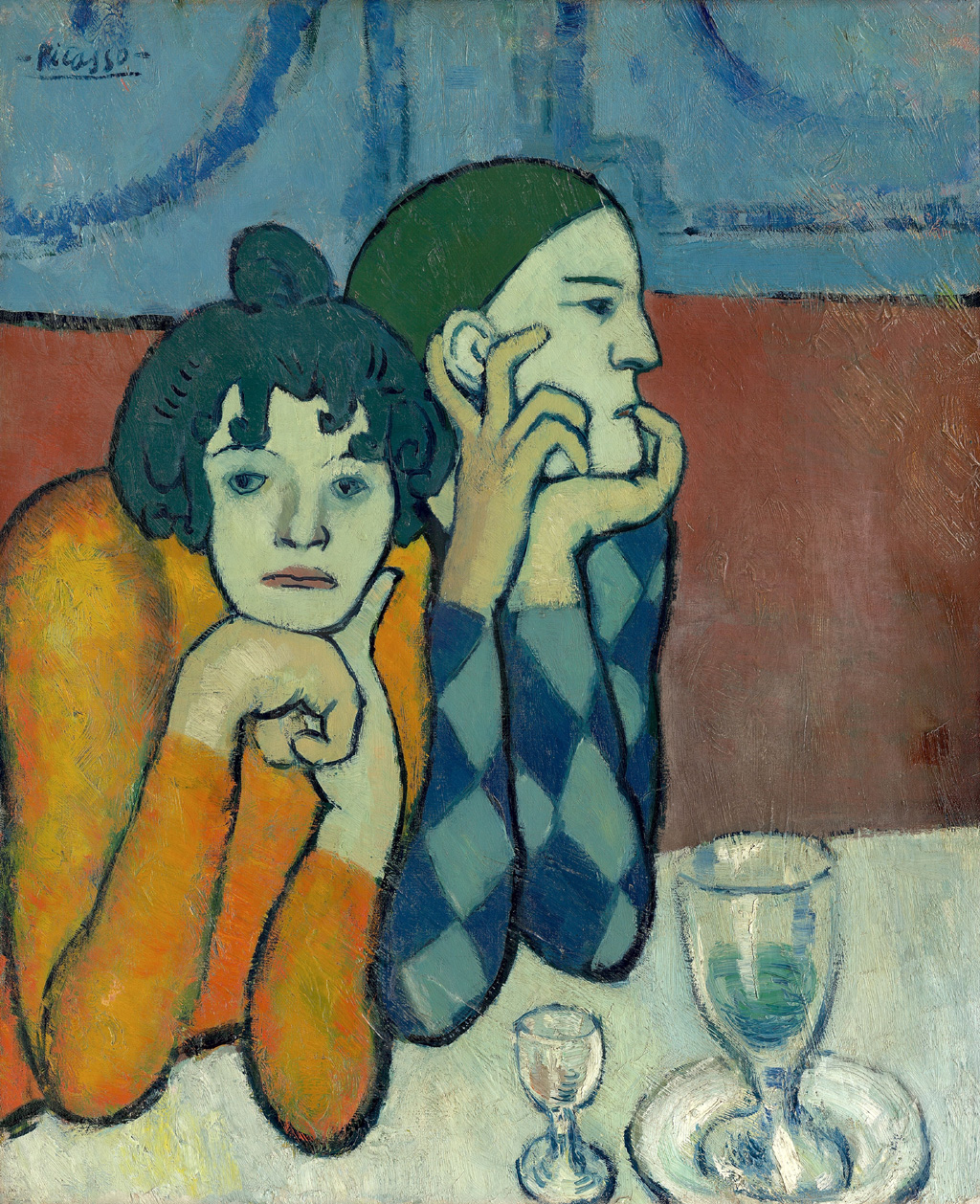 (Illustration: Pablo Picasso's 'Les Deux Saltimbanques: l'Arlequin et Sa Compagne,' found here).