Even as the Senate impeachment trial of the T-Rump continues into next week, more shit is arising from the muck, maybe along with displaying even more corrupt, criminal activity, invigorates and bolsters evidence already  presented at trial — via Slate this afternoon:
Hours after the Senate voted against calling witnesses in President Donald Trump's impeachment trial, the administration acknowledged in a late Friday court filing that there are two dozen emails that reveal Trump's thinking in withholding military aid to Ukraine.
The filing by the Justice Department, which was released near midnight Friday, marks the first time the White House has acknowledged that the emails exist and that Trump was involved in conversations regarding the aid as early as June.
The emails were also withheld from Congress.
Heather Walsh, a lawyer for the Office of Management and Budget, argued in the filing that the 24 emails should be protected under "presidential privilege."
Walsh noted that the emails that were sent between June and September of last year describe "communications by either the President, the Vice President, or the President's immediate advisors regarding Presidential decision-making about the scope, duration, and purpose of the hold on military assistance to Ukraine."
The filing was in response to a lawsuit by the Center for Public Integrity, which had sought unredacted copies of the emails.
The redacted emails include one from June 24,2019 between Pentagon officials that has the subject line "POTUS follow up."
The reasons for withholding of almost $400 million in military aid to Ukraine and whether it was done to pressure Kyiv to announce political investigations are key to Trump's impeachment trial.
But now that the Senate voted to block witnesses and other new evidence, Trump's acquittal is virtually assured next week.
Rep. Adam Schiff warned Friday that the contents of the emails will eventually become public. "The facts will come out in all of their horror," Schiff said in closing remarks.
"The documents the president is hiding will come out. The witnesses the president is concealing will tell their stories."
And the situation showcases how far Bill Barr and the Department of Justice is up the T-Rump ass.
A bit more per CNN:
Senate Democratic Leader Chuck Schumer said in a statement on Saturday, "Every single Republican Senator voted to endorse the White House cover-up of these potentially important truth-revealing emails. Make no mistake, the full truth will eventually come out and Republicans will have to answer for why they were so determined to enable the president to hide it."
…
The filings from the executive branch came Friday to meet a court-ordered January 31 deadline.
A judge had specifically asked for an email-by-email breakdown of what the Justice Department redacted or withheld in Defense Department and OMB emails about the aid, and why it did so, after the Center for Public Integrity sued and got access to them in December through the Freedom of Information Act.
Republicans have made for themselves a rough-row-to-hoe in trying to explain the entire gummed-up works of the T-Rump and Ukraine — I think the country is watching, and can see the stonewall/cover-up. And as one particular guy explained: "Urinating on the Constitution is fun when you can get away with it."
Length of time in this may not be very long at all, hopefully not beyond Nov. 3 at the latest.
However, the right-here-and-now is distressing: 'The few GOP senators who pretended at a conscience toward the end have predictably decided to throw in their lot with the majority of their conservative colleagues cravenly engaging in a coverup for the president, while pretending to be deeply offended at the suggestion that that is exactly what they are doing. And why? Because they fear the wrath of Trump's base and his twitter feed more than they fear the voters or the judgment of history. And because they simply don't care.'
In another document/e-mail dump last night, released in response to Freedom of Information Act requests from a bunch of media outlets, revealed the dangerous, unhinged lunacy of the T-Rump on public safety. And the people who try to keep us safe.
(Illustration, T-Rump caricature found here).
The big splash was T-Rump's 'Sharpie-enlightened' hurricane map from last September — via BuzzFeed, also this afternoon:
President Trump's fake hurricane map triggered panic, outrage, and an internal revolt among top officials at the National Weather Service and NOAA.
That's according to a trove of more than 1,000 emails released Friday night to BuzzFeed News and other publications in response to a Freedom of Information Act request.
Trump (falsely) tweeted on September 1 that several southern states, including Alabama, were "most likely to be hit" by the hurricane after its deadly pass through the Bahamas.
Three days later, Trump shared a fake map in which a storm track, seemingly drawn with a black Sharpie, showed Dorian moving toward Alabama.
When a National Weather Service forecaster tried to set the record straight, its parent agency, NOAA, released an unsigned statement disavowing the correction — seemingly to appease the White House.
…
Officials and scientists, both inside and outside the government, were horrified, the newly released emails show.
"For an agency founded upon and recognized for determining scientific truths, trusted by the public, and responsible in law to put forward important science information, I find it unconscionable that an anonymous voice inside of NOAA would be found to castigate a dutiful, correct, and loyal NWS Forecaster who spoke the truth," Craig McLean, then the agency's assistant administrator, wrote in a September 7 email to other top-level government officials.
"What concerns me most is that this Administration is eroding the public trust in NOAA for an apparent political recovery from an ill timed and imprecise comment from the President."
In response to McLean, Timothy Gallaudet, the assistant secretary of commerce for Oceans and Atmosphere, said, "Btw: just between us, I have no problem with you being as vocal as all of our NWS employees on this – they are absolutely reeling over this."
…
"I pray this thing dies off by morning or we just continue to say 'call the WH,'" Julie Roberts, NOAA's deputy chief of staff, wrote later that day.
The emails also confirm — though there was little doubt — that the map Trump displayed in the White House was "doctored" and that officials thought the administration's efforts were "crazy."
"Apparently the President is convinced that Alabama was in the path of Dorian and someone altered a NOAA map (with a sharpie) to convince folks," Makeda Okolo, a congressional affairs specialist at NOAA, wrote on September 5.
"Yep, crazy," responded Benjamin Friedman, NOAA's deputy under secretary for operations, according to the email cache.
A day later, NOAA issued an unsigned statement backing Trump over its forecasters who suggested the president was wrong when he said Hurricane Dorian would hit Alabama.
That led to an internal revolt and a flurry of emails between top officials who disavowed the statement.
We're in some dark days for our representative/constitutional democracy, our constitutional republic, whatever the term for America's political/social scheme of life. If we can't get the T-Rump and a large assortment of Republicans out of office soon, we gonna be way-badly fucked…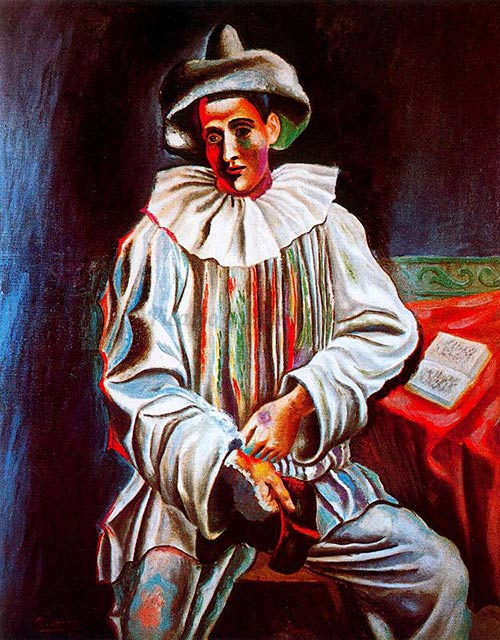 (Illustration: Pablo Picasso's 'Seated Pierrot,' found here).