Even as the T-Rump attempts to destroy our governing system via a shitload of corresponding sideshows, the horror of his nasty mouth has drained-down into our young people, creating a sink-hole of racial unrest, and an up-tick of bullying.
(Illustration found here).
In the sense of asshole bully, the T-Rump is the optimal abuser — via PsychCentral: 'The American Academy of Child and Adolescent Psychiatry defines bullying as "… the repeated exposure of one person to physical and/or relational aggression where the victim is hurt with teasing, name calling, mockery, threats, harassment, taunting, social exclusion or rumors." And, according to the Cyberbullying Research Center, "… inherent in any conception of bullying is the demonstration… of power by the offender over the target."'
And the T-Rump's targets are anyone in his way, and not a toadie.
Way-worse is the impact on our children from all this terrible shit — an in-depth, long-read look at this phenomenon today from the Washington Post:
Since Trump's rise to the nation's highest office, his inflammatory language — often condemned as racist and xenophobic — has seeped into schools across America.
Many bullies now target other children differently than they used to, with kids as young as 6 mimicking the president's insults and the cruel way he delivers them.
Trump's words, those chanted by his followers at campaign rallies and even his last name have been wielded by students and school staff members to harass children more than 300 times since the start of 2016, a Washington Post review of 28,000 news stories found.
At least three-quarters of the attacks were directed at kids who are Hispanic, black or Muslim, according to the analysis.
Students have also been victimized because they support the president — more than 45 times during the same period.
Although many hateful episodes garnered coverage just after the election, The Post found that Trump-connected persecution of children has never stopped.
Even without the huge total from November 2016, an average of nearly two incidents per school week have been publicly reported over the past four years.
Still, because so much of the bullying never appears in the news, The Post's figure represents a small fraction of the actual total.
It also doesn't include the thousands of slurs, swastikas and racial epithets that aren't directly linked to Trump but that the president's detractors argue his behavior has exacerbated.
"It's gotten way worse since Trump got elected," said Ashanty Bonilla, 17, a Mexican American high school junior in Idaho who faced so much ridicule from classmates last year that she transferred.
"They hear it. They think it's okay. The president says it…Why can't they?"
…
Most schools don't track the Trump bullying phenomenon, and researchers didn't ask about it in a federal survey of 6,100 students in 2017, the most recent year with available data.
One in five of those children, ages 12 to 18, reported being bullied at school, a rate unchanged since the previous count in 2015.
However, a 2016 online survey of over 10,000 kindergarten through 12th-grade educators by the Southern Poverty Law Center found that more than 2,500 "described specific incidents of bigotry and harassment that can be directly traced to election rhetoric," although the overwhelming majority never made the news.
In 476 cases, offenders used the phrase "build the wall."
In 672, they mentioned deportation.
The Post details some specific examples, but the piece is worthy of a full read.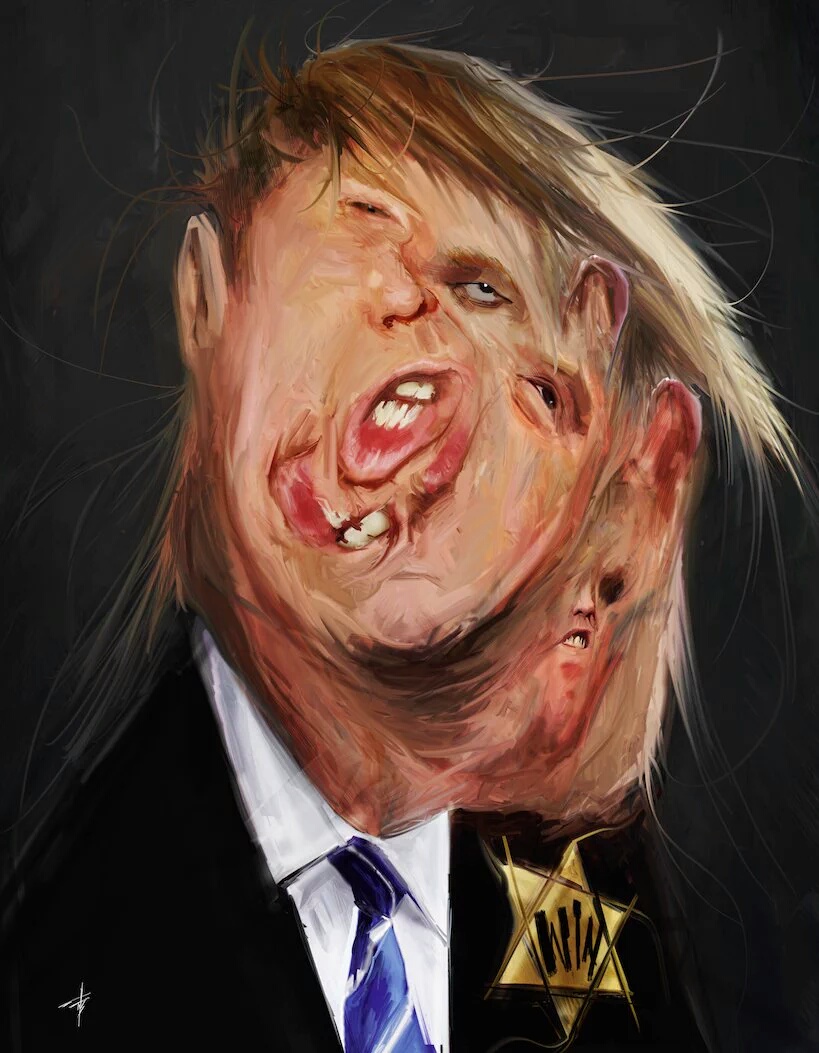 (Illustration: 'President Trump,' by Jonathan Bass, found here).