This country is up shit creek without a paddle — a group of federal judges had set an emergency meeting for today on matters that "could not wait," but now have decided to wait after the T-Rump tweeted this yesterday (h/t Raw Story):
I hope the Federal Judges Association will discuss the tremendous FISA Court abuse that has taken place with respect to the Mueller Investigation Scam, including the forging of documents and knowingly using the fake and totally discredited Dossier before the Court. Thank you!

— Donald J. Trump (@realDonaldTrump) February 18, 2020
So, this afternoon CNN filed this:
A group of federal judges hastily postponed an emergency meeting that was scheduled to take place Wednesday to discuss concerns about President Donald Trump and the Justice Department's intervention in politically charged cases.
Megan Cruz, the executive director of the Federal Judges Association, said the meeting was set to occur Wednesday afternoon and the group was considering whether to issue a statement afterwards.
But later in the day, Cruz said that the conference call between the 14 judges who serve as officers on the Executive Committee had been postponed.
Cruz offered no further details and did not respond to questions asking whether the group had been asked to reschedule the meeting.
Just another brick in the collapsing wall of our democracy-republic of governance we've all accepted as 'normal' for years and years and years. However, nowadays as been reported, the T-Rump skipped 'normal' vetting procedures prior to announcing those hideous pardons, described as "mostly aimed at wiping clean the slates of rich, powerful and well-connected white men." 
On a further note of nausea, right now the T-Rump is in the San Joaquin Valley, down in Bakersfield a couple of hours south on the 99 from where I live, and still way-too close for any comfort. Campaigning as always — the LA Times:
President Trump's visit to California continued Wednesday with a fundraising stop in Rancho Mirage and a trip to Bakersfield to discuss water policy and mingle with Central Valley Republicans.
Trump landed at Palms Springs International Airport shortly after 10:30 a.m., and then was transported to Oracle Chairman Larry Ellison's Porcupine Creek golf course in Rancho Mirage.
Ellison was hosting a golf outing and photos with Trump for $100,000, and photos, golf and a round-table discussion with Trump for $250,000, the Palm Springs Desert Sun reported.
In contempt of: 'Ellison's fundraiser for Trump went ahead despite protests from some Oracle employees, who said in a statement that the president "does not affirm Oracle's core values of diversity, inclusiveness, and ethical business conduct." Contributions from the event will go to Trump Victory, a fundraising committee involving the Trump campaign, the Republican National Committee and state Republican chapters.'
Americans can only vomit…
And recoil at the T-Rump's endeavors — Rod Blagojevich, pardoned yesterday by the Orange Turd, talked to the media today outside his home, and it was so T-Rump love (HuffPost):
"I'm a Trumpocrat," he said.
"If I have the ability to vote, I'm gonna vote for him." (In Illinois, prisoners' voting rights are automatically restored upon release from prison.)
Blagojevich also thanked his wife and daughters, remarking how much his children grew while he was away.
He spoke about his accomplishments as governor and painted himself as a victim spared by Trump's "kind heart."
"It's been a long, long journey. I'm bruised and I'm battered and bloody," he said, even as he sported a bleeding chin the result, he said, of a shaving mishap.
…
In his appearance on Wednesday, Blagojevich seemed to paint himself as a martyr and a "political prisoner."
He even invoked Martin Luther King Jr.: "As Martin Luther King used to say, 'Truth crushed to earth will one day rise again because no lie can live forever.'"
And for the voters of Illinois, Blagojevich had a message: "I wanna say again to the people of Illinois who twice elected me governor: I didn't let you down. I would have let you down if I gave in to this, but resistance to tyrants is obedience to God."

In October 2008, just two months before his arrest, a Chicago Tribune poll showed the governor with a job approval rating of 13-percent.
Three-fourths of voters said he had failed to end corruption in state government.
While the federal case would drag out for three years, the Illinois state legislature took just four months to impeach and oust Blagojevich.
And vomit some more…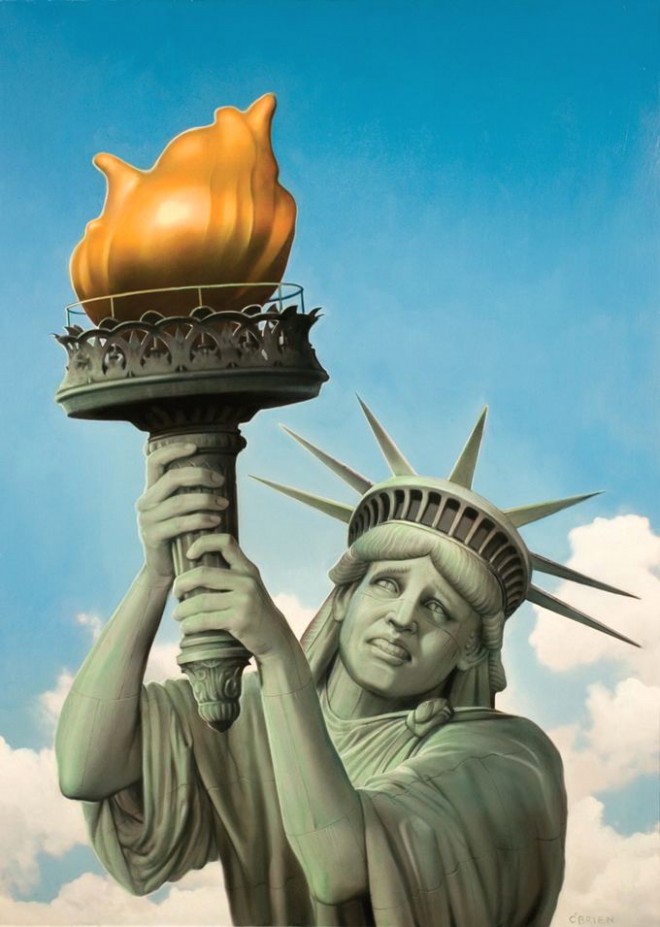 (Illustration by illustrator and portrait painter, Tim O'Brien, and can be found here).