Another Monday, but maybe it's still yesterday, or maybe still, it's really Tuesday, but one thing for certain, the T-Rump is one crazy-ass motherfucker who's getting thumped by White House reporters — even today, or whenever:
Howell Raines, former executive editor of the New York Times, on Trump's press briefing:

"This is one of the most astonishing acts of disinformation we've seen from the White House since the Vietnam era"

— The Beat with Ari Melber on MSNBC (@TheBeatWithAri) April 13, 2020
Mainly for shit like this:
Amid Trump's #PressBriefing meltdown, CBS Reporter Paula Reid asked Trump:

"Tens of thousands of Americans are dead… How is this rant supposed to make people feel confident in an unprecedented crisis?"

Trump responds with more egomaniacal ramblings. pic.twitter.com/nLtOJ0pTMf

— Rantt Media (@RanttMedia) April 13, 2020
Notice the CNN chyron — in several clips of T-Rump's idiot presser there's been several reality checks on lies, bullshit and more lying. These idiotic briefings/rallies have become a shit show of absolute crap, without worth.
I only watch clips, I can't take the T-Rump for hardly-any length of time, listening/seeing him is just so maddening and fuels too much anger. And the shows are devoid of any reality.
Eric Boehlert, a writer and former contributing editor to Rolling Stone, publishes 'Press Run' three times a week, really must-read stuff on journalism and media in the age of the T-Rump — comes right to your e-mail. (Sign up here).
Anyway, today's edition was on T-Rump's pressers and how they suck, and sucking more with time. Digby has a full roll-out of the 'Run,' but this was spot on: 'Often talking just to hear himself talk, Trump's appearances, where he aggressively says nothing of importance for hours on end, have morphed from must-see TV, to re-run status. To adhere to social distancing guidelines, the White House briefing room now hosts just a handful of reporters each day. The emptiness of the room now adds to the, 'Who cares' vibe of the sessions.'
Except spats with reporters when reality is questioned…
Also as another one today boiling-over with disinformation addled with nonsense (Raw Story):
President Donald Trump claimed at Monday's coronavirus press briefing that he has "total" authority over governors who have issued shelter-in-place orders and can force them to reinstate nonessential business activity when he deems it appropriate.

His claim was promptly challenged by CNN reporter Kaitlan Collins — which ultimately led to an angry outburst.

"We're going to write up papers on this," Trump said in response to her questioning. "The governors need us one way or another."

"You said when someone is president of the United States, their authority is total," said Collins. "That is not true. Who told you that?"

"Enough!" snapped Trump finally.
Asshole can't handle any kind of hard/fair questioning, which in this case he was once again, shit-faced wrong (via the Guardian's live blog):
"I have the ultimate authority" to re-open the country and scale back distancing measures, Trump claimed. He was wrong.

That is not correct. University of Texas law professor Steve Vladeck has countered that: "The president has no formal legal authority to categorically override local or state shelter-in-place orders or to reopen schools and small businesses. No statute delegates to him such power; no constitutional provision invests him with such authority."

Trump himself has said that state governors are — and should be — ultimately responsible for managing state shelter-in-place orders.

When previously asked about whether he would issue a national stay at home order, the president repeatedly deferred to the governors.

Today, the governors of New York, New Jersey, Pennsylvania, Rhode Island, Delaware and Connecticut announced they had formed a regional advisory council.
New York governor Andrew Cuomo said each state would name a public health official and an economic development official to serve on a working group alongside each governor's chief of staff to design a "reopening plan" for their states.

Shortly afterward, the states of California, Washington and Oregon announced a similar plan.
Yet the T-Rump won't be perturbed — via The Daily Beast this evening: "When somebody is the president of the United States, the authority is total and that is the way it's gonna be," Trump bellowed. "It's total. It's total. And the governors know that."
If he wasn't POTUS…but he is and that's scary way-terrible to the max.
Tomorrow is another day, whatever day it be…
Maybe a nasty, cruel nincompoop…no, despite the 'poop,' not enough shit…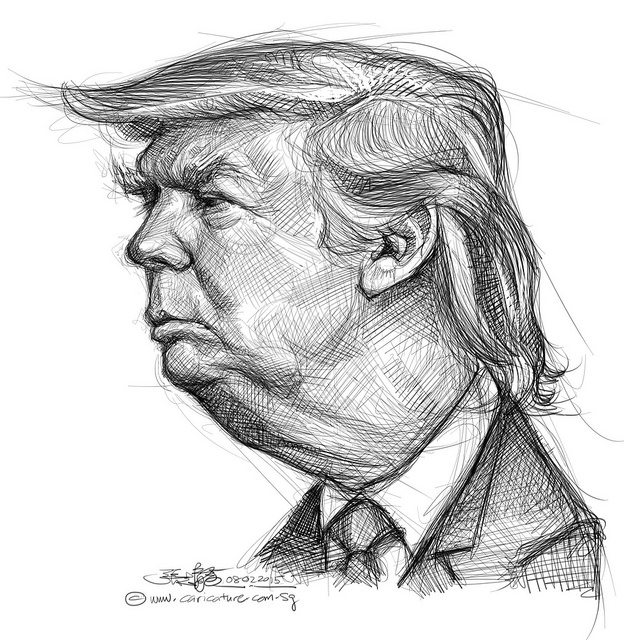 (Illustration: 'Basic Shapes,' by caricaturist/illustrator Chong Jit Leong found here).