Overcast a bit, but windy here on this little patch of California's Central Valley. Rain this morning cooled the air, occasional sunlight peeks through as Monday starts to roll to a close — early evening in another chapter of the nowadays.
And in accordance with the plot line, COVID-19 is still the rabid news on just about every front. Locally, Merced County remained stable with 90 confirmed cases, and 'still' only three deaths, all this in a month and a day.
Statewide we're at 28,963 cases and 1,072 deaths, and as a whole country, 795,960 cases, 42,604 deaths. Global it's 2,472,259 cases with 169,986 deaths. Of course, all those numbers change near-constantly most of the time, by morning numerals will be different, in about every category.
Meanwhile, in the face of nothing heavy, we've the T-Rump:
TRUMP: I took coronavirus very seriously

ALCINDOR: You held rallies in February and March

TRUMP: I haven't left the White House in months

ALCINDOR: You held a rally in March

TRUMP: Did I hold a rally? I'm sorry pic.twitter.com/MPDK8lZAeD

— Aaron Rupar (@atrupar) April 20, 2020
Another day, another self-evident dumb-ass POTUS — Via Raw Story:
At Monday's coronavirus task force press briefings, PBS NewsHour correspondent Yamiche Alcindor asked President Donald Trump whether his slow coronavirus response has led to more deaths than there would have been.
Trump swiftly lost his temper and began hectoring her.

"A lot of people love me … to the best of my knowledge, I won," said Trump.

When asked about rallies he held in February and March, Trump lied, "I don't know anything about rallies. I haven't left the White House in months, except to give a wonderful ship, the Comfort … Why was Nancy Pelosi holding a street fair in Chinatown?"
Add-on per the Guardian: 'Defending his coronavirus record, Trump said: "I haven't left the White House for months." In fact, he held a campaign rally in March. Asked about this, he responded, "Did I hold a rally? Sorry I held a rally."'
A lie sarcastically spat.
He's such a most-evident asshole whiner, and it's really shows — Josh Feldman at Mediaite this evening:
President Donald Trump took a moment during Monday's coronavirus press briefing to go off on the media again and the "hostile" questions he gets.
After a question from OANN about bipartisanship and his relationship with Democrats, the president said there has been bipartisanship in addressing the economic concerns of the coronavirus pandemic.

He swiped at Speaker Nancy Pelosi a bit and said she's been "very nasty" and "wasted a lot of time on the impeachment hoax."
The president also took some shots at the press and complained about getting "hostile" questions:

"The people are really coming together. I think you're going to find that our country is much more unified. I do think that the press, the media, foments a lot of this, a lot of anger. I really believe it, foments tremendous anger. For instance, I'll be asked a tremendously hostile question from somebody and then I'll answer in a hostile way which is appropriate. Otherwise you look foolish. Otherwise it looks like just walk off the stage and bow your head. I can't do that. You know, I just can't do that. But a lot of these questions are asked from certain networks are so hostile and there's no reason for it. There's no reason for it."
Obvious is the word in sight and sound, but it's the shit being produced despite sickness and death. What pisses me off, and makes me angry are the idiots inflamed by the T-Rump and his ilk — at Vox, also this afternoon:
Don't be fooled by Fox News, Donald Trump, or the same type of groups that produced the Tea Party a decade ago: The protesters taking to the streets against social distancing are a small minority of Americans — and their attitudes represent a fraction of public opinion.

In fact, America has done something remarkable in this moment: It has united.
Last week, 81 percent of Americans told pollsters for a Politico/Morning Consult poll that the country "should continue to social distance for as long as is needed to curb the spread of coronavirus, even if it means continued damage to the economy."
Let me repeat that: 81 percent of Americans agree. That's an astounding figure.
Yes, and that's the pisser. A way-majority thinks the T-Rump is a shit-burger.
And at least there neatness in the air (another h/t C&J this morning):
The Olympics 2020 might be postponed but at least now we got rooftop tennis.

This in the Italian city of Liguria. Pretty amazing if you ask me.pic.twitter.com/XfGHTJPOyW

— Jenan Moussa (@jenanmoussa) April 18, 2020
Love…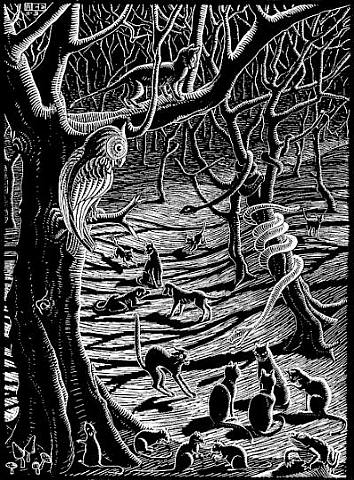 (Illustration: M.C Escher's 'Scholastica,' found here).