Breezy, warm Monday afternoon in California's Central Valley — warm also means heat.
And apparently, the T-Rump gang is catching mucho-heat still from that 'detergent moment' from last Thursday, or as Jennifer Rubin put it: 'Now, however, the disaster that Trump has been utterly incapable of addressing has wiped out the value of those tax cuts (and the stock market) and taken more than 50,000 American lives. Whatever his apologists' defense, the response to his previous (now virtually imperceptible) accomplishments has been obliterated by "But Lysol" — that is, his mind-boggling unfitness leading him to ignore real threats and promote dangerous behavior.'
Catchy, though,'But Lysol.'
The world knows, too (h/t Daily Kos):
The world is laughing at you @realDonaldTrump pic.twitter.com/KDMJ51pl1i

— Sarah Larchmont (@SarahLarchmont) April 26, 2020
In considering a watershed 'moment,' the T-Rump's came in full view of America. Since Thursday, he's held one quick briefing, took no questions and pouted out the door. No briefings over the weekend, and then this fiasco today — via ABC News this afternoon:
After the president over the weekend held no briefings and even questioned their value, the White House first scheduled a briefing to take place this evening — then canceled it — then added a Trump news conference — for the same time.

Just hours after the president's newly-minted press secretary Kayleigh McEnany said the White House would not hold its daily government response task force briefing Monday, she took to Twitter to announce that there would be a press conference with the president to update the public on "additional testing guidance and other announcements about safely opening up America again."

"We like to keep reporters on their toes," White House Director of Strategic Communications Alyssa Farah tweeted in reply along with a winking emoji.
Farah later deleted the tweet.
Idiots! WTF, keep 'reporters on their toes,' when none of the West Wing cadets can even stand on their feet without falling down? As the Trump is a malicious idiot, so those around him, who stay around him, they have to be same in order to survive. The malignant calls are coming from inside the White House.
And about evidence on video, a place where everybody can see, no excuse for the T-Rump braying last week he'd been stuck in the White House for months: Lie!
Via TPM this morning:
The President's repeated insistence that's he's been on house arrest for months on end is blazing new trails for fact checkers: Not only were all of his trips around the country recorded on digital video, viewed by millions and archived for eternity — he was also fact-checked on this exact point just a week ago.
That's on video, too.

At a White House briefing on April 20, PBS NewsHour's Yamiche Alcindor pointed out to the President that, for all his talk about taking the virus seriously in its early days, "you held rallies in February and in March."

Trump's mouth dropped open.
He blinked once, twice, three times.
He looked to the left.
He threw his hands open then toward his chest.

"Oh, I don't know about rallies!" he said, interrupting Alcindor.
"I really don't know about rallies. I know one thing, I haven't left the White House in months except for a brief moment to give a wonderful ship, The Comfort — "

"You held a rally in March," Alcindor insisted.

Trump threw his hands up again.
"I don't know did I hold a rally? I'm sorry, I hold a rally! Did I hold a rally?"
These briefing should give everybody a real, full-frontal view of how worthlessly dangerous the T-Rump, and like a virus, infests all of us. However, 'But Lysol' maybe/hopefully was the fatal crack in the T-Rump's horror saga.
A good view on the detergent downer by Stephen A. Crockett Jr. at The Root from this morning:
President Trump fucked up.

During a press conference last week, the president of people who are now considering adding a little bleach to their smoothies was freestyling and going off-script, as he's been known to do.
Trump was standing at the lectern when he began wondering aloud about the potential of moving both light and disinfectant inside the body.
…
This may have been the beginning of the end for the Trump press conference, and the blowback from disinfectant-gate supposedly has put the president into a funk that led to another one of his pouting rage-tweet episodes that only helped to bury him even more.

Twitter was ablaze at the stupidity of the president's suggestion that someone should consider ingesting or mainlining disinfectant.
It was so bad that doctors felt the need to warn against this.
It was so bad that Lysol's parent company had to come out against it.
It was so bad that the president's only defense was to claim that he was joking with reporters, which the president never does and would never do because the president hates reporters.

It was bad.
Really bad.
So bad that calls to poison control centers across the country increased.
And as did, launched bleach-gate…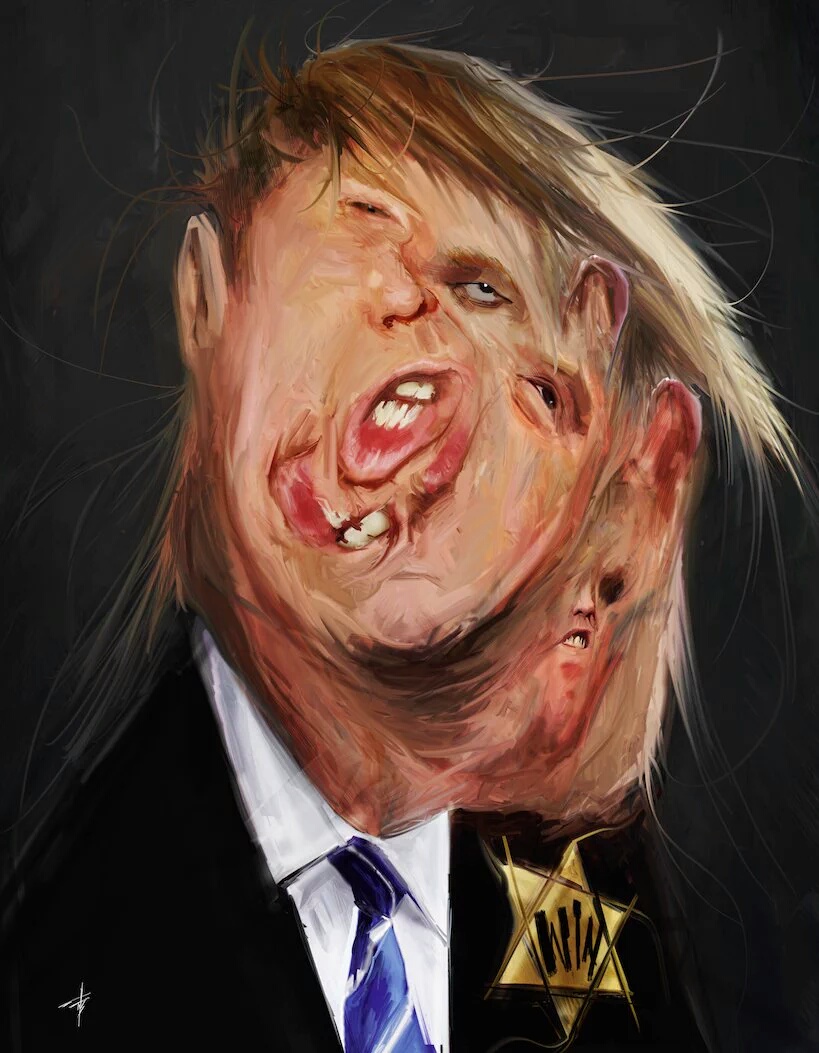 (Illustration: 'President Trump,' by Jonathan Bass, found here).