Breezy and warm just after the noon-hour Monday here in California's Central Valley. According to WeatherUnderground, we're a bit under 80-degrees right now, supposedly climbing to 85 later today — a hot week with maybe hitting 98 by Friday.
Backyard blogging again, breezy and comfortable, a little work-station in quiet seclusion surrounded by other apartments and a shitload of other people. Well, everything really and everybody is in seclusion.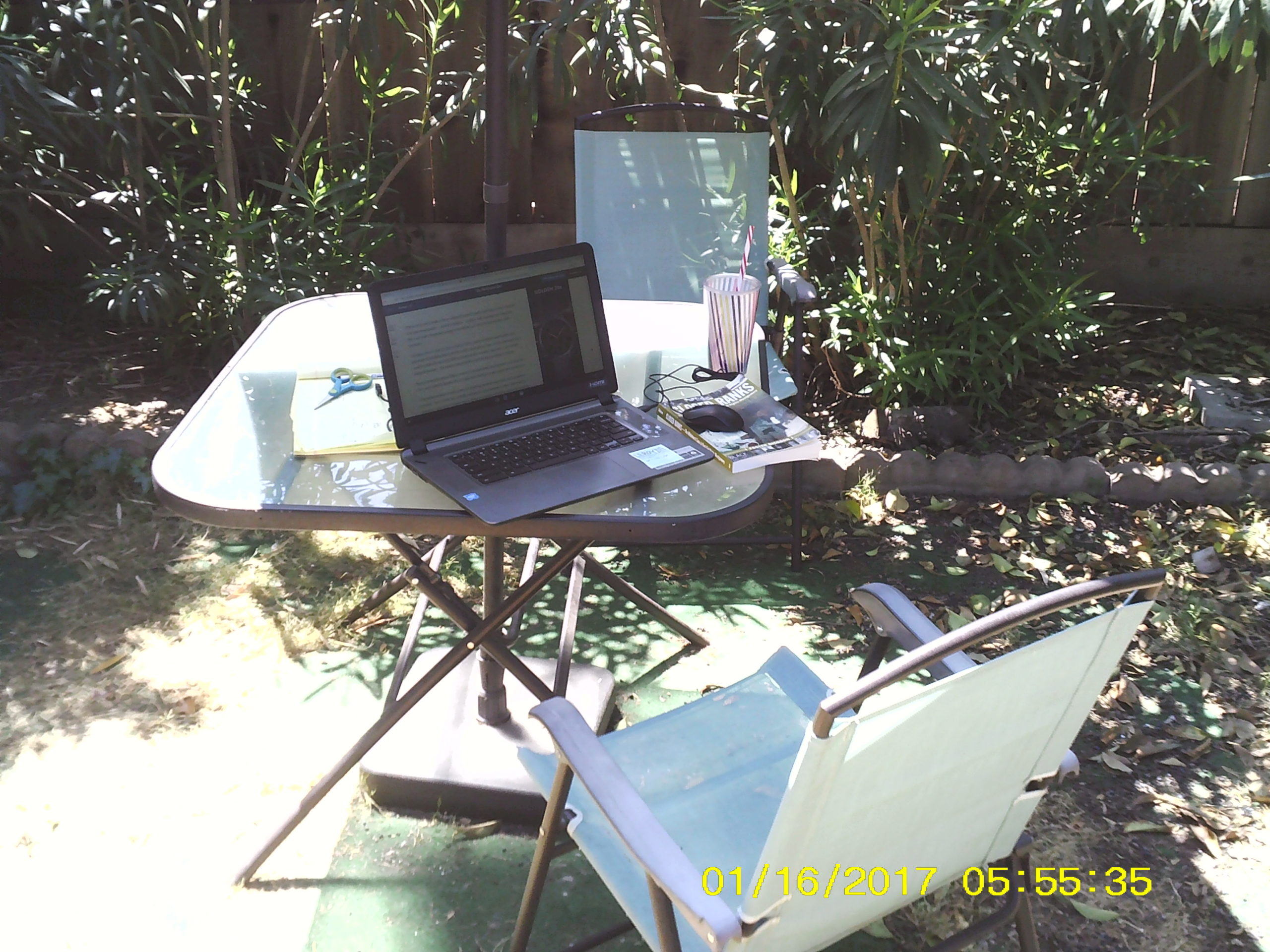 (Reality-reducer non-cubical lecturn).
Another day, too, in the weird nowadays, where strange is the norm and anxiety the drug of the masses. Despite a bunch of polls showing the way-vast amount of Americans want to stay put, wear masks and work through this coronavirus, the country is still facing a mini-calamity, or maybe a major one by June and into summer. Reportedly, by the end of this month we'll know whether all this 're-opening' shit going on all over the country was a death marker or not. Even as the T-Rump's people are predicting 3,000 dead a day by that time.
COVID-19 is one ass-kicking mother fucker. Not only in the front-line medical emergencies of cases and dying, the domino-effect-like crush of pandemic-induced offshoots is horrific in their own right. The US economy has cratered, and cratered badly, but we haven't really felt the shock wave yet. Thirty million people out of work in less than two months. Virus deaths in that same general period out totaled 15-20 years of the Vietnam War.
And sheltering-in-place, and the weird masks. Shit getting mentally heavy.
Wages of all this — from The Washington Post this morning:
Three months into the coronavirus pandemic, America is on the verge of another health crisis, with daily doses of death, isolation and fear generating widespread psychological trauma.

Federal agencies and experts warn that a historic wave of mental health problems is approaching: depression, substance abuse, post-traumatic stress disorder and suicide.

Just as the initial coronavirus outbreak caught hospitals unprepared, the country's mental health system — vastly underfunded, fragmented and difficult to access before the pandemic — is even less prepared to handle this coming surge.

"That's what is keeping me up at night," said Susan Borja, who leads the traumatic stress research program at the National Institute of Mental Health.
"I worry about the people the system just won't absorb or won't reach. I worry about the suffering that's going to go untreated on such a large scale."

Data show depression and anxiety are already roiling the nation.
Read the whole piece, goes into detail on how we're going nuts. And legitimate, too, the weird part.
An offshoot of that offshoot, but is really on that aforementioned front-lines is America's medical system — also in the Post, though, this morning:
Even as the novel coronavirus pandemic draws attention and resources to the nation's doctors and hospitals, the health-care industry is suffering a historic collapse in business that is emerging as one of the most powerful forces hurting the U.S. economy and a threat to a potential recovery.

The widespread economic shutdown deployed to reduce transmission of the coronavirus hit hospitals and health-care providers with particular force as they prepared to face the pandemic.

Most elective surgeries nationwide were postponed beginning in mid-March.
Dentists offices were closed.
Physicians stopped seeing all but the sickest patients in their offices.
Stay-at-home orders didn't just prevent people from dining in restaurants — they led people to avoid medical services, too, amid concerns about the virus's disease, covid-19.
More than 200 hospitals, including Children's National Hospital in Washington, have furloughed workers, according to a tally by Becker's Hospital Review.

The result was that health-care spending declined at an annualized rate of 18 percent in the first three months of the year, according to Commerce Department data released last week, the largest reduction since the government started keeping records in 1959.
Meanwhile, reality in the backyard…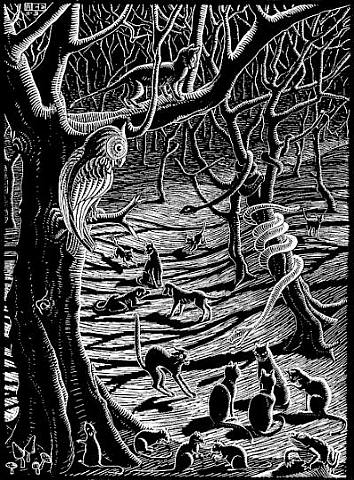 (Illustration: M.C Escher's 'Scholastica,' found here)