Bat-shit crazy times, huh? And this from the LA Times this morning:
Scientists have identified a new strain of the coronavirus that has become dominant worldwide and appears to be more contagious than the versions that spread in the early days of the COVID-19 pandemic, according to a new study led by scientists at Los Alamos National Laboratory.

The new strain appeared in February in Europe, migrated quickly to the East Coast of the United States and has been the dominant strain across the world since mid-March, the scientists wrote.

In addition to spreading faster, it may make people vulnerable to a second infection after a first bout with the disease, the report warned.
…
Wherever the new strain appeared, it quickly infected far more people than the earlier strains that came out of Wuhan, China, and within weeks it was the only strain that was prevalent in some nations, according to the report. The new strain's dominance over its predecessors demonstrates that it is more infectious, according to the report, though exactly why is not yet known.
And this downer: 'If the pandemic fails to wane seasonally as the weather warms, the study warns, the virus could undergo further mutations even as research organizations prepare the first medical treatments and vaccines. Without getting on top of the risk now, the effectiveness of vaccines could be limited'
Yet in the midst of a way-deadly, ever-changing coronavirus, there's the malignant T-Rump (h/t Raw Story):
Trump just effectively suggested that people must die for the sake of reopening the economy.

"It's time to open it up," he said a bit ago in Arizona. "Will some people people be affected? Yes. Will some people be affected badly? Yes. But we have to get our country opened."

— Chris Sommerfeldt (@C_Sommerfeldt) May 5, 2020
Just to make matters worse, and doesn't care:
.@jeffmason1: With doctors saying there might be a recurrence of coronavirus in the fall, why is now the time to wind down the task force?

TRUMP: "Well because we can't keep our country closed for the next 5 years." pic.twitter.com/2IXL8vucbl

— Aaron Rupar (@atrupar) May 5, 2020
A weird, freakish trip that's the T-Rump — today no exception in a industrial-plant tour in Arizona, where the asshole wouldn't wear a face mask, though, that was what was produced there (Bloomberg):
During a tour of a Honeywell plant making N95 respirators for health-care workers, the president donned safety goggles but no face covering, making good on his remarks that he didn't need to and probably wouldn't do it.

Since the CDC recommended on April 3 that Americans wear face masks in public, Trump has repeatedly suggested they were impractical, pointless and beneath the dignity of the leader of the free world.

Trump said he couldn't see himself meeting with "presidents, prime ministers, dictators, kings, queens" while wearing a mask, even though diplomatic trips have been curtailed.
He teased a small-business executive who had worn a mask at a White House event, telling her to put it back on before she spoke.

After facing criticism for not wearing a mask during a visit to a Mayo Clinic facility last week, Vice President Mike Pence wore one at a General Motors plant. In a Fox News town hall Sunday, he expressed regret.
"I didn't think it was necessary, but I should have worn a mask at the Mayo Clinic," he said.
…
Dr. K. "Vish" Viswanath, a professor of health communication at the Harvard T.H. Chan School of Public Health, said people notice when a leader's behavior contradicts their own recommendations.

"At the very least, it confuses people," he said.
"At the very worst, it might even cause them to question if these rules apply to them or if the message is really that critical."
T-Rump appears to be deliberately trying to get people killed, or way-sick, just for his sake.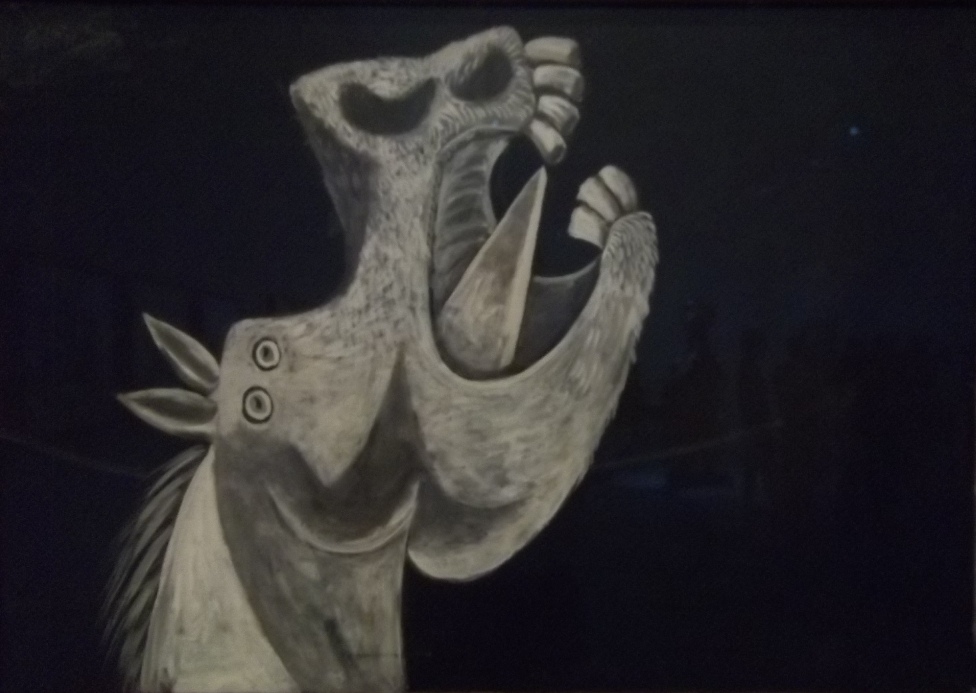 (Illustration: Pablo Picasso's 'Agonizing Horse' (found here),