Interesting in the context of civil unrest, the military side of the T-Rump bluster has turned the coin:
"Donald Trump is the first president in my lifetime who does not try to unite the American people—does not even pretend to try," General James Mattis writes in an extraordinary condemnation: https://t.co/oFZ1VtKGot

— Suburban Guerrilla ? (@SusieMadrak) June 3, 2020
Since the T-Rump's 'dominate' rant, his blubbering about instigating the Insurrection Act, and subsequent walk to the church Monday evening the shit has hit the military fan. Not only are protesters protesting the T-Rump White House, but so are establishment DOD-types.
In reference, there's list compiled at Task&Purpose of 13 military/civilian honchos, near honchos and other assorted big-wigs who've pushed back this week against the T-Rump in use of our armed services to stop protests (h/t Digby).
And a decent list, too, like the above-quoted James Mattis, the Orange Turd's first defense secretary, who submitted a letter saying among other things: 'Donald Trump is the first president in my lifetime who does not try to unite the American people —  does not even pretend to try. Instead he tries to divide us. We are witnessing the consequences of three years of this deliberate effort. We are witnessing the consequences of three years without mature leadership. We can unite without him, drawing on the strengths inherent in our civil society."'
Or Admiral Mike Mullen, former chairman of the Joint Chiefs: 'It sickened me yesterday to see security personnel — including members of the National Guard — forcibly and violently clear a path through Lafayette Square to accommodate the president's visit outside St. John's Church. I have to date been reticent to speak out on issues surrounding President Trump's leadership, but we are at an inflection point, and the events of the past few weeks have made it impossible to remain silent.'
Or current defense secretary, Mark Esper, who's supposedly pissed off the T-Rump, said among other things at a press conference yesterday: '"I say this not only as secretary of defense but also as a former soldier and a former member of the National Guard: The option to use active-duty forces in a law enforcement role should only be used as a matter of last resort – and only in the most urgent and dire of situations. We are not in one of those situations now. I do not support invoking the Insurrection Act."'
And 10 others including another former chairman of the Joint Chiefs, Martin Dempsey, and Robert Neller, former Marine Corps commandant. The rest I'd never heard of before, though, high-ranking people.
A hopeful shift in the parameters of the situation — via ABC News this afternoon:
While rare — and perhaps unprecedented — for former military leaders to so publicly and forcefully criticize the commander in chief, Trump's flaunting of the Insurrection Act "was sufficiently disturbing that General Mattis chose to break his silence," Christine Wormuth, who served as served as under secretary of defense for policy from 2014 to 2016, told ABC News.

The essay was the "inevitable conclusion" of the increasingly politicization of the military under the Trump administration and was meant to give a clear reminder to the military that they swore an oath to the Constitution, she said.

"It sends a strong message to members of the military to be reminded of what's important and to do what they think is right," Wormuth said.
We'll see…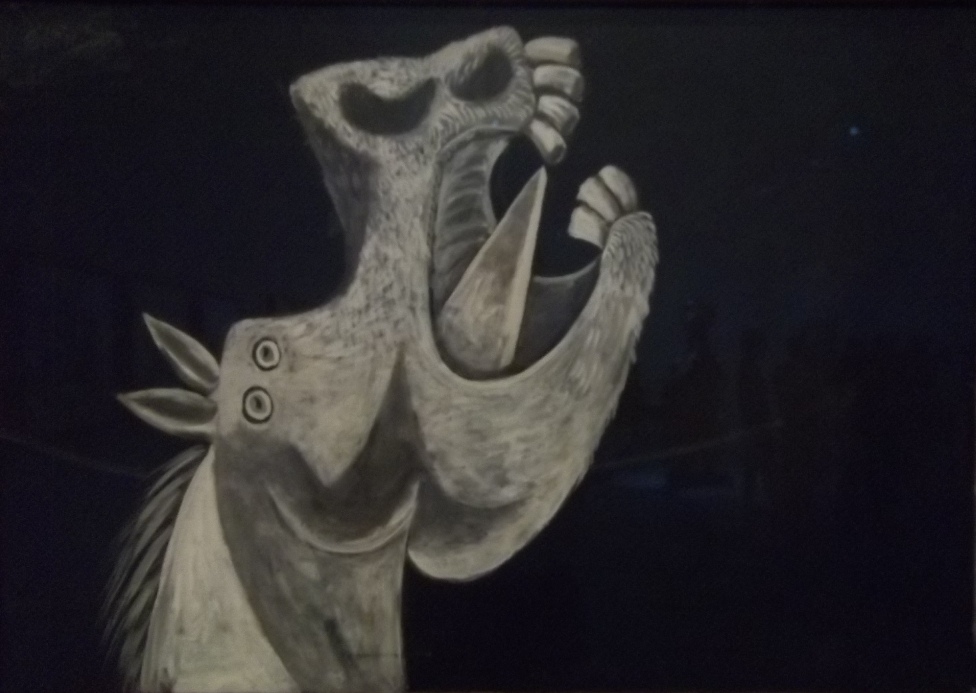 (Illustration: Pablo Picasso's 'Agonizing Horse,' found here),