Since he was called winner of the 2020 presidential election more than two weeks ago, Joe Biden has acted presidential, and even more so today as he and Vice President-elect Kamala Harris introduced the national security team in Wilmington, Delaware: 'Biden said his nominees will "restore America globally, its global leadership and its moral leadership, and will ensure that our service members, diplomats and intelligence professionals can do their jobs free of politics."'
Biden is acting what we've been looking for the last four years, and displaying an understanding of the political press in the US — and how there's been too much T-Rump bullshit with the MSM. And the MSM has to get over its addiction to the carnival/showtime atmosphere (which draws rating and sells papers) experienced with the T-Rump.
Meanwhile, on his way out the door, the T-Rump popped up for a verbal quickie this afternoon seemingly oblivious to life at all:
Trump took no questions after today's very quick appearance in the briefing room to talk about the stock market.

You can hear a reporter say, "Well that was weird as shit." pic.twitter.com/lrkjlEHx3h

— The Recount (@therecount) November 24, 2020
Another shit appearance without sense, or intent, a blubbering blubber, mercifully short — 64 seconds:
After spending much of the morning amplifying bizarre falsehoods about the election and refusing to concede defeat even as two additional states certified his loss, President Donald Trump on Tuesday held a surprise press conference at which he bragged about the stock market for just over a minute before leaving without taking a single question from reporters.

"The stock market's just broken 30,000. Never been broken, that number," Trump said after briefly discussing promising recent news on several potential coronavirus vaccines.

"That's a sacred number, 30,000, and nobody thought they'd ever see it," the president said, referring to the Dow Industrial Average's new record-breaking milestone—a figure that obscures the widespread material suffering tens of millions of Americans are experiencing in the midst of the worsening coronavirus pandemic.

On top of failing to mention that broader and more instructive economic context, Trump—who repeatedly claimed prior to the November election that the stock market would crash if Joe Biden won—also omitted the fact that the market soared in part because of news that the General Services Administration allowed the transition to the Biden administration to begin after weeks of delay.

"Investors are cheering signs that a protracted fight over control of the White House is potentially drawing to a close, reducing political risks over the winter months," the Wall Street Journal reported.
Then ducked out without taking questions: '"Well that was weird as shit," one reporter was heard saying after Trump's departure, a sentiment others echoed on social media.'
Although the T-Rump's time is short, he's leaving a mark across the width of just about everything as he exits stage far-right in less than two months. Biden and his people will have a full-time task on their hands to right the way-many wrongs done to this country the past four years. Some shit will continue, others can be brought under control. What's been done to our environment and land by T-Rump and his assholes is cruel.
One such case I came across today about Arizona's Oak Flat area, located in the south-eastern part of the state. Noted by National Register of Historic Places, Oak Flat contains numerous indigenous archaeological sites dating back 1,500 years.
And the T-Rump team is trying its best to fuck-over the scene with a fucking copper mine, to be built and operated by a company with a history of environmental horror. If okayed, the mine will consume 11 square miles, including Apache burial grounds, sacred sites, petroglyphs and medicinal plants.
Details via the Guardian this afternoon, and San Carlos Apache tribal member Wendsler Nosie Sr:
A dozen south-western Native American tribes have strong cultural ties to Oak Flat. But the Trump administration, in its waning days, has embarked on a rushed effort to transfer ownership of the area to a mining company with ties to the destruction of an Aboriginal site in Australia, the Guardian has learned.

"We were in the fourth quarter with two minutes left in the game. And then Trump cheated so now we only have one minute left," said Nosie, who was a football quarterback in high school.
"Everybody has to mobilize now to fight this."

Last month tribes discovered that the date for the completion of a crucial environmental review process has suddenly been moved forward by a full year, to December 2020, even as the tribes are struggling with a Covid outbreak that has stifled their ability to respond.
If the environmental review is completed before Trump leaves office, the tribes may be unable to stop the mine.
…
As the curtain closes on the Trump era, officials are hurrying through a host of environmentally destructive projects that will benefit corporate interests.
These include opening the Arctic national wildlife refuge to oil and gas drilling and rolling back protections on endangered gray wolves.
Another cruel endowment of the T-Rump and his minions finding weakness to grift, taking advantage of twists within the system:
"We are looking at the destruction of some of the Apache's most significant cultural and historic sites with this project," said Kathryn Leonard, the Arizona state historic preservation officer.
Federal historic preservation laws focus on ameliorating harms rather than blocking a development altogether, she explained.

"Our preservation laws are not set up to prevent this level of loss. It weighs heavily on me."
The heavest shit is on the T-Rump, however. A monster of great horror that will be wecomed gone…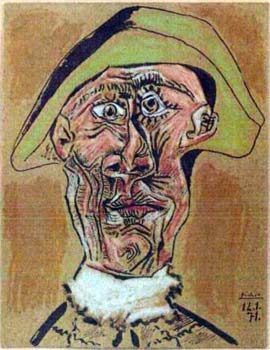 (Illustration: Pablo Picasso's 'Harlequin Head,' found here),